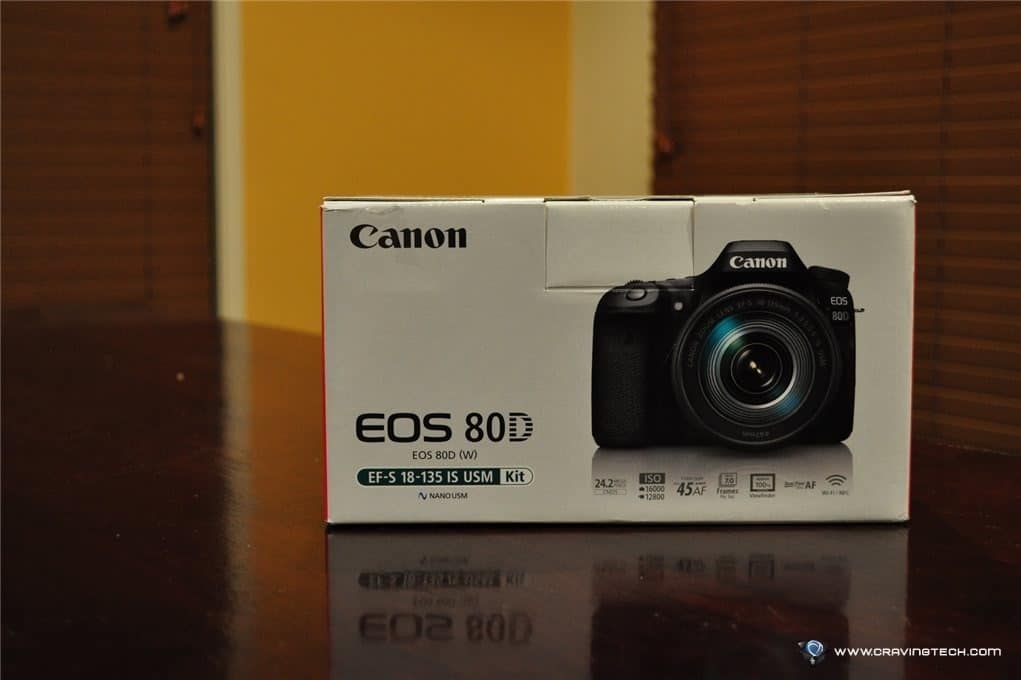 Canon EOS 80D Review – On paper, the Canon EOS 80D with 18-135mm IS lens kit is equipped with a lot of goodies. It weighs 730 grams (body only) and has a 24.2 Megapixels APS-C CMOS sensor. The packaging comes with the Canon EOS 80D body, the lens, camera strap, camera battery, charger and the manual. USB cable is not included.
I own a Nikon D90 DSLR for almost 6 years now and it is due for an upgrade. Don't get me wrong, the D90 is a fantastic DSLR camera to have until now, in my opinion. I use it while travelling, attending formal events, and even at my own wedding. However, ever since my passion moves from still picture to motion picture a.k.a video making, my attention has shifted from a camera that lets me get a good image to a camera that can also produce a decent video footage.
Canon EOS 80D Unboxing:
At first impression, Canon 80D is slightly bigger than my old Nikon D90, measured at 139mm width x 105.2 mm height x 78.5 mm depth and very comfortable to hold.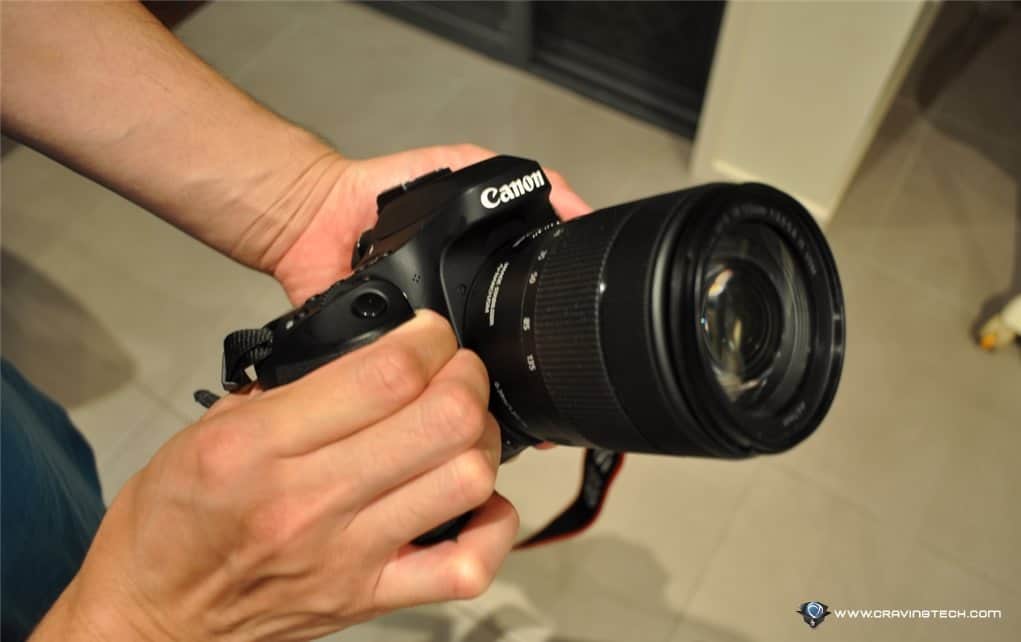 Canon 80D key features
24 Megapixels APS-C CMOS sensor with Dual Pixel AF
45 point AF system
3 inches swivel touch LCD screen
1080p 60fps video capture
7fps burst mode
Wi-Fi/NFC
Impressive Autofocus and Image Quality
Autofocus is incredibly fast and accurate thanks to Canon Dual Pixel sensor technology. DIGIC 6 image sensor captures excellent image quality, which Canon is well known at. The camera comes with 45 AF points making focusing job a breeze. Burst mode is up to 7 fps, so it's impossible to miss the action.
In addition, ISO starts at 100 to 16000 for still capture and up to 12800 for video capture, enabling shooting in lower light conditions. The camera technology keeps progressing and we notice that the amount of noise gets smaller and smaller thanks to the post image processing.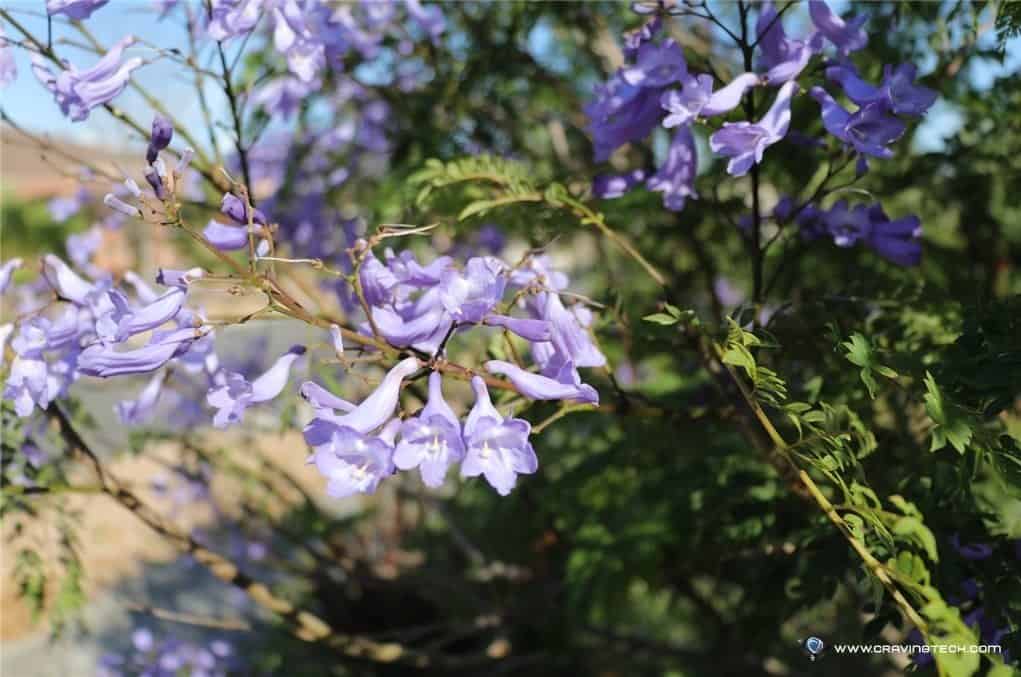 You may hear about the HDR (High Dynamic Range) feature on your smartphone. Well, HDR is also featured in the Canon EOS 80D. Basically, the camera takes several photos on different exposures, then merges them together into one superb and better photo that looks more like what your eyes see.
With HDR Off: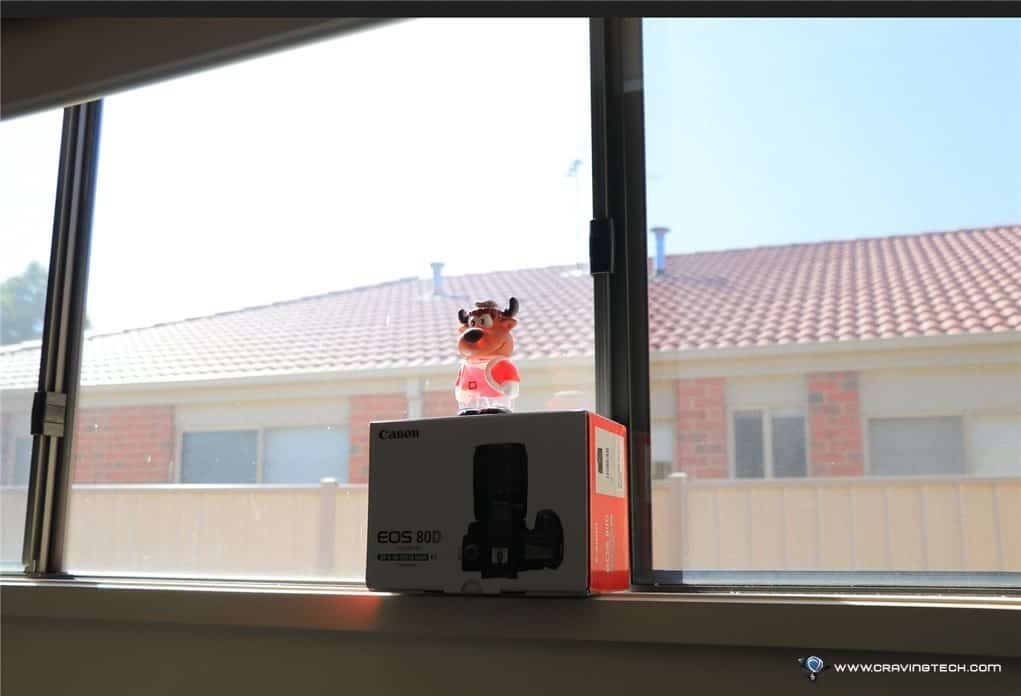 HDR On with bold dynamic range: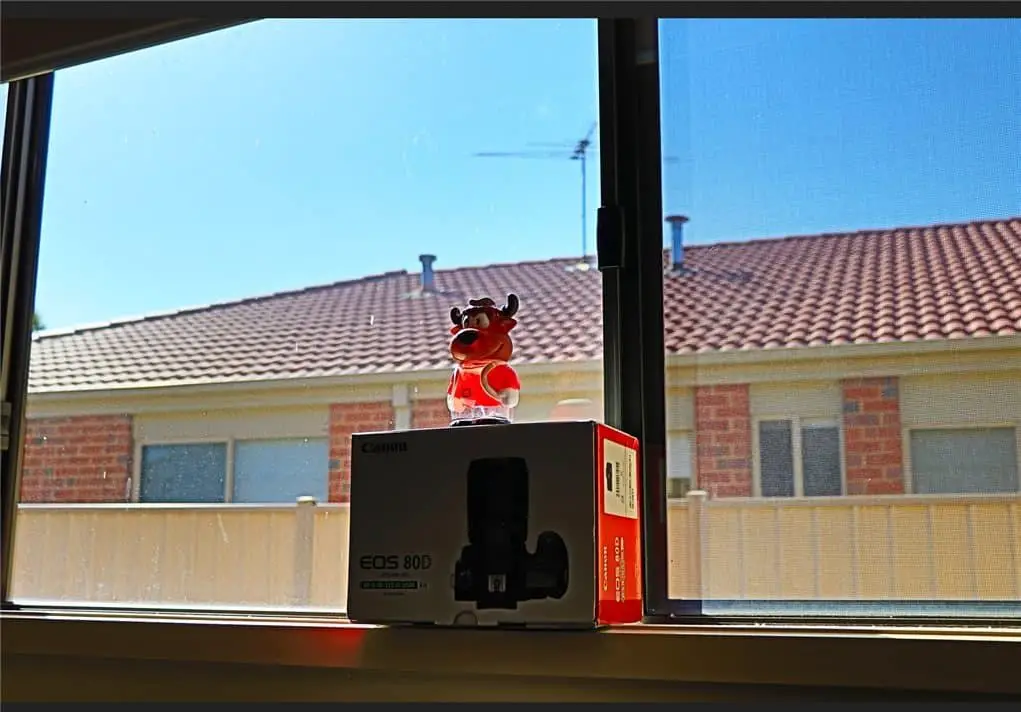 HDR On with vivid dynamic range: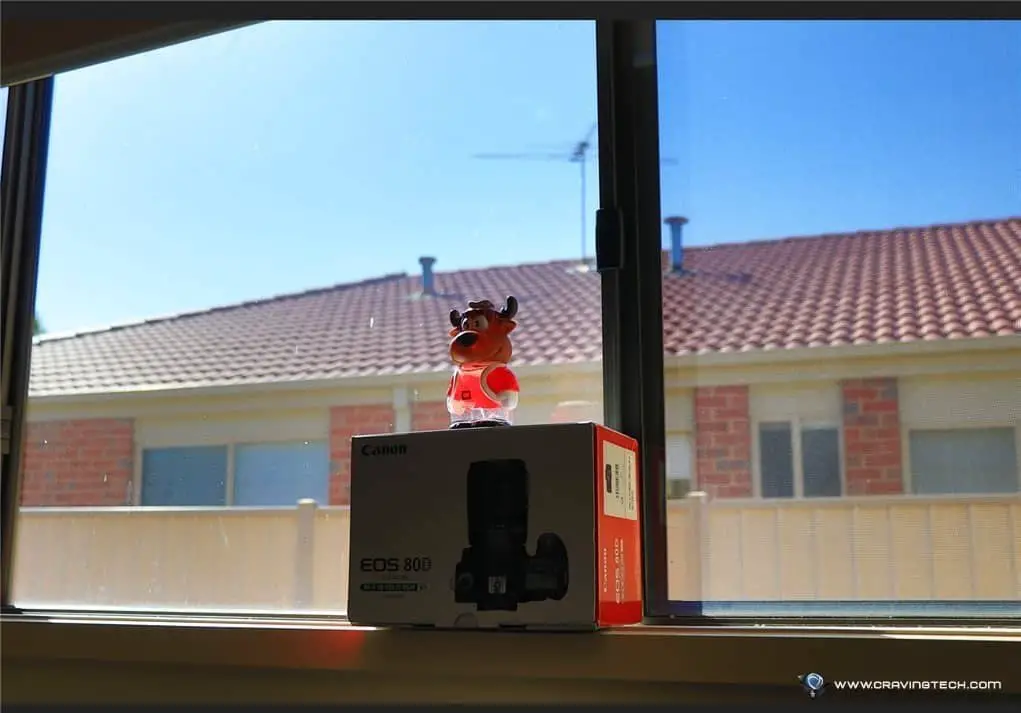 For the enthusiasts, Canon EOS 80D lets you create and set 2 custom profiles in the camera mode dial. sRGB or Adobe RGB color space are also optional. Canon EOS 80D allows you to save 3 distinct picture styles to set the colour tone, saturation, contrast and sharpness. Capturing RAW + JPEG is also standard on the Canon 80D.
Improved Video Recording Capability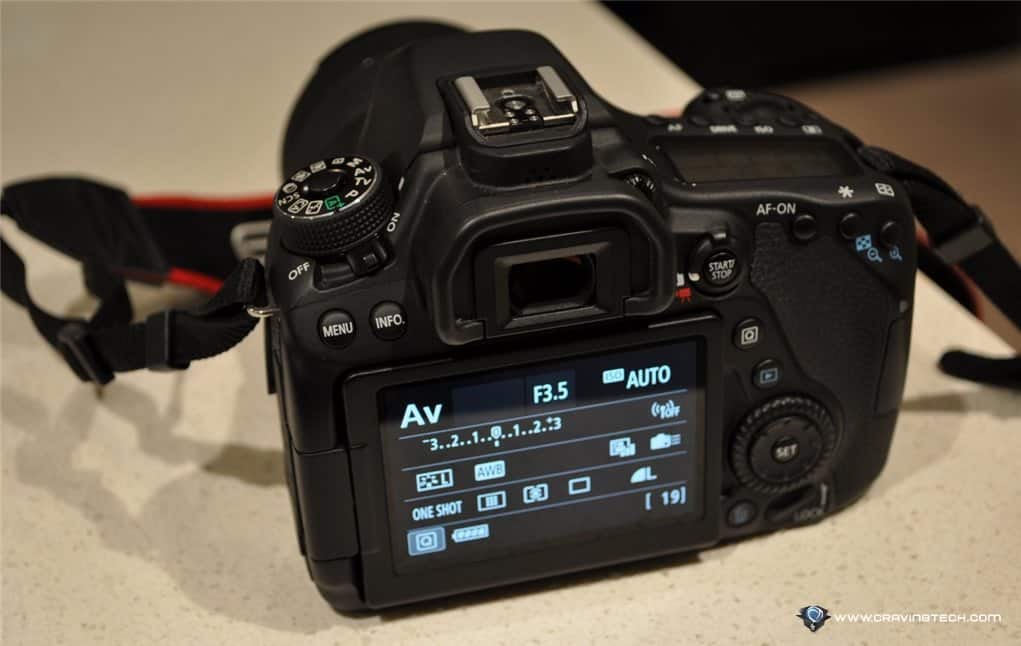 Most DSLRs sold nowadays come with video recording feature. Canon EOS 80D sports with Full HD (1920 x 1080) video recording, ranging from 25fps to 60fps. The video can be saved in either .MOV or .MP4 format. Note that 60fps is only available on the MP4 format, while MOV format is only restricted to 30fps with a decent UHS SD card.
Canon EOS 80D also allows you to record videos in HDR mode. Mind you, enabling the HDR video mode video has its quirks and is tricky to locate. It took me some time to read the camera manual and locate the cheeky HDR mode hidden from the live view touch screen. I really recommend to go through the Canon manual after you make the purchase.
One big move from Canon in my opinion is that Canon finally decides to bring dedicated headphone and microphone ports to its DSLR camera range. It really opens the window to record professional audio while in video mode. An external microphone can be attached on top of the camera body for this purpose.
Autofocus during video recording is finally possible and can be enabled in the settings. Canon AF on video mode has 2 distinct methods: autofocus with face tracking (lock on one subject face) and focus when the subject is out of focus. It's unfortunately not 100% accurate or snappy on tough environment conditions such as in low light.
With decent light, however, the tracking does the job most of the time. The second autofocus video mode is similar to the original autofocus found in still image mode. While recording, you can adjust the focus point via its touch screen.
Unboxing my new Gigabyte G1 Gaming GTX 1070 with the Canon EOS 80D:
Another nice feature in Canon EOS 80D is time lapse video recording. You can adjust the shooting interval and number of shots required to produce a time lapse style video such as a sunset footage. This skips the need for a tedious post editing process.
A timelapse video sample with Canon 80D (1 min interval + 350 shots):
Fully functional touch screen
The biggest feature for me is its flip out 3-inch LCD touch screen. The screen display is bright, sharp, very responsive, and really pleasant to use. You can literally accomplish everything through the LCD touch screen. The swivel and touch capabilities would be features that are going to be used most by video makers.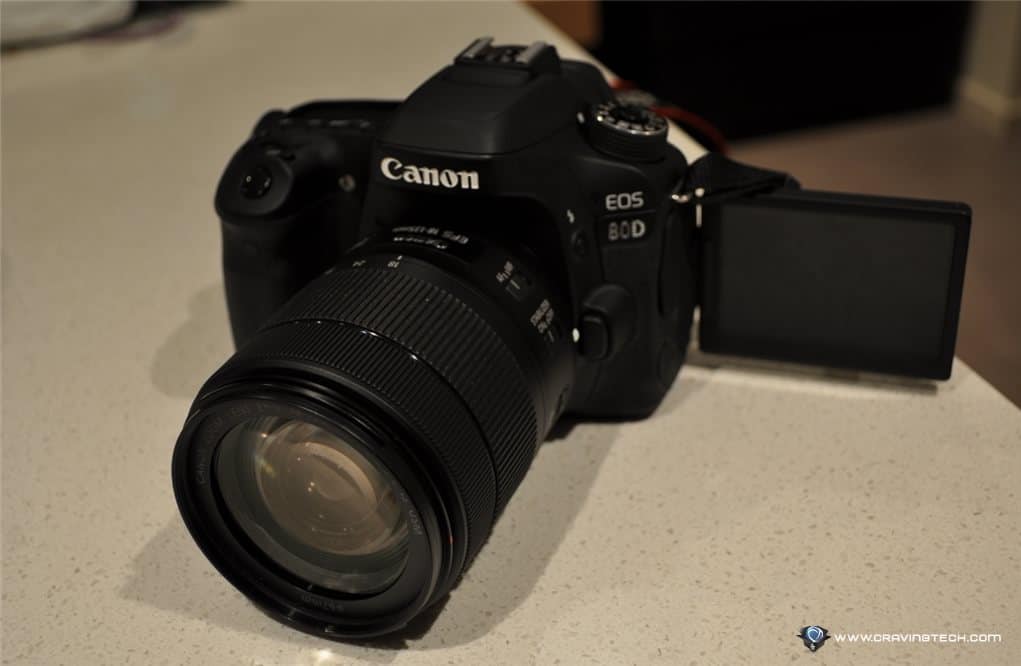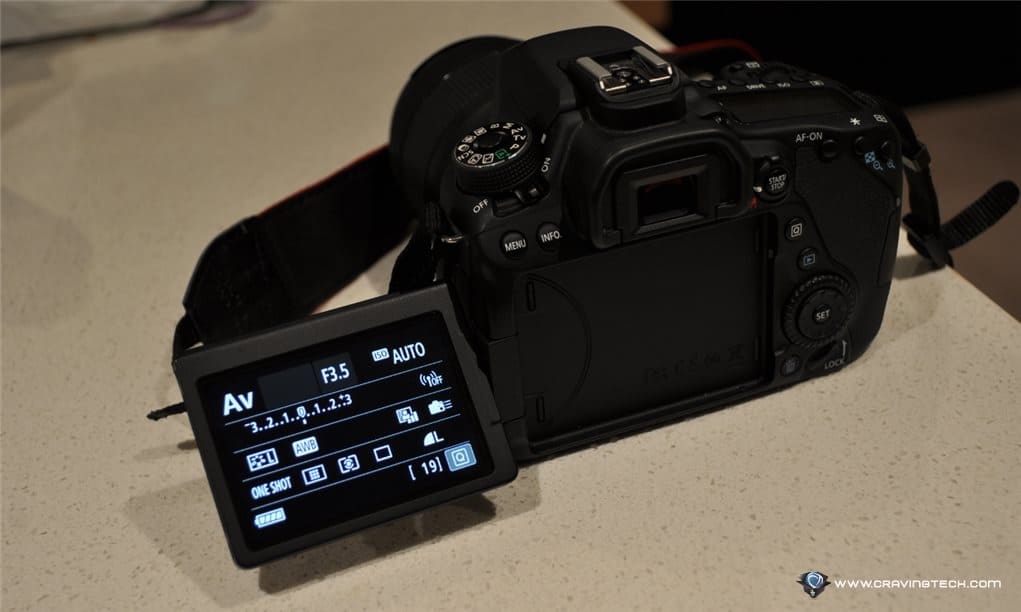 The dial, on the other side, is a slight let down. Two dedicated rotating dials near the shutter button are Canon's standards and they are okay. However, the rotating dial and the 8-directional navigation button are prone to inaccuracy. It's not that hard to accidentally push the wrong buttons if you have a big thumb like myself.
Wi-Fi / NFC
Another big selling point for this camera (but still sound gimmicky in my opinion) is that the Canon EOS 80D is equipped with Wi-Fi and NFC wireless communication. This allows exchanging images and even controlling the Canon EOS 80D wirelessly.
This, of course, has potentials in various application such as capturing images when the camera is mounted to a drone or a simpler application to capture a Christmas family dinner wirelessly, for example.
Canon EOS 80D Remote Live View:
NFC is useful to bring the app up and exchange wireless communication during the initial setup. However, I have no luck in getting the NFC feature to work with my old Galaxy Note 2 which has an NFC chip in it. Enough said, it's still considerably really easy to connect via Wi-Fi. Canon EOS 80D can connect to your existing home wireless network or serve itself as mobile WI-Fi hotspot when you're working outside the house.
Canon EOS 80D – Viewing image in App:
Should you buy the Canon EOS 80D?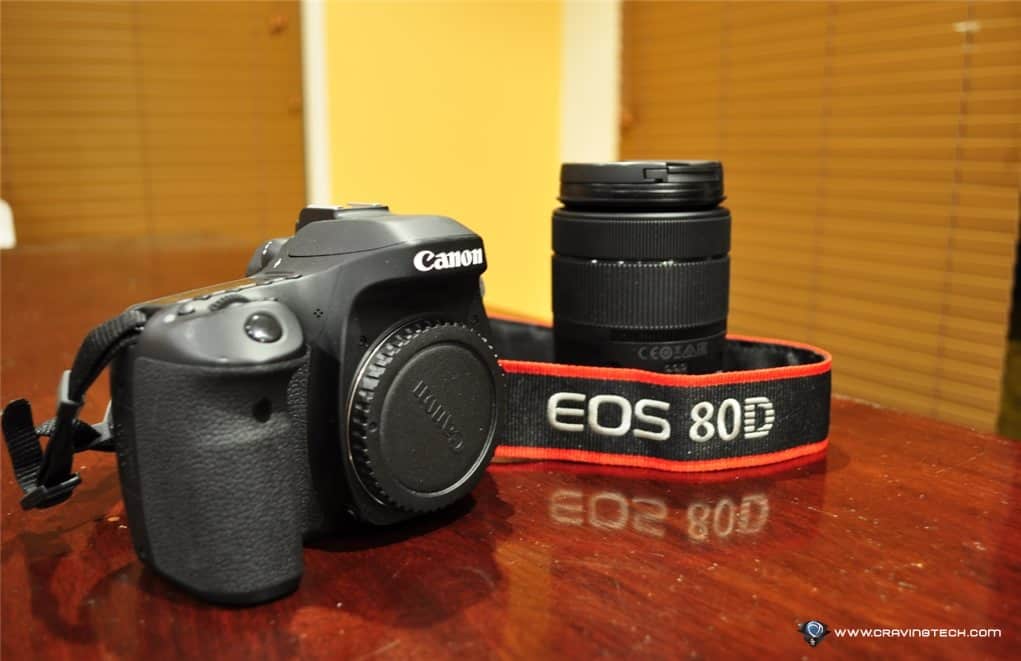 If you own an old DSLR camera like I do with Nikon D90 and you are looking for upgrade, the short answer is Yes. Canon EOS 80D's autofocus is significantly quicker and it produces excellent images. If you're looking for a DSLR with video recording capabilities, Canon EOS 80D may suit you for shooting decent Full HD footages ranging from 25fps up to 60fps. If you're looking for a 4K video recording, however, the EOS 80D is not for you as the camera does not support it.
Canon EOS 80D Camera with Lens Kit is available for purchase at major retailers in Australia with an RRP of $1,995 AUD, also at Amazon.