As Avast, another popular free antivirus solution, released its version 4.8 some time ago with a built-in anti spyware protection, AVG follows closely from behind. 
With its new AVG 8, Grisoft is making sure that it doesn't lose its competition with Avast.



AVG Free provides basic protection against viruses and spyware, together with the safe-searching component of the company's patent-pending LinkScanner® technology, incorporated into the new AVG Security Toolbar.

However, AVG 8 Free Edition has a very limited feature, compared to the commercial one. Here is the table of comparison on different AVG versions: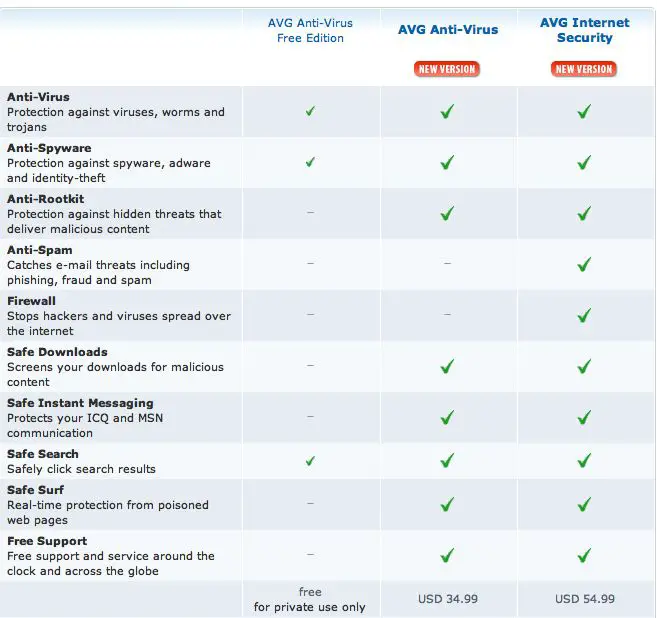 As you can see from the chart, the free version has a very limited feature. But considering it's free and you'll probably get it for the anti virus anyway, AVG still provides a good solution.
What I don't like though, is that AVG doesn't scan your incoming emails & attachments, but only when you open the attachment file. I'm not sure whether it's a good idea or not, but assuming that AVG stops it before the attachment is executed, then I guess it's okay.
Now, if you read my post a few weeks earlier, I'm currently using Avast 4.8 (Free Edition). I used AVG 7.5 before but after I changed my anti virus to Avast, Avast detected a few more viruses/trojans in my computer that AVG 7.5 didn't detect before.
I'm not sure how AVG version 8 performs, so if you are currently using it, please feel free to share it with us.