This is a Sponsored Post written by me on behalf of AffinityClick. All opinions are 100% mine.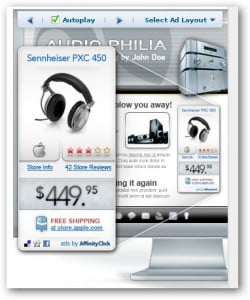 I saw this opportunity to write about AffinityClick over at Social Spark and I was actually really interested to find out whether this can be my new tool to monetize this blog. AffinityClick uses the CPC model, meaning that you earn money when someone clicks on the ad.
Curious, I quickly took the opportunity and signed up for AffinityClick.
First of all, AffinityClick website looks very professional and simple to understand. Even from the main page, you can already see what type of ad they will be serving: products on a widget. AffinityClick automatically matches the content of a post with contextually relevant product placements from respected retailers (over 15,000 products available).
Creating a widget is easy – you only need to select one of the available widget sizes: 125×125, 300×250, 160×600, or 728×90. A code will be given to you and you simply have to copy paste the code to where ever you want to the widget to appear. Plain simple. If you are too lazy picking the products or doing some affiliate product landing pages, AffinityClick is a good option to have besides AdSense. You don't need to do anything besides copy-pasting the ad code on your blog and let it do the rest for you.
It's unclear as to how much a click will earn you (I assume it's different for different products appearing) but for now, I'll put the widget on my Sidebar and check the earning reports daily to find out. Generate revenue from your blog by signing up to AffinityClick if you like but I'll keep you posted whether AffinityClick is a good new monetization tool for your blogs.