ROCCAT Kiro Review – There are not many good ambidextrous gaming mouse out there (i.e can be used in either left or right hand), but thankfully ROCCAT Kiro is now up for grabs for the upcoming Christmas holiday.
It's the latest gaming mouse from ROCCAT which may not look as premium as the ROCCAT Nyth, but if you don't need lots of buttons and just want a simple gaming mouse that performs, this is it.
Saying that however, the Kiro also has unique, yet simple interchangeable parts that will suit either a left or right handed gamer.
ROCCAT Kiro Review – Packaging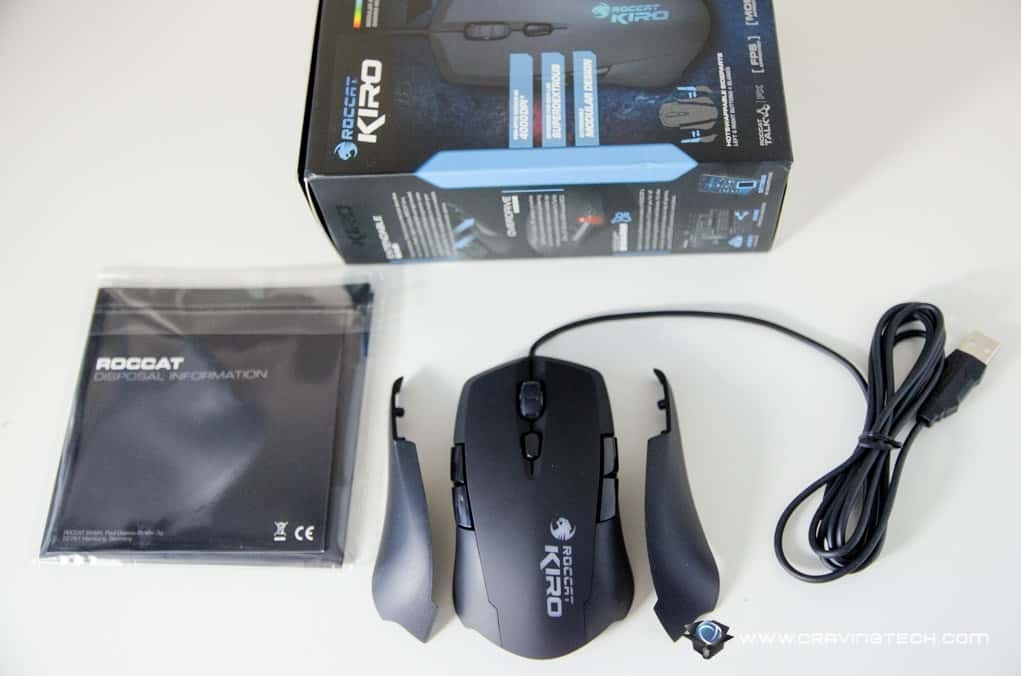 ROCCAT Kiro Review – Design
ROCCAT Kiro itself has a fairly small body, which in my opinion only suits smaller hands. My hands are small, thankfully, so I really appreciate how fit Kiro is with my claw/fingertip grip. It does not look comfortable for gamers with big hands on a palm grip (this is just my opinion because I obviously couldn't test this).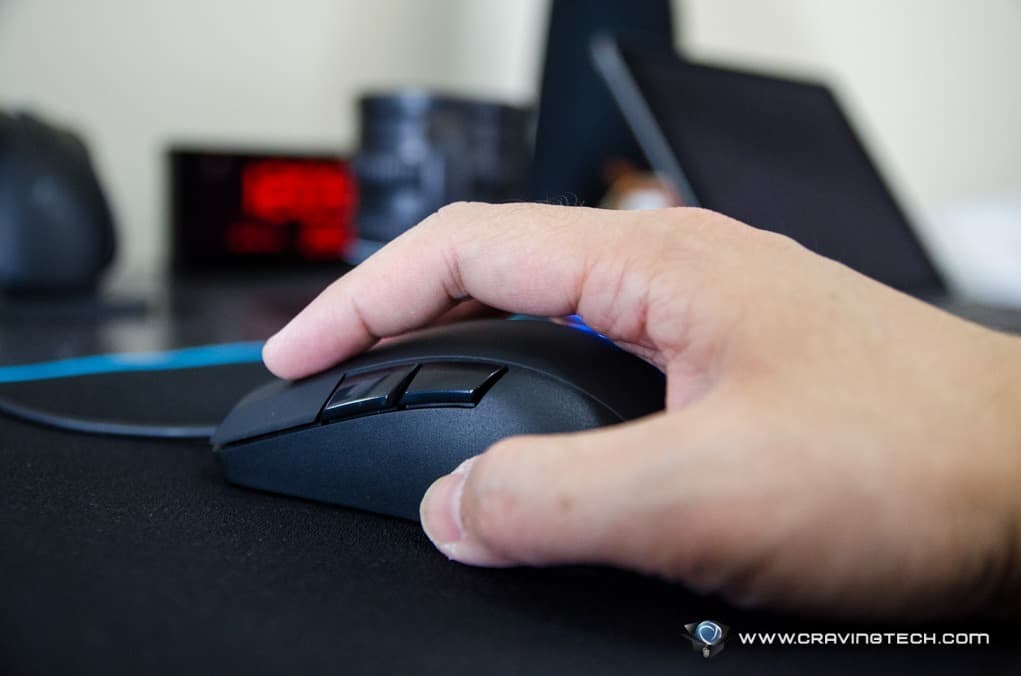 The design of the mouse itself is clean and minimalist. It doesn't have any funky design or unique signatures, but as a minimalist gaming mouse, it's perfect. It simply focuses on functionalities without making itself look bland and boring.
It's comfortable to hold and the soft-touch surface leaves zero sweat. so you can game for hours and hours without that sticky feel.
What makes the ROCCAT Kiro unique from the other ambidextrous gaming mouse like the Razer Taipan or SteelSeries Sensei/Sensei Wireless is the interchangeable parts. These allow you to change the handedness of the mouse, rather than having a "1 thing fits all".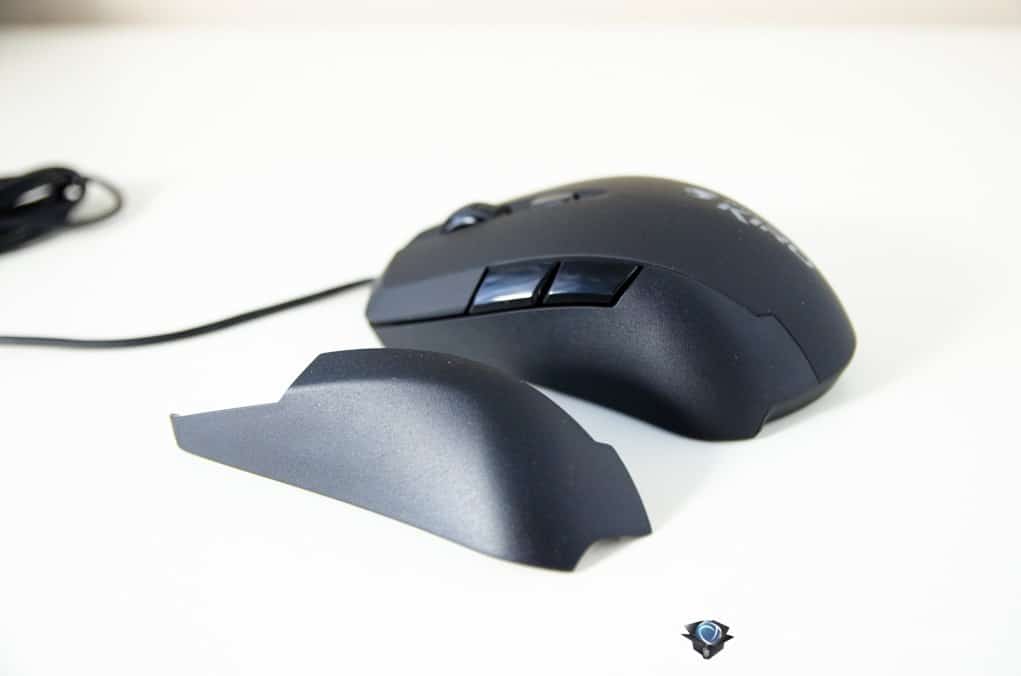 Most ambidextrous gaming mouse would have 2 side buttons on both sides and the same contour shapes. Ideally, one side should have a fit for your thumb with the side buttons, and a good flat grip on the other. This is how Kiro was designed.
The interchangeable parts can be adjusted for both left and right handed gamer, which means Kiro can be sold for any type of gamer, and also shared between a left and right handed gamer (if you are a right-handed gamer who shares a computer with your left-handed little brother, say).
3D print support is coming too so you can customise the parts with your team's emblem, if you are in a competition.
The illumination on the ROCCAT logo is also customisable in 16.8 millions different colour to match your gaming keyboard or the overall desktop theme through the ROCCAT Swarm software.
DPIs, button assignments, and other advanced settings can also be changed via ROCCAT Swarm.
ROCCAT Kiro Review – Gaming Experience
ROCCAT Kiro offers a maximum of 4000 dpi for gaming, which suits me well. I normally game on 3400 dpi for most First Person Shooter (FPS) games and use 1100 dpi for desktop or any other games genre.
The sensor is accurate and fast, tested on the ROCCAT Taito mouse pad. I did experience a randomly bad jittery while using the Kiro before, but after changing the lift distance setting, the problem went away.
I play lots of Left 4 Dead 2 again these days with friends, and I can highly recommend Kiro. When you can quickly aim and headshot a pouncing Hunter, or a roof-jumping Boomer with accuracy in a split second, you know you have a great gaming mouse. Kiro sensor simply never failed me so far.
I also used it during my tests to play other games like Dota2, Star Wars Battlefront, and Hard West. Again, the performance was rock solid.
The buttons are responsive and the middle mouse button (which I use a lot in Left 4 Dead 2 for sniping) is also bouncy, easy to press, and has a great tactile feedback overall. Clicking on the left mouse button for a rapid pistol firing feels effortless too.
ROCCAT Kiro Review – Conclusion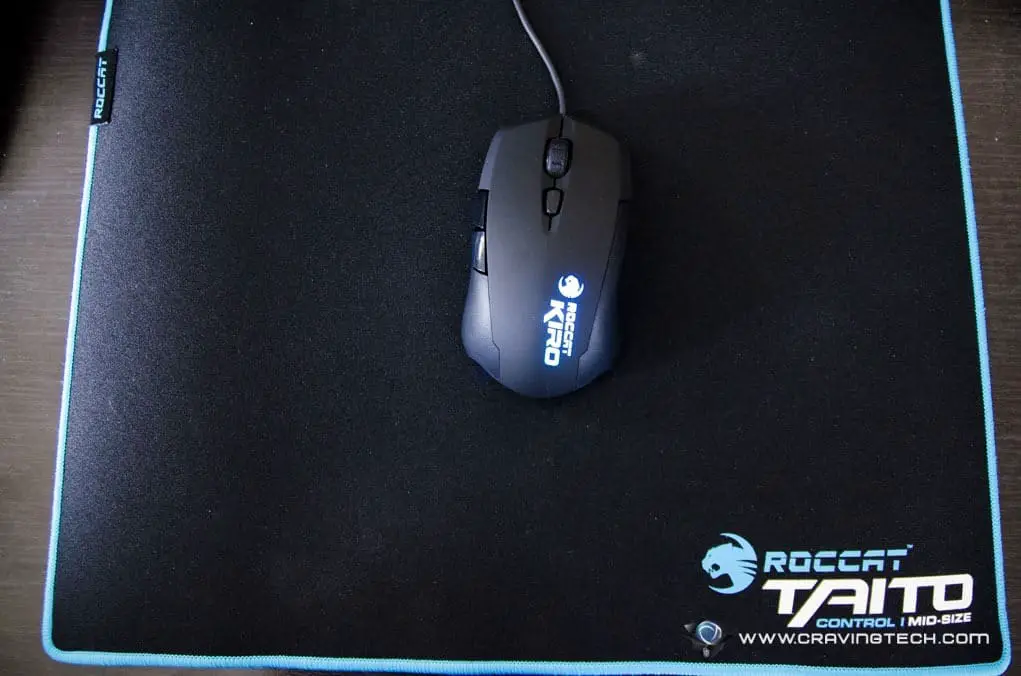 ROCCAT Kiro has a minimal and clean design that focuses on what a gaming mouse is for: gaming as best as you can be. Its sensor is accurate, its buttons are a joy to press, its ergonomics can be tailored to both left and right handed gamers, and its performance when gaming has been proven again and again.
Kiro never disappoints me when I need that quick aim-and-shoot in FPS games, or when I need to unleash my ultimate ability on a target in MOBA games.
Definitely worth getting if you don't need the extra bling-bling that you have to pay for a couple of hundred dollars. ROCCAT Kiro will cost AU $89.95 and available for purchase at EB Games Australia some time this month.
Disclosure: Review sample was sponsored for reviewing but all opinions are mine
ROCCAT Kiro Review – Pros
+ Accurate sensor, great performance
+ Ambidextrous with interchangeable parts
+ Smooth, clean, minimalist look
+ Fits well on small hands
ROCCAT Kiro Review – Cons
– Only has a maximum of 4000 DPI
– Not for gamers with big hands
[AMAZONPRODUCTS asin="B018K0101E"]