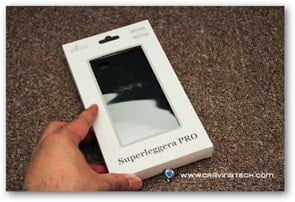 Acase Superleggera PRO adds an extra protection to your iPhone 4 by offering a double layer of protection – a polycarbonate shell on the outside and a silicone layer on the inside. It looks really similar to the original Acase Superleggera, except that the PRO is thicker because of this new dual-layer protection.
Owners of iPhone 4 who like to drop their phones to the ground should be happy with this updated version – a double protection for the phone yet keeping it slim enough compared to other bulky cases providing a similar degree of protection.
The inner layer, the silicone one, gives a somewhat softer protection whenever there is an impact coming to the case (such as from a drop). You can think of it as an air bag protection in cars (it's definitely not the same but you get the idea).
The outer layer, the polycarbonate shell, gives a nice grip, anti-dust, and anti-fingerprint to the phone. It gives a distinctive look and elegance to the case (Oh, I hate those silicon cases!). This layer is also higher than the iPhone 4's screen so it provides some degrees of screen protection too (assuming you don't drop it too high).
You first use the silicone cover to cover your iPhone 4 and then add the outer layer afterwards for the double protection.
There are cut-offs for the ports and jacks in Acase Superleggera PRO with additional bonus of covers for the audio jack and charging port:
These covers are not for show but to keep the dust away.
Overall, the Acase Superleggera PRO is a nice case – it's very affordable while giving an extra layer of protection plus you get the extra covers and a screen protector. The case truly protects your iPhone 4 from bumps, scratches, and even from dust. The extra layer of protection comes in handy, especially if you drop your phone too often without compromising the sense of slimness.
Note: Sample provided for the review
Acase Superleggera PRO Pros
+ Cheap but good quality
+ It feels like buying 2 cases with the price of one
+ Bonus screen protector
+ Extra layer of protection
+ Extra covers to prevent dust
+ Responsive button covers
+ Not too bulky
+ Good grip
Acase Superleggera PRO Cons
– The covers can be an annoyance if you use the ports often