A couple of weeks ago I was trying to find a new technology forum by Googling some "tech forum" keywords. I wasn't satisfied with the results but coincidentally, someone sent me an email through my blog's contact page and invited me to join a tech forum at LovingTech.net! It's kinda funny when you are thinking about something and not long after, a person suddenly offers or talks about it straight on your face :)
To cut the story short, I decided to hop in to one of the techie communities and threw in some replies.
Ryan Grant is the solely owner of LovingTech forum and I could see how passionate he is about making the forum work and grow at the same time. You can practically see his contributions in almost every thread in the forum, which is divided into sub categories such as:
The Community (whatever you want to talk about in related to the forum's community)
Marketing (search engines, SEO, etc)
Webmaster (all about the internet, web, code support, etc)
Business (buying & selling ads, domain, etc)
Technology (all about technology stuffs – gadgets, games, tech industry, etc)
I was actually expecting a solely focus on Technology kind of forum but I certainly glad that he added the other categories too as most members of the community seem to have a site or a blog. There are currently 479 active members of the community by the time the post is written (out of a total of 1,351 registered members) with a total of 26,593 posts in 3,423 threads. Now it may not seem much but seeing how the forum was online at the end of January 2009, it's actually quite amazing that it manages to reach such level in about 6 months! It clearly shows Ryan's dedication & effort.
Apart from the money you earned, "The Plaza", and a little-bit-confusing "My Loving Tech" instead of "Your profile" or a "Control Panel", you'll find the forum easy to navigate and use. Although you can change the theme, I find that the default one serves me pretty well.
You earn some virtual money when you are active in the forum. This money can be used on "The Plaza" for fun or to even further customize your profile: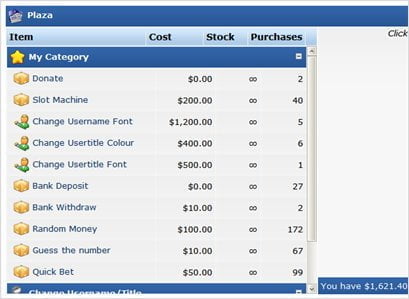 So when you feel bored, feel free to try your luck on the slot machine or on a few simple games in there :)
If you are a tech lover, then you should join in the community too. It's not a huge forum yet but it's all up to the members to make it big. A forum dies when members stay inactive but thankfully it looks like LovingTech will grow more and more each passing day. I had a thought of making a forum here on my blog but I was quite skeptical as I know how hard it would be to get active members on the forum. I'm sure your dedication will not be in vain, Ryan!