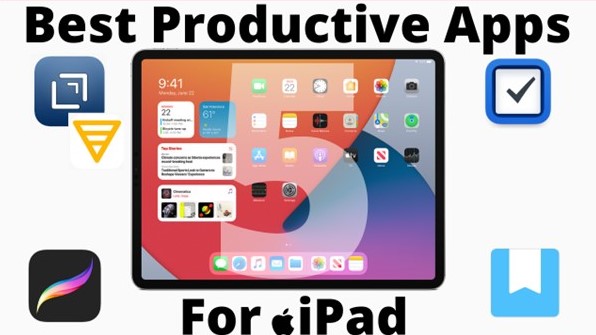 Note: This is a guest post written by Jeeva Shanmugam
Recently Apple Launched its next-generation iPad mini. On the whole, Apple has a great ecosystem for the iPad compared to Android, if you're an iPad User who always holds an iPad with you, then this article may be useful to you!
Here, I have listed the 5 Best Productivity Apps For iPad. All these apps are pretty interesting and useful. You may have Not Known About These 5 iPad Apps, But if you have these apps on your iPad, it helps you to make your day productive.
Starting from Note-taking apps to Photo editing apps!
Without further delay, Let's Get Started!
Drafts is a quick-capture Note-Taking App for iPhone, iPad, Mac, and Apple Watch, which is focused on letting you get text out of your head, and providing flexible ways of managing and acting on that text once you have captured it.
Here are the steps to Getting Started with Drafts
When you first launch Drafts, it opens ready for you to type so you can jot down your thoughts.
Drafts are organized around three basic areas:
Editor: In the center is the editor. Drafts launch directly to the editor, keeping your text first.
Drafts is a plain text editor, and supports syntax highlighting for Markdown and a number of other markup formats, and has unique modes to let you arrange text, work with links, and more.
Draft List: The draft list is where you manage drafts. Retrieve past drafts, filter and organize them, create workspaces, and more.
Action List: The action list is where you act on your drafts. It displays groups of actions that can be used to manipulate text, send it to other services, apps, and more. Send mail, messages, tweet, save to files, and more with actions.
Click Here to Know more!
Download Drafts for iPhone | iPad
Things 3 is a  personal task manager for iPhone, iPad, and all Apple devices that helps you achieve your goals.
The Germany-based software startup Cultured Code is a 2017 Apple Design award-winning app for organizing your life that's both simple and robust.
It works across Apple devices only right now. It is not available on Android or PC but, if you have at least one-Apple made product, it's probably worth considering.
Just take a look at the basic building block of Things – its to-dos. You immediately get a sense of how the new apps feel.
When you open a to-do, it smoothly transforms into a clear white piece of paper, ready for your thoughts. If you like, you can add more details (tags, a checklist, a start date, a deadline), but those fields are neatly tucked away in the corner until you need them. There are no distractions here, it's just you and your thoughts.
Once you've made your plan in the morning, the Today list is your go-to place for all daily activities. Calendar events now display together with your to-dos, giving an outline of your schedule.
Decide which calendars you want to see in Things: Personal, Family, Work, and more. The events are neatly grouped at the top of your Today list. With your to-dos below, your whole day is laid out before you.
There are often to-dos you won't get to until later in the day – such as things you can only do when you get home. So they've added This Evening, which allows you to keep these to-dos separate from the rest, in their own discrete list.
Click Here to Know more!
Download Things 3 for iPhone | iPad
Shortform has high-quality summaries and analysis of book ideas, plus articles on key topics and news.  With Short Form You can get the highest quality book summaries and analyses available in the world.
ShortForm has the best book summaries of the apps reviewed here. Good job! They don't offer original content but they feature summaries of top articles from the US press. The selection is still fairly limited with around 500 articles in the catalog.
Shortform summaries contain the book's key ideas, plus an analysis comparing those ideas to other books.
 Quick 1-page summaries to understand the book at a glance
Chapter-by-chapter comprehensive summaries and analysis
550% more ideas covered than other summaries
Audio narrations so you can learn on the go
#1 Bestsellers and all-time classic books
Interactive exercises to apply the key lessons to your life
Highlight your favorite passages and take notes
 Share key points with friends and co-workers
18 book categories, including Business, Health, Self-Improvement, History, and more
Printable PDF downloads for your reading convenience
Offline mode to read without Internet
Features coming soon: publishing feed, reading tracker, and more.
Click Here to Know More!
Download Short Form for iPhone | iPad
Day One is a journaling app for the iPhone, iPad, and Mac. From once-in-a-lifetime events to everyday moments, Day One launched on the iOS and Mac App Stores in 2011 to fill a need: record and store the important memories, photos, and details of life.
Here are a few features of Day One!
PRIVATE AND SECURE
* Automatic backups to our private servers (Premium)
* Privacy protected with industry-leading end-to-end encryption
* Secured with passcode or biometrics
* Export options to ensure your entries always stay yours
MORE THAN WORDS
* Unlimited photos and videos (Premium, limited for free)
* Auto-importer for your Instagram posts (Premium)
* Handwritten entries or drawings (Premium)
* Voice recording and transcription (Premium)
WHEREVER YOU NEED IT
* In your pocket or on your wrist with iPhone and Apple Watch
* Mac or iPad for long-form writing
* Text message or email straight to your journal
* Safari browser extension to save websites in a click
BUILT FOR REMINISCING
* On This Day highlights past memories
* Tags, favorites, and search filters
* Map view to plot your travel
* High quality printed books to flip through
* Integrates with the Health app to track mindfulness minutes
TYPE LESS, PRESERVE MORE
* Time, date, weather, step count, added to every entry
* Customizable templates
* IFTTT applets to automatically import from Spotify, YouTube, Strava, Fitbit, Facebook, Twitter, and more.
* Siri Shortcuts to automate more of your journaling
* Share from Apple Photos, Safari, and other apps!
Click Here to Know More!
Download DayOne for iPhone | iPad
Procreate is a raster graphics editor app for digital painting developed and published by Savage Interactive for iOS and iPadOS.
Designed in response to the artistic possibilities of the iPad, it was launched on the App Store (iOS) in 2011.
Designed to be used with Apple's tablet and stylus tools, Procreate gives artists all the benefits of working digitally (the ability to easily delete and correct, create art faster, and share work instantaneously) while recreating the familiar experience of pens, pencils, and paint on paper.
Procreate comes with an entire library of brushes with everything from pencils, inks, charcoals, to artistic brushes that lay beautiful painterly textures. Each brush can be customized with the Brush Studio or you can download thousands of brushes to suit any style you can imagine. If that wasn't enough, you can even make your very own custom brushes.
Brush Studio is an entire brush creation app built into Procreate. Harness the true power of Procreate's brush engine and take complete control over every aspect of how you want your brushes to look, react and behave. Brush Studio gives you the power to customize default brushes or build your own unique brush creations.
Click Here to Know More!
Download ProCreate for iPhone | iPad
---
These are the 5 Best Productivity Based Apps for iPad. If you are asking for another 5 Best Productivity Apps for iPad or iPhone, we will publish the second part with another 5 Best Productivity Apps as a separate article.