Roidmi F8 vs Dyson V8 – Roidmi was taking the Dyson V8 to the fight by releasing a cordless vacuum cleaner, the Roidmi F8. Though Roidmi never really says that their F8 is better than a Dyson V8, an included comparison chart certainly tries to convey that it is (and cheaper).
Should you buy the Roidmi F8 over the Dyson V8? Or should you get the Dyson V8 instead? Which one is better over the other?
While the answer is quite tricky (i.e "better in what sense?"), let's do a comparison between Roidmi F8 vs Dyson V8 as I've reviewed both of them here at Craving Tech.
Roidmi F8 vs Dyson V8 – Look and Feel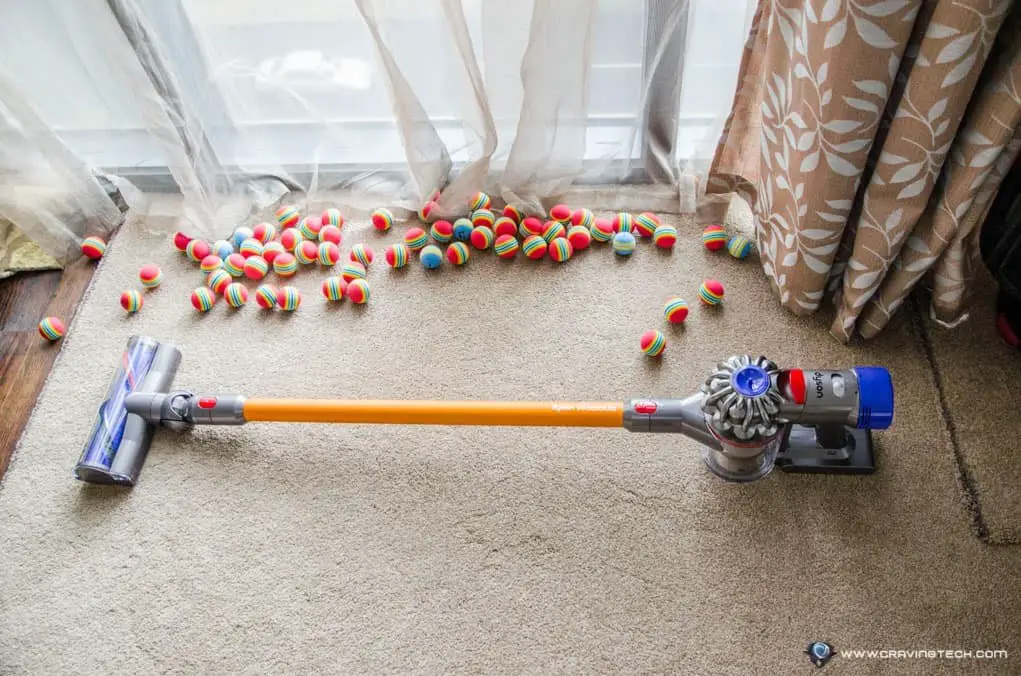 Design wise, thankfully Roidmi F8 is not a carbon copy of the Dyson V8. It has a more minimalist, futuristic look compared to the Dyson V8. The way you handle the vacuum is also different – I kind of like Dyson V8's design as it feels more balanced when you are vacuuming.
Roidmi F8 feels like you are carrying a watering can (i.e, you can feel the weight pulling you down), whereas the Dyson V8 gives you are more balanced feel, more centered if that makes sense.
Roidmi F8 wall mount looks better than the Dyson V8 and it's a magnetic solution too, but you have to plug the charging cable manually each time you want to charge Roidmi F8. Dyson has a cooler docking system that auto charges as you place the V8 on the mount. Both are good in their own ways.
Roidmi F8 vs Dyson V8 – Attachments, Head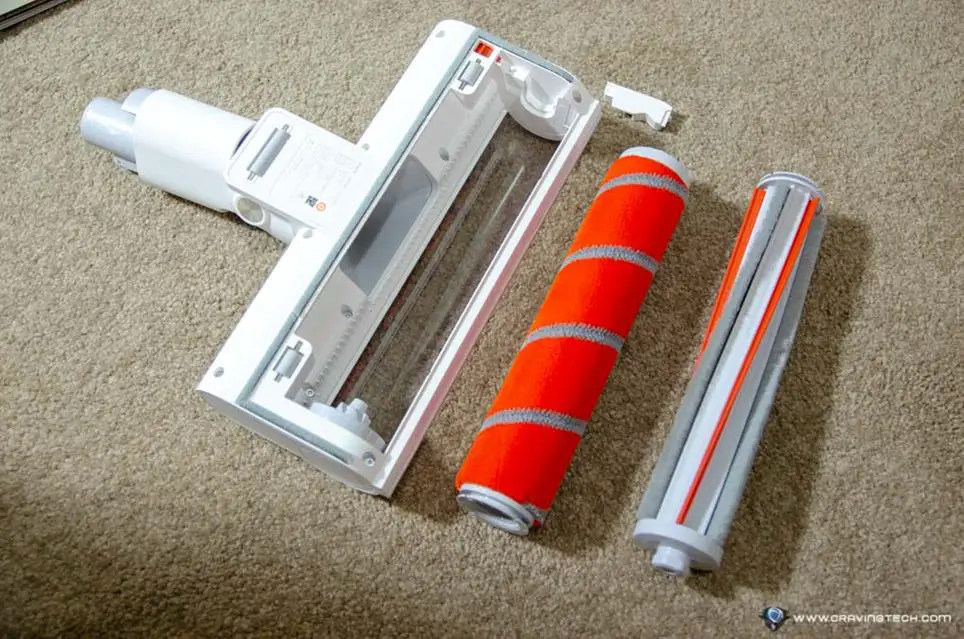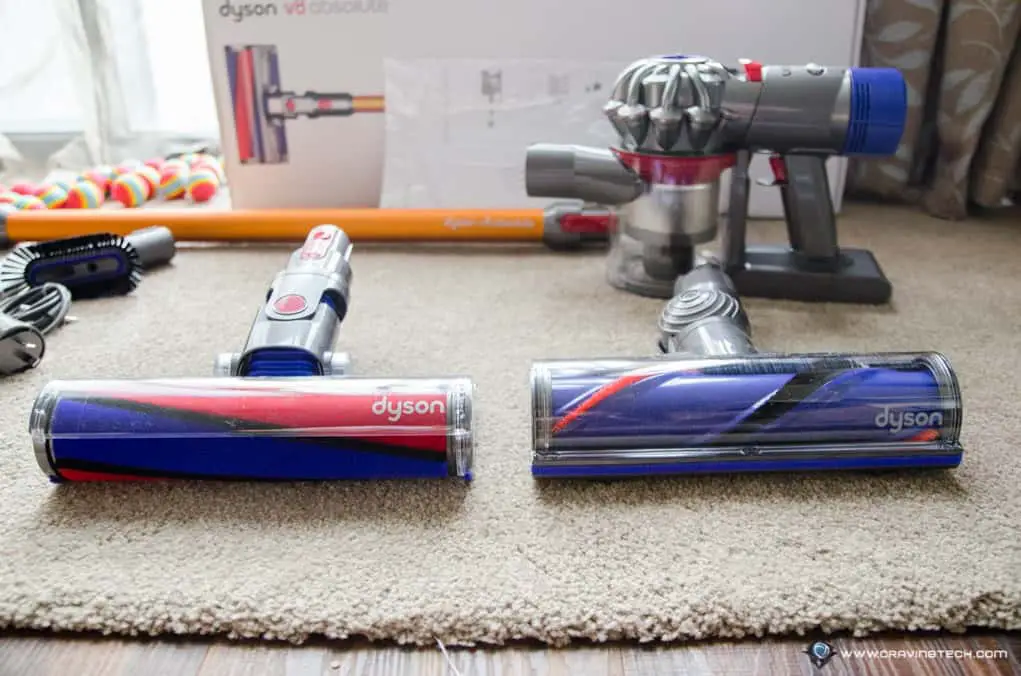 Roidmi includes one motorhead unit with 2 rollers (you can exchange the roller to match your floor type any time), whereas Dyson V8 Animal only gives you one motorhead unit. If you need both, you cannot just get a roller and take it out from the head unit. You actually have to get a separate motorhead (in the V8 Absolute+ model). This makes Roidmi F8 cheaper if you need to switch vacuuming on a carpet to floorboard, and vice versa pretty often.
However, there is a drawback in this. With the Roidmi F8, as dirt + dust + hair accumulated in the roller, it'll become more.. disgusting to actually hold the roller with your hand and switch it to the other. The process is also cumbersome. Therefore, I prefer the Dyson V8 solution, though it means you have to pay more for it. But having a separate, dedicated motorhead for different floor types actually helps Dyson in the performance department.
Roidmi F8 vs Dyson V8 – Vacuuming Experience
Both offers good vacuuming experience and both give pretty amazing results, especially on the maximum setting. You can't see much difference on tiles and floorboards, but on the carpet, I'd give the Dyson V8 a win. Without going too much into the details, Dyson has done many tinkering to its motor for many years, along with its more superior 2 Tier Radial Cyclones which in my experience, picked up more fine dust and dirt. I'd say both are amazing at doing their job and you'll be happy with both, but Dyson V8 seems to be able to pick up more fine particles from a carpet. Bigger watts in paper just don't mean better suction power apparently.
Dyson V8 standard mode is also powerful enough that I never need the Maximum mode. Roidmi F8 has a similar "Medium Power" mode but you need to turn it on from its mobile app.
Roidmi F8 has that fancy light which comes in handy to see the dark corners and areas, but in my opinion, it's not something to be considered as a buying decision.
I like how you can just press a button on the Roidmi V8 to start vacuuming without having to hold it. Compared to the Dyson V8, you need to keep pressing the trigger to vacuum. The idea is for you to save battery as much as you can in Dyson V8. When you are moving to a different area, naturally release the trigger and press again later.
I kind of understand the pros in both designs, so it depends on your preference. If you are going to vacuum often or cleaning a whole apartment, Dyson V8 design will save you some battery life (but this depends on the way you are vacuuming too). But if you hate the idea of having to keep pressing on the trigger to vacuum, Roidmi F8 has an easier mechanism.
Both has HEPA filter and a good filtration system though I notice there's a slight odour coming from the Roidmi F8 (it's not unpleasant, gagging, or anything, but there is a slight, distinct odour).
Roidmi F8 vs Dyson V8 – Bin
Dyson V8 has a larger capacity bin than the Roidmi F8. It is also easier to clean ever since Dyson changes the ejection mechanism in the V8 (and the newer Dyson V10). As you open the canister and eject the dirt inside, it pushes all the stuck dirt as well. Whereas Roidmi F8 is like the older Dyson V6 where you have to use a chopstick or toothpick later to clean things up near that mesh area. These won't happen if you stop vacuuming when the dirt reaches the bin limit, but who ever follows these rules?
Taking out Roidmi F8's bin canister is easier than the Dyson V8. You can take its bin out and just carry that small canister while you are making a trip to a bigger bin. With Dyson, you have to bring the whole unit. But with a smaller bin capacity on the Roidmi F8, you may have to go back and forth a bit more.
Roidmi F8 vs Dyson V8 – Which one to buy?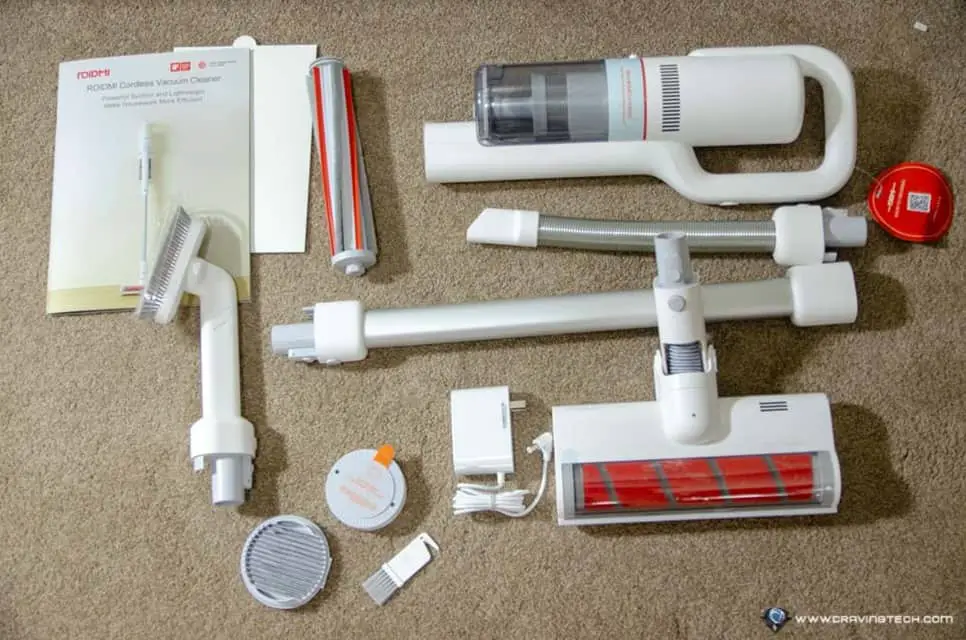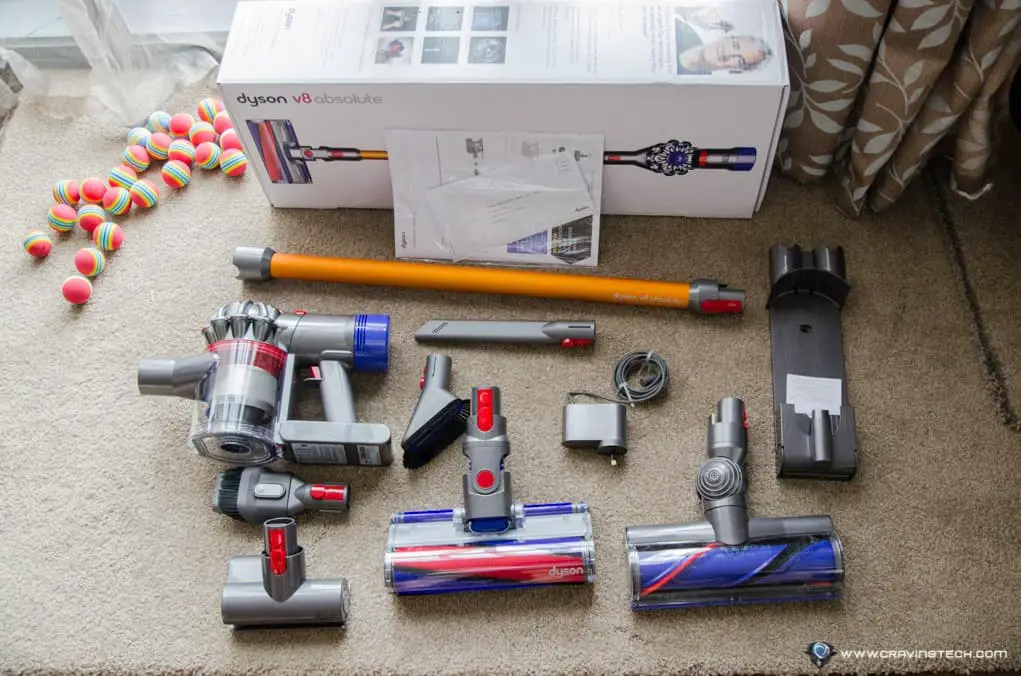 Roidmi F8 seems to have more features like the auto LED sensor light and smartphone app support (to check for battery power, firmware update, filter change notification, etc), but most of these are not really crucial when you just want to clean/vacuum.
At the end of the day, what really matters are the vacuuming experience, results, and price.
Roidmi F8 is definitely cheaper than the Dyson V8 and if you've never thought of buying a Dyson vacuum cleaner because of the price, you'll be happy with Roidmi F8. It has a great design, comes with different attachments, and can definitely suck dust and dirt easily with different modes.
However, if you want to get the best of the best, I'd definitely recommend the Dyson V8 more. It has a bigger and better bin design, more superior if you are vacuuming on carpeted floors, and you don't need to use the Max mode often (if at all).
Still confused? If it's a matter of price (i.e you are a bit low on budget), get the Roidmi F8 but if you have lots of carpeted floors to vacuum on, grab the Dyson V8 if you can afford it.
For a more thorough look on both machines, feel free to read our Roidmi F8 review and Dyson V8 review articles.