Note: This is a guest post written by Mitz

Windows Seven Tips and Tricks – If you using Windows 7 then you will probably be interested in Windows Seven tips and tricks. I have fallen in love with the Windows Seven operating system as it has great new features that make you feel proud to use it.
The new taskbar and the customizations you can perform with it, have you tried them? You must have liking it a lot! But don't think that you are a master of using Windows 7 because there is a great reserve of features that are still in disguise; that you wish to have in your system and they are there but you don't know them. Are you curious now to know the happening things about Windows 7? Let's go for it then.
Windows Seven Tips – More Keyboard Shortcuts
Don't like reaching for the mouse every time? Well I guess you don't have a SteelSeries Sensei Mouse and would rather use a nifty key board shortcut in Win7.
Window key + Left (Right) arrow docks the window to the left (right) side of the screen.
Window key + Up Arrow and Window key + Down Arrow maximize and restore/minimize
Window key + M minimizes all open windows
Win + Home minimizes/restores all but active window.
Alt+Up combination is used for navigating to parent folder, Alt+Left arrow and Alt+Right arrow for browsing Back and Forward through folders.
Alt+Win+number key accesses the Jump List of program on pinned at that number on the taskbar
Creating Your Own Shortcuts in Windows Seven
If you like the Windows Seven tips already mentioned, you will love this one. Sometimes you have to travel deep into the All Programs folder to open the program you want to run. What if there was a way to create a shortcut to your desired program? Don't be surprised, just go to that program's icon and open its properties by right-clicking. There is a shortcut key option. Type in the shortcut you want and start using it. This is great but try not to set two different programs with the same shortcut as this can confuse the computer.
Accessing a Programs Jumplist
It you are a laptop user, you will greatly enjoy this handy Windows Seven tip. Usually you access the jumplists of pinned or running programs by right clicking on them. But you can do the same with left button also; just hold the button over the icon on the taskbar and drag it upwards, the jumplist then jumps out.
Getting Access to Your Favorite Folders
You must have wished many times that you could pick and put your desired folders in the favorites category. This is possible in Windows 7 without any tough procedure. Open Windows Explorer and in the left navigation pane, search for your desired folder. Then drag it across to the Favorites area, located on the top of the left navigation pane.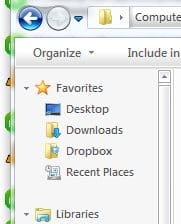 Pinning Control Panel to Taskbar
You must have pinned many programs to taskbar; but many people forget to pin the Control Panel there for easy access. Let me tell you the secret for that. Open control panel and in the taskbar, right click on its icon. You will find the 'Pin this program to taskbar' option. Select it and your control panel is ready to be accessed from taskbar. Wasn't that simple?
Hopefully these Windows Seven Tips will help you get to know your operating system a little better.