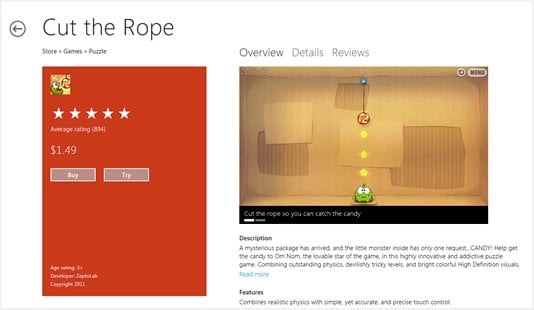 Antoine Leblond, Vice President of Windows Web Services announced more details about Windows Store, which is part of Windows 8 and the distribution point for Metro style app. If you are an app developer and have been following the updates on the latest Windows 8 (and probably have installed the Windows 8 Developer Preview build), then you might want to know more about the Windows Store features and policies.
In summary, Windows Store is easy to build for, submit to, and sell through. It is a full-screen Metro style app, built using HTML5 and JavaScript.
There are some major points that he talked about:
Designed for discovery
Flexible business models
Transparent terms
Best economics
Windows Store will be available in 231 markets worldwide and includes support for more than 100 languages, which means it will be highly accessible from anywhere around the world. Windows Store allows free apps, trials (time based and feature based), paid apps, and in-app purchase.
As for the fees:
Individual registration fee will be $49 USD ($99 USD for companies).
Will share up to 80% of the revenue generated from app sales.
If you want to know more about it, feel free to head off to his blog post on Windows Store blog: Announcing the new Windows Store or check the video preview of Windows Store by Antoine Leblond here: