LUXA2 Zirka Case and Rimini Stand Case for iPad 2 – These are the newest iPad 2 cases from LUXA2 and they are not just ordinary cases you see on the shelves. The LUXA2 Zirka Case is an iPad/iPad 2 sleeve case which focuses to be the slimmest sleeve case but at the same time, adds a few nifty features to the mix.
The LUXA2 Rimini Stand Case, on the other hand, makes it easy to carry your iPad 2 where ever you go in style, always ready on the go.
LUXA2 Zirka Case for iPad/iPad 2 Review
LUXA2 Zirka Case Packaging
LUXA2 Zirka Case Impressions
LUXA2 Zirka Case is a sleeve case and it has been designed to be light weight and slim: it only weighs 176 grams and 3.3 mm in thickness.
It uses a synthetic material which is a bit rough to the touch, but stain and scratch resistant. What I like most about it is the non-slippery surface it creates, meaning I can hold my iPad 2 on top of it while reading my document and it'll somewhat glue the iPad 2 onto the surface:
It also sort of sticks on my table so it will not accidentally fall over unless you knock it really hard.
Though it is stain and scratch resistant, it's quite easy to get dirty as dust and dirt accumulate on the Zirka Case. Thankfully, the case is easy to clean.
LUXA2 Zirka Case is not just a simple sleeve case though. You can transform it into a stand for better typing experience. Now, I haven't seen a sleeve case that can do this before (normally only the portfolio-type ones). The little thingie on the bottom helps to hold the iPad from slipping down.
Unfortunately, you cannot charge the iPad while it's inside the LUXA2 Zirka Case because the charging dock is not accessible unless if you take the iPad out of the case first.
LUXA2 Zirka Case is definitely a great case if you don't want to add more weight to your iPad with portfolio cases. With Zirka Case, you can hold your naked iPad the way it's meant to be but gives you protection when you need to carry the iPad with you and it also has a magic stand for a better typing angle.
LUXA2 Rimini Stand Case for iPad 2 Review
LUXA2 Rimini Stand Case Packaging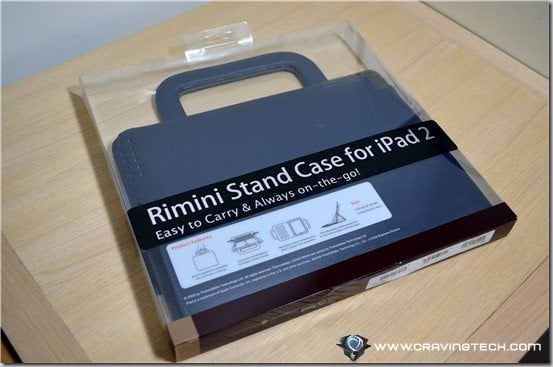 LUXA2 Rimini Stand Case Impressions
The Rimini Stand Case is a different case altogether. You are meant to slide in your iPad 2 in the case and use it like a portfolio case (never to take it out again). The unique thing about the case is the design – as it's designed like a briefcase:
Rather than having to carry an extra bag to put your iPad 2 in, the Rimini Stand Case makes it easy to carry your iPad 2 with you without any extra bags. Simply close the case, grab the handle, and off you go.
It's sort of cute and this will definitely go well with the ladies (I myself won't probably be walking around with it as I'll look too cute :D)
LUXA2 Rimini Stand Case has a built-in magnet that offers Apple Smart Cover's automatic sleep and wake feature. The handle also has a magnet to securely hold the two pieces together when you close the case.
It also offers 2 adjustable angles so you can watch movies or read magazines based on your viewing angle preference.
The only thing that I don't really like about the case is when I'm actually using the iPad 2, because the handle takes away the smooth experience. It feels a bit awkward with it sticking around on the sides of my iPad 2 Apart from that, it's a great case and classy. If you travel with your iPad 2 every day to commute to work, the Rimini Stand Case will be your best companion as you can hold it around like a briefcase.