Flex Belt Review – Best ab workout with least effort? – In case you don't know, the Flex Belt is an Ab belt toning system to firm and strengthen your stomach muscles and ultimately, to get that abs showing off rather than your belly. I considered the Flex Belt as a nice little gadget for those with busy life and obviously for geeks who spend too much time in front of their computers and hitting the gym less.
Flex Belt is definitely the best "ab workout" with least effort, as you simply don't need to do much but you'll get the maximize results.
Though I've started to go to gym regularly compared to last time, I rarely do my sit-up reps and most people agree that it takes too much effort to get that abs. So the question is whether the Flex Belt can really help you out here? Well, yes, but one thing you need to get it to your mind, the Flex Belt is not here to get rid of your fat belly or to lose your weight. It's all about what you eat to get rid of that fat but the Flex Belt helps you tone your stomach muscles in the easiest and most effective way possible.
When I got an opportunity to try it on myself, I was still skeptical. I mean, there is no easy way in life, right? You get what you deserved. So the thought of just sitting around and gaining muscles is kind of vague to me. However, the fact that they are willing to send me a sample to review told me something, that there's no way the Flex Belt is a scam because I don't get paid to write this review and come on, it's not like I'm being sponsored a $1,000 worth of product to lie.
The Flex Belt promo video:

So here is my honest Flex Belt review or impressions.
The Flex Belt packaging includes:
The Flex Belt® unit
Gel Pads
Rechargeable Power Supply Unit
Belt extension for those with a waist over 44 inches (about 111.76 cm)
Instruction Manual.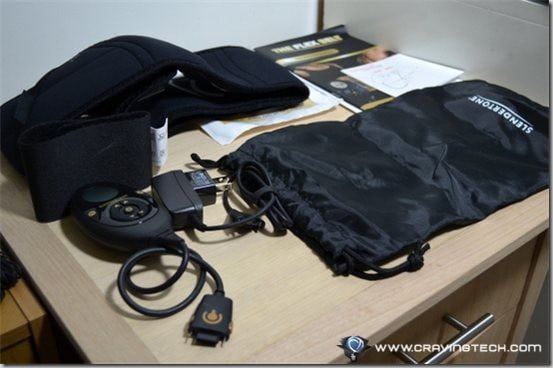 The belt has 3 areas (where you need to stick the gel pads on) that cover the central abdominal muscles and external oblique.
The belt is meant to be wrapped around and secured with Velcro. The gel pads help conduct the impulses to the muscles safely, effectively, and cleared by the FDA (meaning, it's safe to use) as a class II medical device for direct to consumer sales. The gel pads have quite a distinct smell though thankfully it's not nauseating and the smell doesn't stick on your body afterwards.
These gel pads unfortunately have to be replaced after some time if you want to get the most out of them – as the success of the toning session depends on the quality of the gel pads, according to the product description. I wish that we can just wash or do something to keep them in tip top shape without having to order new ones every now and then. According to the product page, the gel pads should last about 30 sessions.
The Flex Rechargeable Power Controller controls everything such as the power, the intensity of the toning, and more.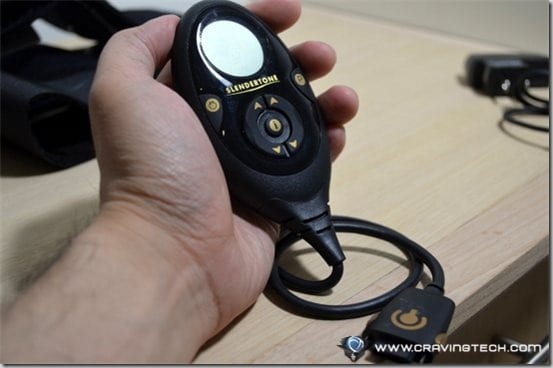 Whether or not you can get that abs quicker depends on the intensity you use for the sessions (they are ranged from 1 to 150). The Flex Belt will actually contract the muscles (like when you are doing sit-up reps) so if you set it too high and you are not used to it yet, you'll definitely feel the discomfort and muscle sore! It's like when you first started to do some crunches, you could only do a few and then could do more and more each session. On higher intensity levels, you'll really  feel it and at times you need to take a break for a day or two to let the muscles to recover.
After a few weeks of using the Flex Belt regularly, unfortunately I could only go up to 80/90. The manual suggested 15 for your first session so you can get used to it and then increase it on the next. It does help (as suggested in the manual) to set it to a level you are comfortable with and then increase the intensity bit by bit during the session. I find that 70 is my most comfortable setting at this point in time. I'm sure I could go higher in a couple more weeks.
I was really surprised to find that even after the first two sessions of using the Flex Belt, I could already feel the hardened muscles, especially around the oblique. This is not a lie (and to those who have been following my blog for years, I'm sure you can vouch for my integrity :)). Unfortunately I'm pretty sure I would need more than 90 to get that cool-looking abs and I also need to get my diet right to get rid of my belly before I can see them. However, poking my tummy with my finger has given me a smile now – as I can feel the hard, toned muscles compared to the old days before I had the Flex Belt. Not to mention that I can see the abs "contour lines" compared to last time. So yeah, not much abs yet but can definitely see and feel the difference!
Flex Belt is great because you can "exercise" while you are doing other things. For example, I often use the Flex Belt while writing blog posts such as this or when I'm doing weights for my biceps. It's a perfect exercise tool to those with busy life or just being extremely lazy. You can cover the belt with your shirt and tuck the controller inside your pants' pocket.
Of course, on higher intensity levels, there is no way you can walk around with a smile while the belt is contracting your muscles.
I also find that the belt needs to be wrapped at the right position or I could feel a real discomfort on higher intensity levels. At times, I have to pause the session and re-position the belt.
The Flex Belt Review – Conclusion
Flex Belt definitely helps you to make that abs with the least effort. But do remember that it is not a weight loss tool and you will never see your abs unless you get rid of that fat belly first. However, even when I do have a bit of belly, the Flex Belt still tones my muscles as I can feel and also see the abs' contour lines in the mirror. You need to use the higher intensity to get the best results and there is no shortcuts here. It will take a few weeks to go higher and higher so there are no instant abs.
On the higher settings, it gets uncomfortable, meaning it really pushes the muscles out – just like when you do lots of sit ups and you start getting that sore feel on the muscles. So in a way, there is a workout and "pain" you need to endure. No way out of this, folks!
Compared to doing crunches, I find that the Flex Belt actually gives me quicker and better results. There is also a 60 days money back guarantee so if you think you are being cheated, you can always return it back to them.
Note: The Flex Belt review sample was provided for the review
The Flex Belt Review – Pros
+ Easy to use
+ Can see and feel results immediately after a couple of sessions
+ Customised training and sessions
+ Rechargeable controller
+ Battery lasts long (a couple of weeks at least, even when I used it like 4-6 times a week)
+ Allows you to do your other things while it's toning your muscles (perfect for those with busy life)
+ You'll exercise more often as a result of the good points above
The Flex Belt Review – Cons
– Have to replace the gel pads after 20-30 sessions
– Needs to be positioned correctly or you'll feel discomfort