Note: This is a guest post by Ankur Chauhan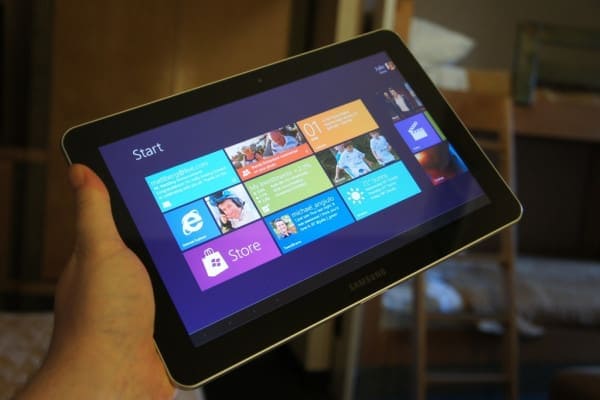 Windows 8 Tablets are just a few weeks away from being launched and released to public. There are lot of speculations going on all over the internet of whether this new venture of Microsoft will succeed or not. Android and iOS are in the market for long time and have already captured the Tablet market to a big extent. In spite of that, I believe that there is a huge possibility of the upcoming Microsoft's Windows 8 Tablets turning out to be a big success.
Here are some of the reasons which I believe would prove to be decisive factors for the same.
Especially Tablet Oriented Design
It's the most famous aspect of Windows 8. The GUI has been completely revamped and designed to suit the needs of the tablets. The big tiles interface surely looks beautiful and convenient to navigate in a tablet. The entire GUI is constructed in such a fashion that the touch base aspect of a tablet is incorporated well & user experiences a productive atmosphere for fulfilling their tasks.
Integration with Windows 8 Laptops/Desktops
Windows 8 would be similar in Tablets as well as in a typical PC. This is a big bonus since Microsoft already holds majority of PC user share of the world. People willing to own a tablet in future would be lure to buy the tablet which is more easy to use and familiar to them. Windows 8 being already installed on PC would lead to considerable bonus sales of the Windows 8 Tablets.
It's easy integration with your PC and laptops would make your tasks such as networking, app management and transfer of files etc. a child's play. Most of the general features are already available in the Windows 8 operating system which helps you manage and sync both tablets and your PC together.
Market Reach & Brand Value
Microsoft is big player in tech industry and has abundant resources. Since, it already has roots in almost all countries, marketing and sales would not be a hassle. Compare it with Apple which still is not available in many countries. Microsoft is also a very well-known brand in software industry, so its product would be consider reliable by the people.
Established App Market 
Windows 8 App store would be common in tablets and PC to some extent. So you can imagine the number of Apps available to you right away. You can use same apps in PC and tablet since they share a common platform. Hence, unlike Blackberry OS, developers would be keen to develop their apps for the platform.
The Cost Factor
The crucial factor which is price of the tablet doesn't seem to be a problem either. Since, the PC manufacturers would be selling Windows 8 tablets; hence you can expect great competition which means better prices available to the ocnsumer as compared to Apple iPad.
Advertising
Microsoft is aggressively advertising Windows 8 in all events. Most of the people are aware of the upcoming Windows 8 Operating system. Microsoft is advertising and promoting the upcoming OS on various social networking sites. All this is expected to converge to sales to some extent.
Dual Use as PC & Tablet
That's not it, just plug in your keyboard & mouse and you get a PC in front of you. Although you can do the same for Android, iOS too but again the major difference is the same OS familiarity of your PC and tablet.
Whether Microsoft's Windows 8 Tablets would be success or not? We will find the answer in a few months. What's your take on this? I would love to hear from you.
Note: This guest post was written by Ankur Chauhan. He is a Tech Blogger. He primarily write about Software, Internet, Gadgets and Technology related news on his website  TechEveryTime.com . You can catch him on twitter @ankurandu