iOS 6 Review (based on Beta) – I know it may sound wrong because iOS 6 is still in Beta and it's not meant to be "reviewed". However, I'm sure most of you want to know how iOS 6 is and be excited (or not) about it. Apple announced iOS 6 and its features during its WWDC 2012 not long ago.
I had a chance installing iOS 6 thanks to Stark23, an app developer at Whirlpool forum. Obviously, you have already seen the video or read about iOS 6, so you pretty much have got an idea about iOS 6.
At first, I felt that iOS 6 is not as exciting as iOS 5 and it's more like "stock apps releases and updates" rather than a major OS update. We don't see much new OS features and not much of an interface overhaul. I do agree that iOS 6 places more love towards apps developers (for a good reason) by giving them more access, integration, and social love (since it's easier now to share applications to your friends on Facebook, meaning more love to the app developers).
Or perhaps it's because I was expecting some kind of a new Home screen (as I get bored with the "Square-y apps" look that everyone else has) or something sexier on the Lock screen. Well, nevertheless, the tweaks and improvements still make iOS 6 a worthy upgrade from iOS 5 (and hey, it's free).
Here are some of the changes that may or may not be noticeable from the official announcements and information:
iOS 6 Clock App
You can now set your own songs (not ringtones) on Alarms (Clock stock  app)
Timer seems to have a smaller font display when running (not really a feature, just cosmetic change)
iOS 6 Apps and App Store
New App Store look and feel
Updating apps does not require a password entry. Normally you have to insert your password, which can be annoying if your password is long and complex, as it should be.
New apps have a "New" label tag overlaying the icon. It will be removed when you launch the app for the first time.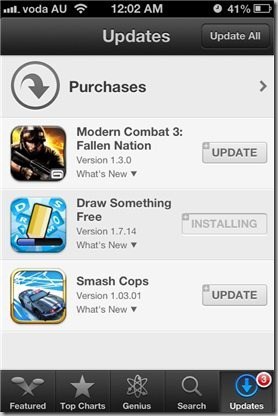 iOS 6 Siri
Can launch an app by using Siri (say "Launch Twitter", etc), pretty cool.
Can post status updates (Twitter and Facebook) using Siri.
Can ask Siri how to go to "X" and it will integrate with Maps
Others
Can tweet and post Facebook status from Notification Center
The Bluetooth is now on the main General setting (less tap to turn Bluetooth on/off), but there is still no way to do it quickly (wish it's on the notification center!)
The new Maps is cool (voice does not work yet in Beta 1) although it does not have public transport information like Google Maps. It's their first release though, so we need to give them a bit of a break.
My Whatsapp app seems to be more responsive when sending a message out. Not sure if this is because of iOS 6 or something else.
Love the Facebook integration
New sharing options on Photos

Some of the issues I notice or things I wish can be improved on iOS 6:
Integration with Facebook is good in Contacts app but they are shown as a new entry on other apps. So you'll see contact duplicates with different information. I'd suspect apps are just needed to get an update to support it.
The new App store does not display app reviews until you open the app details in App Store. I'd prefer being able to see reviews on the list so I can decide whether to further find out more about the app or not.
The "Do Not Disturb" option is quite cool, though I wish we can schedule it based on days as well (such as do not disturb on Monday-Friday, at 9:00-17:30 when I'm working, etc). At the moment, you can only set the time.

Siri will also need some time to be fully functional in Australia (and most likely anywhere else in the world).
In the end, I still wish that iOS 6 can be something more – a cooler, newer interface or some kind of customisations (which is probably impossible to ask), so I can brag about it to my Android friends. Or at least something that will go nicely along the upcoming iPhone 5.