Note: This is a guest post written by Scott Cole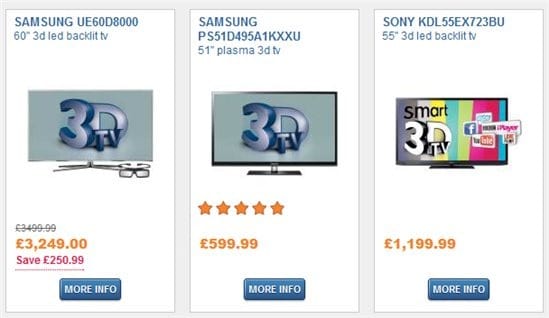 Even if you hate athletics, there's no way you're escaping the 2012 Olympics in London. That bulging, retched not-quite-graffiti-not-quite-bold, fit inducing logo will continue to haunt you everywhere you go over the next 6 months.
Even if you think you're safe at home and become an unsociable hermit who's not willing to match 99% of the nation's enthusiasm, you're still going to get sucked into a world of toned abs and javelins. It's inevitable. So it's time to drop the negativity and embrace that champion spirit.
Problem is, if you didn't enter that ridiculous Olympic lottery ticket fix 6 months ago, to actually see an Olympic event live you'll have to hang around the Olympic stadium each day waiting for some shady, snotty, cretin of a man to walk up to you and offer you the glorious opportunity of buying two tickets with a 500% mark up. Not the ideal way to see in one of the biggest sporting events in history is it?
Which TV Should You Choose?
So, the best alternative is probably to rest those excitable legs and watch the glory unfold from the comfort of your trusted armchair and in front of a disgustingly monstrous TV screen. Fortunately, I've taken the time to consider some of the which TVs are best for Olympic viewing and hurled in a few masterful Olympian comparisons just to whet your appetite.
Kurt Angle / Sony KDL65HX923BU 65" LED
Some of you will probably be familiar with Kurt Angle's wrestling career and the crazed, egotistical vein-popping maniac he's become in TNA wrestling. But he was quite a different character in 1996. In the '96 Atlanta Olympics, this milk fuelled machine won Olympic gold in men's freestyle wrestling. The best part of this story is the fact that Angle managed to recover from a career threatening neck injury in the Olympic trials and had to have neck numbing injections throughout the Olympics to combat chronic neck pain. Angle is currently training for a sensational return to Olympic wrestling at the age of 43 at London 2012.
Now this 65" Sony hasn't had quite the same level of trauma that Angle suffered, but they do have their similarities. Firstly, we're talking about 65" of TV screen, in which respect, this is a MONSTER TV. You might not even have walls strong enough to keep this one up. Secondly, this Sony is a Smart 3D TV enabling viewing of internet and TV channels such as YouTube, Lovefilm and iPlayer. The multi-tasking Sony reflects Angle's own career who has established himself as both a decorated wrestling champion, occasional actor and frequent celebrity law breaker.
Paula Radcliffe / SAMSUNG UE40D5520R 40″ LED BACKLIT TV
Paula Radcliffe has been a little unfortunate when it comes to the Olympic games. In the 2004 Athens games she was favourite to win gold in the Marathon but withdrew during the race due to injury. In 2008 she again suffered injury during a Marathon at the Beijing Olympics; she finished the race in 23rd place. Despite this, Paula remains Britain's best Marathon runner, is a world record holder is and is training for the 2012 Olympic games in London.
Samsung televisions are notorious for consistent in their design and performance and Samsung as a brand is one of the most respect in electronics, echoing the same pedigree boasted by the Olympian Radcliffe. Similarly to Radcliffe, this budget 40" inch Smart TV retail boasts all of the capabilities of larger more expensive Smart TVs, whilst humbly adorning its £499.99 price tag. A reliable, high performance HD TV, acclaimed by consumers and electronics experts. Oh and to note, this TV won't poo in the corner of your living room.
Usain Bolt / LG 50PZ250T 50″ 3D PLASMA TV
In the last 10 years, Usain Bolt has emerged as one of the world's most exciting athletes. His unorthodox style and training routines, his refreshing relaxed attitude towards athletics and his inhuman speed all make him a unique, talented and unpredictable competitor. He became a triple Gold medal winner at the 2008 Beijing games at the age of 22 and is the current 100m world record holder after THAT 9.58 sec masterpiece in 2009.
This LG is a similar beatnik of technology, offering 1080p HD and 3D viewing but without Smart TV capabilities. LG are a brand who are quickly establishing themselves as mid-range TV geniuses offering both cutting edge technology but without breaking the bank. They offer a great, alternative option to the more expensive TV brands. If you want to keep track of Usain Bolt's lightening Olympic speed, this is the ideal TV as it features A Dual XD picture enhancement engine which is great for all Olympic sports. There's also active 3D technology and a pixel resolution of 1920 x 1080 to capture every single green, yellow and black sprite which is sure to rain down upon our screens following Bolt's 2012 victory.
Steve Redgrave / PANASONIC TX-P65VT30B 65″ 3D PLASMA TV
He's one of only four Olympic athletes ever to have won five gold medals at consecutive Olympic games. He's won countless accolades for his Olympic and athletic achievements and above all else, he's a bloody good guy. Redgrave is considered the greatest British Olympian of all time.
Redgrave's accomplishments can only be compared (somehow) to the incredible performance specifications of the Panasonic TX-P65VT30B.With a THX C3D display. 1080p HD ready and with 1920 x 1080 pixel resolution, there's no fear of any burnout. It's equipped with Panasonic's very own commitment to developing TVs which are ideal for sporting events, featuring Infinite PRO technology, enabling deeper blacks and high contrast rates which make tracking movement crystal clear. This is a relatively cheap Plasma TV given its size, it also has one of the best energy ratings on the market.
Kelly Holmes / SAMSUNG UE32D6100SKXXU 32″ LED 3D BACKLIT TV
At just 5ft 4, Kelly Holmes packs an Olympic heavyweight punch. In Athens 2004 she won gold in the 800m and 1500m races after suffering numerous setbacks and struggles throughout training. In 2005 she was awarded a DBE and retired later that year at the age of 35 after a glittering career which cemented her as one of Britain's greatest ever female athletes.
This 32" Samsung is one of the smallest LED TV on this list but in Holmes-esque fashion doesn't sacrifice any quality, with cutting edge technology rivalling that of it's bigger more imposing competitors. With Smart TV capabilities, ultra clear glare reflection and colour Enhancer+ integration, the picture is as natural and sharp as you're going to get for a screen of this size.
So which TV will you chose for THE 2012 Olympic games?
Note: This guest post was written by Scott Cole