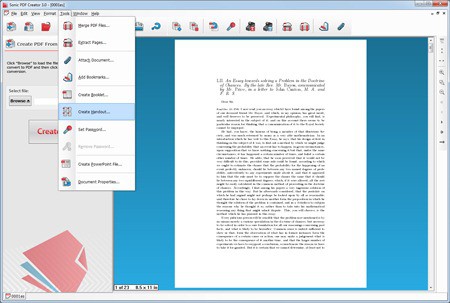 Some time ago we had a giveaway of a PDF software and it seemed very popular. Thankfully, we have another one this time, sponsored by Investintech.com
Five licenses of Sonic PDF Creator 3 (worth $50 per license) are to be given away this time!
Sonic PDF Creator 3 makes it easy to create a PDF document from scratch with easy to use and appealing interface, or even to modify existing PDF documents. Some other cool stuffs that you can do with Sonic PDF Creator 3:
Insert a page into existing page document
Delete a page from existing page document
Change the size of the PDF content
Add more information into the active PDF document such as date, time, notes, and all that.
Compress your PDF to make it smaller in size
Split a PDF document into files (page per page)
Secure your PDF document
More
Sonic PDF Creator 3 video
How to win 5 Sonic PDF Creator Licenses
Use the widget below to gain as much reward points as possible. If your friends come to visit this page through you, you'll get points too. So, share away! No hard question to fill in or anything. Five people with the highest points will win the licenses.