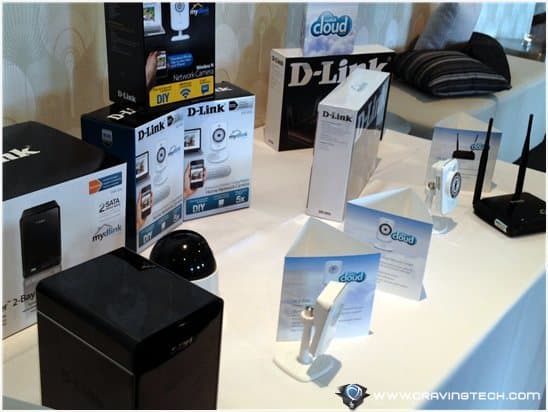 I was invited to attend D-Link Cloud Product Roadshow event here in Melbourne last week, where D-Link would be demonstrating their newest cloud products, especially their easy-to-install and easy-to-use network cameras.
Back in the not-so-old-days, network camera installation normally required techies who knows their ways around networking, IP address, firewall, and many other technical jargon that a parent or a shop owner may not know of. I was using a parent or a shop owner as an example, because network cameras are used by these segments quite often, to monitor their newborn babies or their small business.
With the D-Link network cameras, a few steps are all you need to set them up.
I missed the first half of the presentation as I was still working by the time they started, so I didn't get a chance to hear much about their wireless router with a built-in hard drive and an ability to record the videos captured by these cameras.
The products were launched around November last year but they have received good numbers of users so far, judging from the amount of registered/logged on users on mydlink website (you do have to register yourself before you can start viewing the cameras).
The mydlink Lite app is free to download and install, though the mydlink Plus allows you to view 4 cameras simultaneously on your device (at the moment they are only available on iOS and Android).
What's interesting about these D-Link network cameras, is that you are not required to set any complicated network or port settings. You simply connect the cameras to your home wireless network and either use the app on your device or login to the mydlink website to view. It can't get any easier than this!
Here is a video explaining how D-Link network cameras work:
The cameras start from $119 (entry level), $149 (day and night support), and $199 which supports SD-Card and MP4 compression.

In the end, they also gave each of us a DCS-930L Wireless N Network Camera to play around with at home. I haven't had a chance to open the box and try it, but I definitely will when I have a spare time (feeling somewhat guilty, because we were told during the event to give the camera a try and not leaving it on the shelf, unopened. Oops)