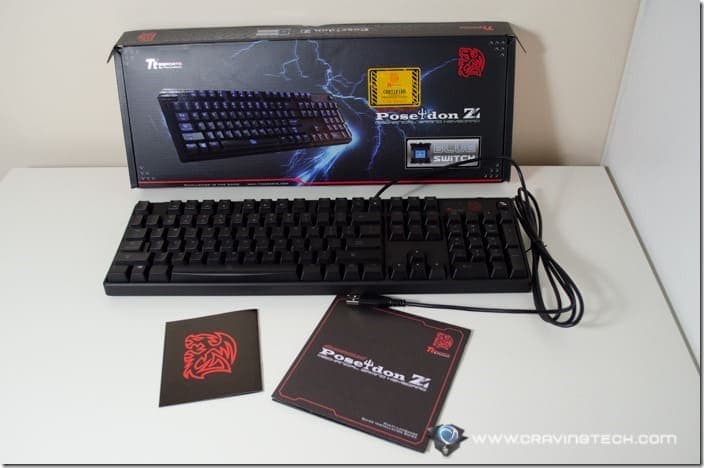 Tt eSPORTS Poseidon Z Illuminated Review (Blue Switch Edition) – Most gamers, including myself, prefer mechanical gaming keyboards compared to the older rubber dome keyboards. They have better tactile feedback, more comfortable for typing, faster response, and last longer. They don't come cheap, however, and are often filled with things that you rarely care about.
For just AU$129 (at the time this review was written), you can grab the Tt eSPORTS Poseidon Z Illuminated Blue Switch Edition to experience a true mechanical gaming keyboard experience with an affordable price.
Non-Cherry MX switches – Yay or Nay?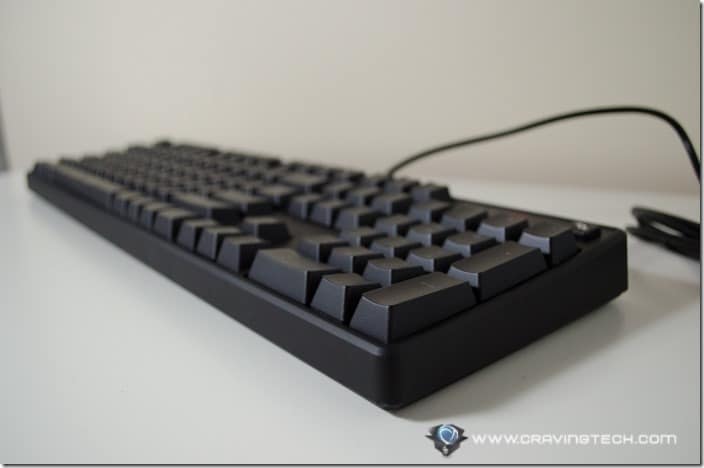 There are a few Poseidon Illuminated models that you can grab at the moment if you are after a new mechanical gaming keyboard:
Poseidon Illuminated with Blue, or Brown, or Red Cherry MX switches
Poseidon Z Illuminated with Blue or Brown switches (The "Z" seems to indicate that Tt eSPORTS Certified Mechanical Switches are used, instead of Cherry MX's).
The one that I have for the review is the Poseidon Z Illuminated with Blue switches (which is the only one available in Australia at this stage). Though the "Z" editions do not use the Cherry MX switches we all know about, I honestly can't feel the difference. They definitely have similar tactile and clicky feedback. According to Tt eSPORTS, these switches actually actuate earlier and closer. It means you will get a more accurate feel and faster response time, compared to Cherry MX switches. These switches are rated for 50 million keystrokes and also come with a 5 year warranty.
Keyboard Design & Features

Overall, the design of the keyboard is simplistic (or minimalist, if you prefer) and features just the main cores of a gaming keyboard you need.
The keyboard itself is fairly sturdy, a bit heavy, and has rubberised feet, all to make it stand still on a surface. Imagine the frustration if your keyboard moves around while you game competitively on it.
The keys are individually backlit in Blue, which complement the black overall look of the keyboard. You cannot change the backlit color but you have options to turn them off completely or reduce the brightness (with 4 levels of brightness adjustment). The Caps lock and Num lock indicators are brighter than the rest of the keys, which is good because I'm often unaware having my Caps lock key on.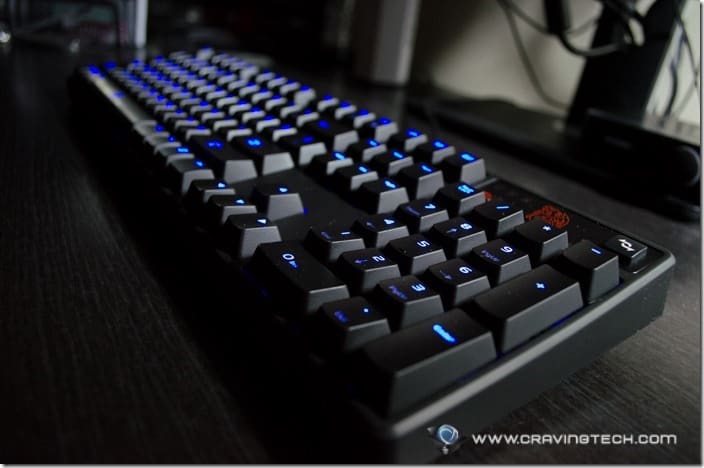 I find that all keys are in the right placements to my preference and they don't feel crammed. I like that Tt eSPORTS does not swap the Windows key on the left (for Windows shortcuts) with a Function key, the \ (backslash) key is above the ENTER key, and the letters are pretty big to spot in the dark. To avoid accidentally hitting the pesky Windows key during your gaming session, there is a dedicated Gaming mode on the top right of the keyboard that enables or disables the Windows key. I find that this solution is much preferred than having to use the Function key. The Function key is instead being used to adjust the backlit brightness, volume, and media playback.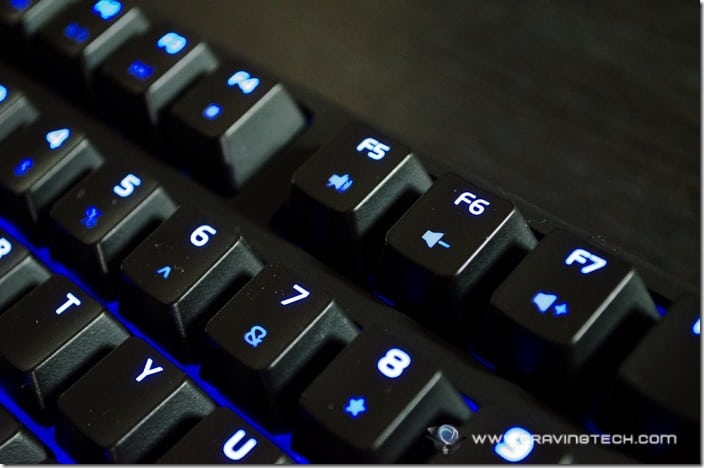 These design decisions make the Poseidon a great keyboard for both gaming and desktop use. There are no fancy LCDs, macro keys, fans, USB ports, or headphone jacks, however.
Gaming and Typing Experience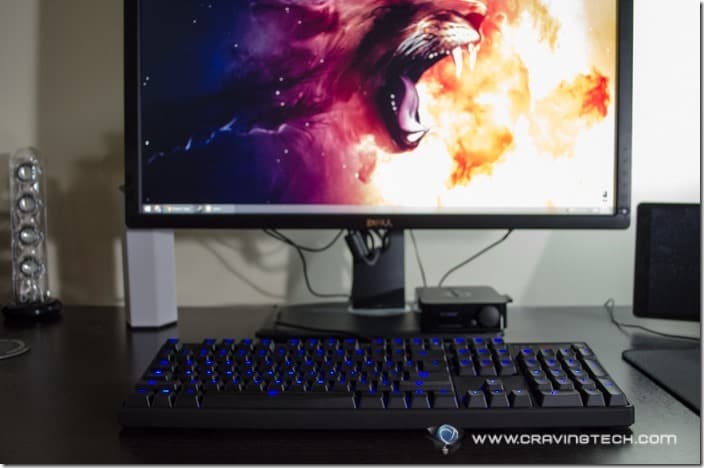 Blue switches are meant to give a more "clicky-clacky" sound when you press on them. This gives a better tactile feedback, as much as a sound feedback to you, which is important in RTS (Real Time Strategy) games such as StarCraft. Accurate sound feedback means that visual (on-screen) feedback is no longer necessary, allowing you to concentrate on queueing commands or fragging your opponents.
Though these may sound good, there is the noise. Poseidon Z Illuminated Blue Switch Edition (and pretty much all mechanical keyboard with Cherry MX Blue switches) is definitely not roommate friendly (or colleagues friendly). Something that you need to keep in mind if you are planning to get the Poseidon keyboard with Blue Switches.
Review Conclusion
Tt eSPORTS Poseidon Z Illuminated Blue Switch Edition may not have much bling-blings to show off to a friend, but it offers the real cores of an excellent gaming keyboard: mechanical switches for better gaming and typing, individually backlit keys in low lit environment, sturdiness, compactness on the desk, and affordable. Great value. Period.
The noise from Blue switches and the lack of macro keys can turn some gamers off, but you can grab either the Meka G1 or Meka G Unit for a quieter experience, macro keys, dedicated volume controls, and a detachable palm rest.
Disclosure: Review sample was sponsored by Tt eSPORTS. All opinions are 100% mine
[AMAZONPRODUCTS asin="B00HZE2PJS"]