Tile Pro Review – Tile is a Bluetooth tracking device that you can attach to your house keys, wallet, or any valuable items that you can think of – even an umbrella (yes, if you have a $100 umbrella, you would not want to lose that). With the help of an app, you can search where it is (and whatever items it's attached to) so you'll never lose anything ever again.
Tile has recently released an updated version from the original and it now comes with longer Bluetooth range (up to 200 feet or 60 meters) and has louder built-in speaker.
The new Tile Pro Series feature 2 different designs that will suit different lifestyle: Tile Style and Tile Sport. Tile Style is more stylish (as you can probably guess), as it's framed with a champagne gold ring and a satin white colour combination. Tile Sport is more rugged with a tread-like design and a graphite ring for the extra durability. The one I have here for reviewing is the Tile Style (Pro Series).
Which one should you go for? The Style or the Sport? It depends on where you plan to attach your Tile Pro to. If you want to track your sports gear or your backpack, for example, you would want to opt for the Tile Sport for the extra durability. For everyday items that are mostly in your pocket or bag, I'd go for the Style.
Setting it all up is very simple. All you have to do is download the Tile App, press the Tile logo button, and your phone is then paired up with the Tile unit.
To complement the new product line, the Tile app also gets an update. It now has volume control and two additional ringtones. The proximity sensor has also been redesigned with an improved accuracy within 60 meters (200 feet) and a new silent option so you can find your lost belonging with just a visual indicator. Note though, when Tile is out of range, you can only check its last known position (before your phone moves out of its range) because it does not have its own GPS tracker (i.e no live tracking). In most cases, knowing where it is within certain range is good enough, unless if someone else has taken it and walked away from the boundary (i.e, more than 60 meters away from you).
If that happens, you'll have to rely on the Community Find feature. Once you set "Notify when found" after losing a Tile, you will be notified when someone else who is running a Tile app on the background happens to be in the proximity of your lost/stolen Tile/item.
According to Tile statistics, the community spans more than 230 countries and territories and locates over two million items every day. Stolen cars, pets, cameras, wallets, etc, you name it. So it looks like you are in good hands, knowing there are many Tile users out there in the world.
This is a great idea, but it will always depend on how many Tile users are there around your area/city so this feature can be a hit and miss.
Tile also works the other way around. You can use it to find your phone, even when your phone is on silent (this will definitely come in handy!).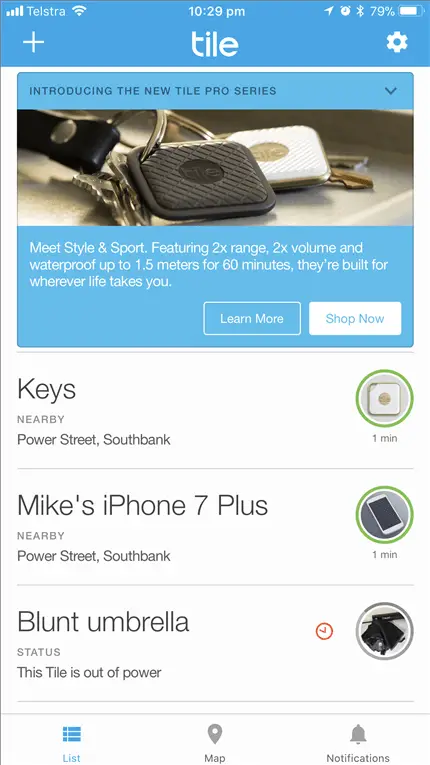 I love how it goes both ways: you can use your phone to find your Tile unit and you can use your Tile unit to find your phone. Even when your phone is on silent, you can still force the app to ring and make noise. This makes it super easy to find where your phone is, especially if you tend to lose your phone quite frequently.
Keeping track of all things has been made easier, thanks to the new Style Pro Series. The battery will last for a year, in which you have to purchase a new Tile to replace. Wish there's a way to recharge it, but it may make the device bulkier and heavier.
Disclosure: Tile Pro Style review sample was supplied for reviewing but all opinions are mine and not paid