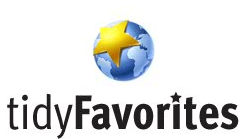 Ever get frustrated keeping up with the latest browser wars? I do. Sometimes I switch back and forth between my Mozilla Firefox, Google Chrome, Apple Safari, and Internet Explorer.
Call me crazy, but I like each browser because they all have their strength in their own ways.
I love Google Chrome because it's simple, fast, and enjoyable to use. I love Safari because of its font rendering engine (makes it easier on my eyes when I'm reading news on my CRT monitors at work). I love Firefox because of its extensions but feel that it's quite heavy on resources (because of the extensions and a few memory leak problems – because of some extensions being poorly written?). I'm *forced* to love Internet Explorer when sites don't work and somehow it does on IE.
All of these are making me hard to keep my favorites in one place. Since there are no easy way to synchronize my bookmarks in all browsers, I ended up having to open Firefox (where all my bookmarks are stored) just to get a bookmark's URL.
TidyFavorites is one of the solution for this headache.
TidyFavorites, once installed on your machine, will store your favorites/bookmarks and they are accessible on any browsers installed on your machine (through the TidyFavorites shortcut icons installed on your browser's toolbar).
To access your TidyFavorites' screen, you can use the TidyFavorites buttons installed on your browser after you've installed TidyFavorites. You can also access TidyFavorites by typing a local loop IP address (127.0.0.1) on Port 8998 (http://127.0.0.1:8998/)
You can organize your favorites in however you like on TidyFavorites main screen. All favorites have thumbnails, so the application is useful to those who prefer to see their bookmarks with thumbnails/screenshots rather than just pure texts.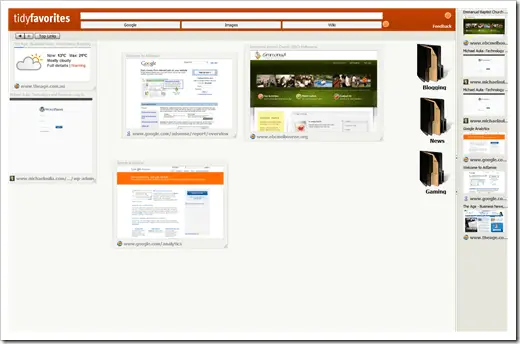 You can also resize the thumbnail and organize them by dragging-and-dropping them on the screen. To further organize your bookmarks, you can create folders and tabs on the screen.
TidyFavorites is free. You can upgrade it to the PRO version for $19.99 but it's not really worth it. On the PRO version, you'll get:
More skins.
Add or Remove the search buttons.
Free updates during the whole year.
Benefit from more features (on future releases) – which is unclear at this stage.
Supported on a priority basis.
I'd say they need to come up with better bells and whistles to be able to persuade people to go for the PRO version.
If you feel like you are going to give TidyFavorites a try, check out their video too as there are a few interesting stuffs that you can do with it on TidyFavorites official site. I personally don't think TidyFavorites is the ultimate solution yet in handling my favorites and bookmarks, though.