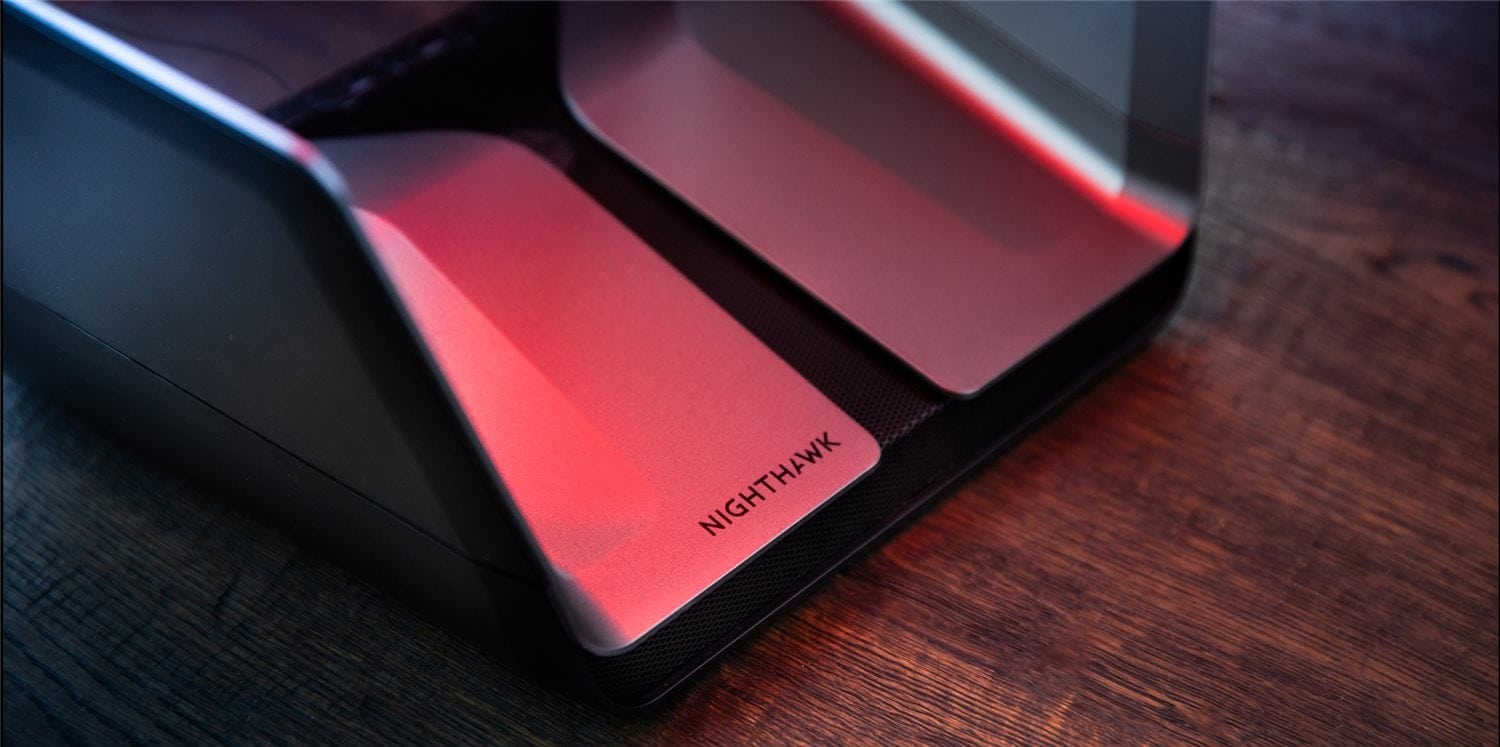 In case you are not aware of, Wi-Fi tech has been quite stagnant for a number of years. We are currently on the Wi-Fi 5 (802.11ac) since 2014 – you'd notice this when you see the "ACxxx" on a router packaging.
Well, the next generation of Wi-Fi named the Wi-Fi 6 (802.11ax) is about to hit us this year with faster speed, better performance, and more. NETGEAR is all ready and has now released a future-proof, new wireless router and you'll want it at some point: NETGEAR AX8 8-stream AX6000 WiFi Router (RAX80).
The RAX80 is an 8-stream Wi-Fi 6 router, providing 4 times more capacity than the current standards of Wi-Fi 5 routers.
The wireless network is definitely getting more congested now than ever. Inside my house, there are more than 20 wireless devices all hungry for attention: wireless peripherals, smartphones, tablets, computers, security cameras, and smart home devices.
Not to mention movie streaming and online competitive gaming being thrown into the mix.
Bandwidth is getting scarce and signals get affected through the double storey house, plaster and concrete. This is about to change.
The new Nighthawk AX8 router can handle all these with ease, thanks to the new Wi-Fi 6 standard which allows simultaneous data transfer between the router the devices. In layman terms, the new standard can handle more traffic better and faster.
According to David Henry, senior vice president of Connected Home Products for NETGEAR:
"As we continue to add more and more Wi-Fi-enabled devices to our homes, it's critical that each device gets the Wi-Fi bandwidth it needs, so that you can get the quality connected experience you deserve. AX is the multitasking Wi-Fi for the way we live and connect, both for today and in the years to come."
NETGEAR Nighthawk AX8 Features List and Specifications:
8-Stream Wi-Fi Router – Relish your 8-stream Wi-Fi with up to 1.2 + 4.8Gbps* for blazing-fast wireless speeds.
Highly Increased Network Capacity & Efficiency with AX Wi-Fi– Orthogonal Frequency-Division Multiple Access (OFDMA) enables efficient data transmission for more devices at the same time in upload and download directions to substantially improve network capacity and efficiency.
Powerful Quad-Core 1.8GHz Processor—Robust processing power to provide the best performance across all wired and wireless interfaces. An additional quad core co-processor handles all Multi-Gig LAN-WAN traffic to ensure main processor is available for additional applications.
2Gbps Wired Connectivity for Faster Internet—Aggregate two (2) Ethernet ports for more than one Gigabit Internet speed.
160MHz Channel Support– Gigabit Wi-Fi connection with today's and future mobile devices that support 160MHz bandwidth.
Six (6) Gigabit Ports—Connect more wired devices for faster file transfer and uninterrupted connections.
Works with Existing Wi-Fi Devices— Supports all current Wi-Fi devices and is backward compatible with 802.11a/b/g/n/ac client devices.
Pre-optimized Hidden Antennas—The AX8 antennas come pre-optimised for best Wi-Fi performance hidden in the innovative 'wing' design.
NETGEAR Nighthawk App—Easily set up your router and get more out of your Wi-Fi. Includes remote access to manage your network away from home.
Automatic firmware updates deliver latest security patches to the router.
Ease-of-Use Features. NETGEAR thoughtfully designs all its products to emphasise ease-of-use qualities. Nighthawk AX routers are no exception, with many features that make it easy to manage and protect your network, devices, and precious content.
Smart Connect — Intelligently select the fastest Wi-Fi band for every device with same Wi-Fi name.
Nighthawk App – Easily set up your router and get remote access to manage your network away from home.
 VPN Support — Enjoy secure access to your home network when away from home using any device – PC, Mac, and mobile devices with Android and iOS apps.
Security Updates — Get the latest firmware updates to your router automatically.
Guest Network — Easily set up a separate and secure network for friends and family without sharing your personal network password.
Voice Control — Use simple voice commands to control your NETGEAR Wi-Fi network as Nighthawk AX8 works with Amazon Alexa™ and the Google Assistant.
Official Unboxing Video from NETGEAR
Pricing and Availability
The NETGEAR Nighthawk AX8 8-Stream AX6000 Wi-Fi Router (RAX80) is available from authorised NETGEAR partners and other reseller channels, ecommerce sites, and major retailers, at an RRP of $599.99 (AU).
The future is here, folks, whether you're ready or not. Meanwhile, I'm still on the NETGEAR Nighthawk XR500 Gaming Router but definitely bracing myself for the future this year.
Stay tuned for the reviews on some of the Wi-Fi 6 routers here at Craving Tech this year!