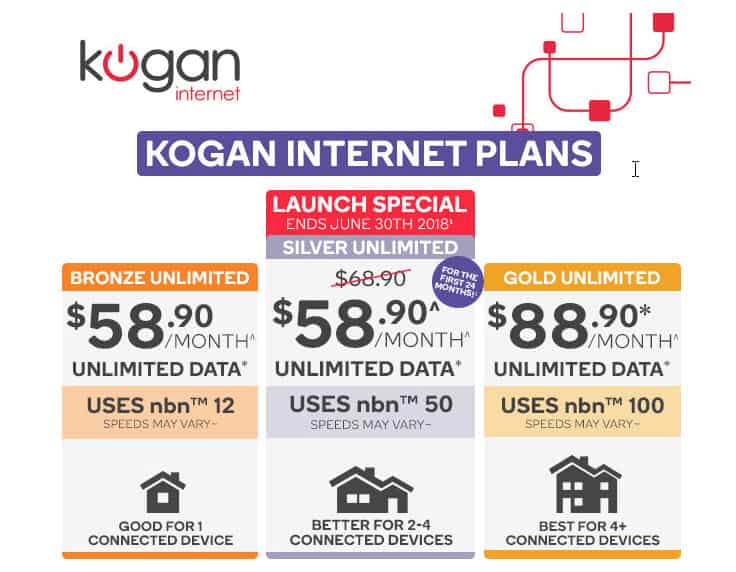 Kogan has decided to enter the nbn market by offering competitive plans that you might want to consider.
They offer unlimited plans from 3 different tiers speed: 12Mbps, 50Mbps, and 100Mbps. The good news is that they are slashing the 50Mbps price from $68.90/month to $58.90/month (which comes down to around less than $2 a day).
---
These are also month-to-month plans, so there are no contracts to lock in to – which is great if you decide to move away after a few months (just in case you don't like the speed or the stability, for example). There is an upfront modem charge of $69 though and the 50Mbps promo is only for the first 2 years.
Kogan.com Executive Director, David Shafer, hopes that the Kogan Internet's nbn™ plans will shake up the market with the "affordable, flexible and simple offerings".
Unlimited plans are definitely the way to go if you go for nbn™ (in my opinion) and take at least 50Mbps to start with – but this depends on what you use it for. Definitely not worth going 12Mbps as its speed is as appalling as an ADSL2+. Again, if you are only using your internet to check for emails or light browsing, 12Mbps might be enough for you.
On the other plus side, you are also eligible to earn 1 Qantas Frequent Flyer point per 1 dollar spent with Kogan.
If you are looking for an unlimited nbn™ plan at competitive price, this is definitely worth considering.
Definitely a good news for us as more nbn™ providers in the market means customers will be getting more and more competitive prices.
Check out the Kogan Internet page to find out more about their plans, fees, etc.