Swann Floodlight Security Camera Review – Swann has finally released a worthy floodlight security camera alternative to fight its biggest competitor, Ring.
For a long time, Ring had been the only one in the smart home security market (in comparisons to Swann, Arlo, and D-Link) offering a floodlight security camera in the smart home security line up. Even my electrician who installed it said this was his first time seeing & installing Swann's floodlight security camera in Australia (and he's installed numerous amount of security cameras, both IP and wireless).
Can Swann Floodlight Security Camera offer a better, cheaper alternative to Ring's at around AU$60-90 cheaper? Let's find out as I've installed it above the garage door to monitor and protect my home 24/7 for the past couple of weeks.
Swann Floodlight Security Camera Review – Packaging
The package contains everything you need to install the floodlight camera, which also works on an existing pre-wired installation.
Swann Floodlight Security Camera Review – Installation
It didn't take long for my electrician to install Swann Floodlight Camera, which was a replacement to my existing, standard floodlight on top of my garage door.
I do wish that the mounting hardware or base cap (I'm not sure what it's called) has a White colour than Black though, similar to the unit's theme. I believe only the Black colour seems to be available on Swann's website and JB Hi-Fi, although my review sample came in White (which actually matches my house's Surfmist colour, nice!). My electrician did raise that he wished we weren't forced to use the base cap as it makes the camera protruding even more. But at least you can't see it from the front, so I'm alright with that.
Connecting and setting it up was quick and straightforward using the Swann app. Within a minute or two, everything was set up nicely and I could happily send the electrician home without any hiccups.
Swann Floodlight Security Camera Review – Design & Features
Swann Floodlight Security Camera has an attractive & good-looking design which adds an aesthetic value to my house fascade. It also screams "security camera" which can deter intruders far before they reach your front yard or private space.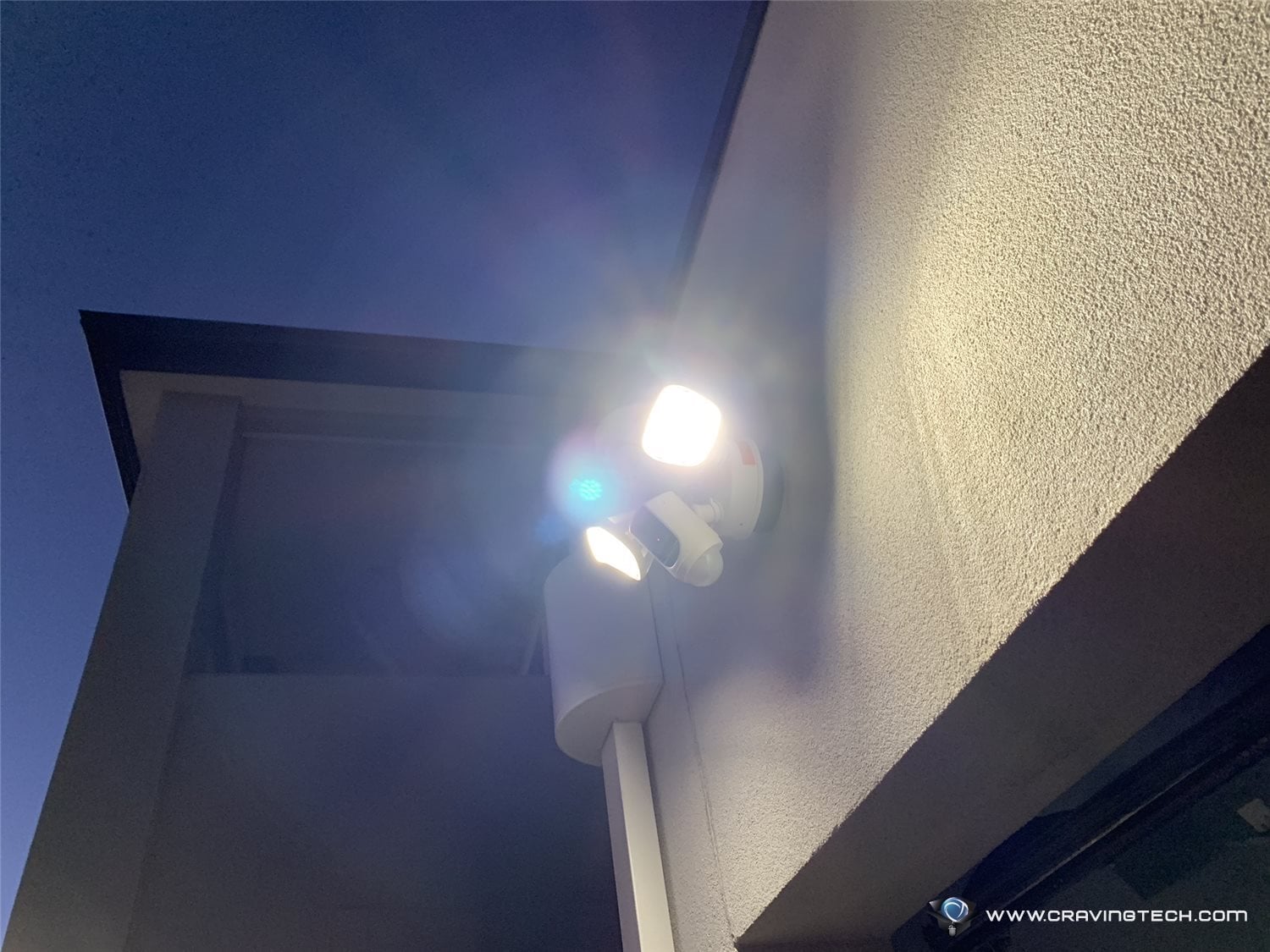 It has two, 2500 lumen floodlights which are really bright. The lights can be triggered manually and dimmable if you trigger it this way, or they will lit up as soon as the sensor detects both heat & movement at night. You can also adjust where the two floodlights are facing separately, which is nice.
Everything else (the camera, speaker, infrared LEDs, microphone, siren, and the PIR (Passive Infrared) sensor are located on the same body part. This can also be adjusted to get the perfect viewing angle and area you want to monitor.
The camera lens has a 125° wide-viewing angle and colour night vision up to 30 metres, able to record in 1080p Full HD resolution. In complete darkness, you can still see what's happening on the scene but when the floodlights help to lit the scene, you'll get a full colour clip.
With a built-in microphone, speaker, and siren, you can completely prevent burglaries as you can completely scare the intruders off. The siren can be set to be triggered automatically when it detects heat + motion – which I don't really recommend unless you're absolutely sure it is safe to set it so.
For example, I set it to monitor my driveway and the front of my house – which means it'd trigger a few false alarms like neighbours walking their dogs near my front yard, or a courier dropping packages. I'd certainly hate to scare them off accidentally! But if you put up the floodlight camera somewhere else more private, then you might want to enable the auto-siren mode.
When a combination of heat & motion are detected (to avoid false alarms like swaying trees), a clip will be recorded and notification will be sent to your phone automatically. All clips will be saved in the cloud for 2 days for free, and stored in the camera's local storage for 7 days (no memory card needed). You can of course pay a subscription to Swann HomeSafe Plan for longer cloud storage period, but 2 days is pretty generous in my opinion.
I find that the clips are quite well recorded and managed. For example, on every clip I watch, it looks as if the camera pre-captures the event (or maybe because it can start its recording instantly) which means you won't get any weird, disjointed clips even when someone runs quickly past through the sensor.
The clip may take some time to be available though. For example, when I see an app notification and tap it, I usually won't be able to access the clip until some seconds later (around 10-20 seconds).
So far the sensor never fails me, even when I quickly tried to sneak past on which I thought was a blind spot. Swann Floodlight Security Camera certainly has a fast detecting sensor and it's realiable so far, which is the most important thing for security purposes.
If you have a Google Nest Hub or Amazon Echo Show 5 (still reviewing), you can use your voice with Google Assistant or Amazon Alexa to see the live stream on the screen.
The only thing I wish the product has is better, more powerful customisations on the app.
While you can change some settings in the app, there are a lot more settings that are missing or can be added – especially compared to other competitor products I've reviewed here at Craving Tech. For example, here are some things that are missing on all Swann cameras:
You cannot set an auto schedule when to arm or disarm the camera. This has to be done manually on the app. As a result, I have to leave it to on always as I can't be bothered doing this manually each time.
You cannot set a custom setting such as if you want to record all motion events but do not want to receive app notifications (or better, during certain times of the day).
You cannot specifically set specific zones/area to monitor. The app can only let you set an arbitrary length (i.e: low, med-low, med-high, high) and it's not clear how far it goes until you run some manual tests. Mine is set to Med-Low at the moment.
But in fairness, Swann products are cheaper than the rest of the competitions and although it doesnt have a 4K and smart AI like the Arlo Ultra, advanced zoning options like the Ring Video Doorbell Pro, or powerful scheduling and automation like the D-Link Omna Wire-Free, Swann's get the basics right and doesn't require any monthly subscriptions unless you really want to.
Compared to Ring which requires you to subscribe for cloud recording or Arlo for offering you more advanced options, Swann is the simplest and more budget friendly if you don't need the best of the best.
Swann Floodlight Security Camera Review Conclusion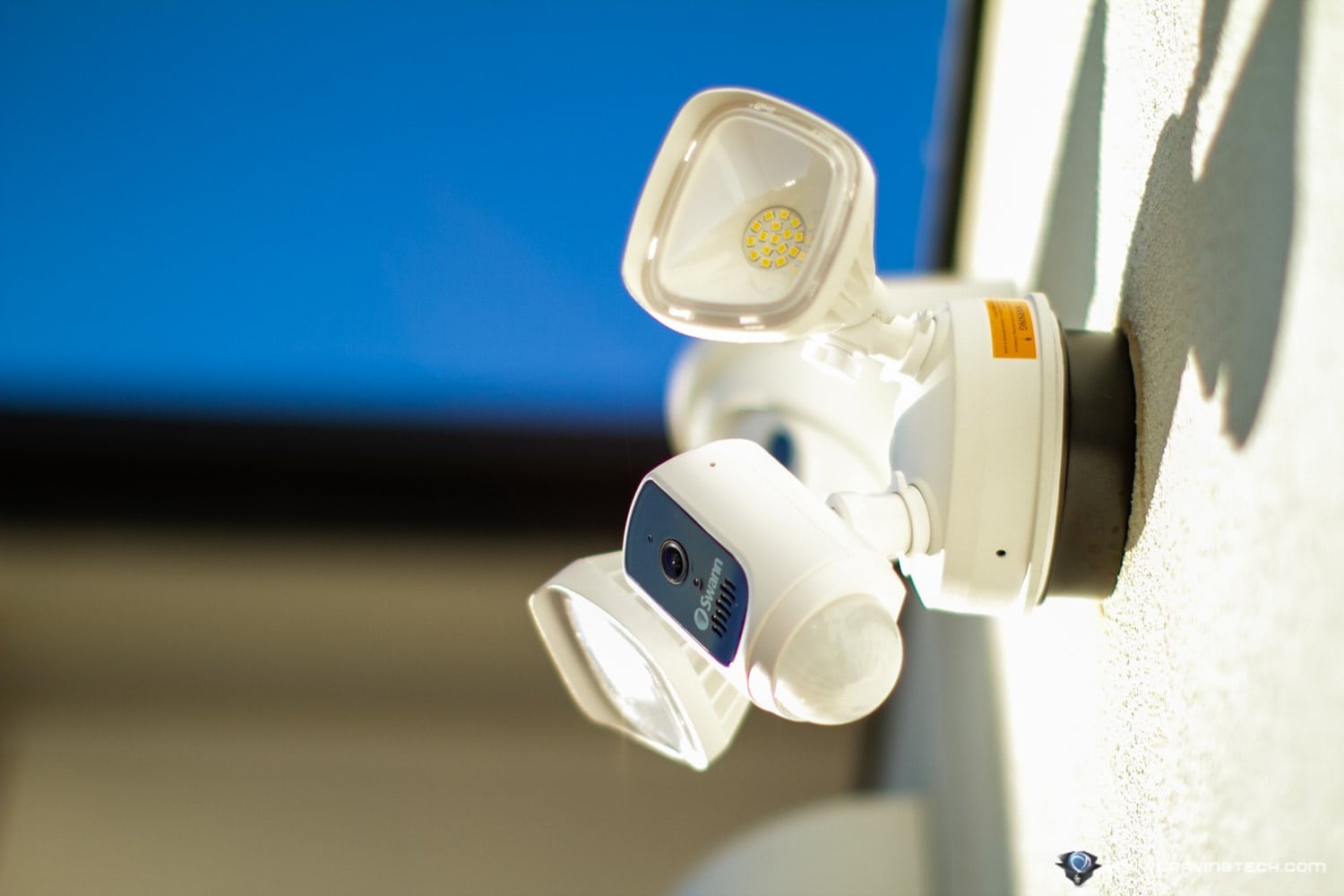 Swann Floodlight Security Camera has a very fast and responsive PIR sensor that works in all situations, along with other security features that will deter intruders from entering your private space.
It's a complete, full-on, home security camera package at an affordable price thanks to its super bright floodlights, 2-way communication, weather proof materials, great looking design, and both free local & cloud storage!
Swann Floodlight Security Camera is available now in Australia at AU$299.95 RRP (AU$279 at Dick Smith) and doesn't require any monthly subscription if you are happy with 2 days of cloud recording & 7 days of local recording. Also available at Amazon U.S.
Disclosure: Swann Floodlight Security Camera review unit and installation cost by an electrician are supplied by Swann for reviewing. All opinions are mine and not paid.
Swann Floodlight Security Camera Review