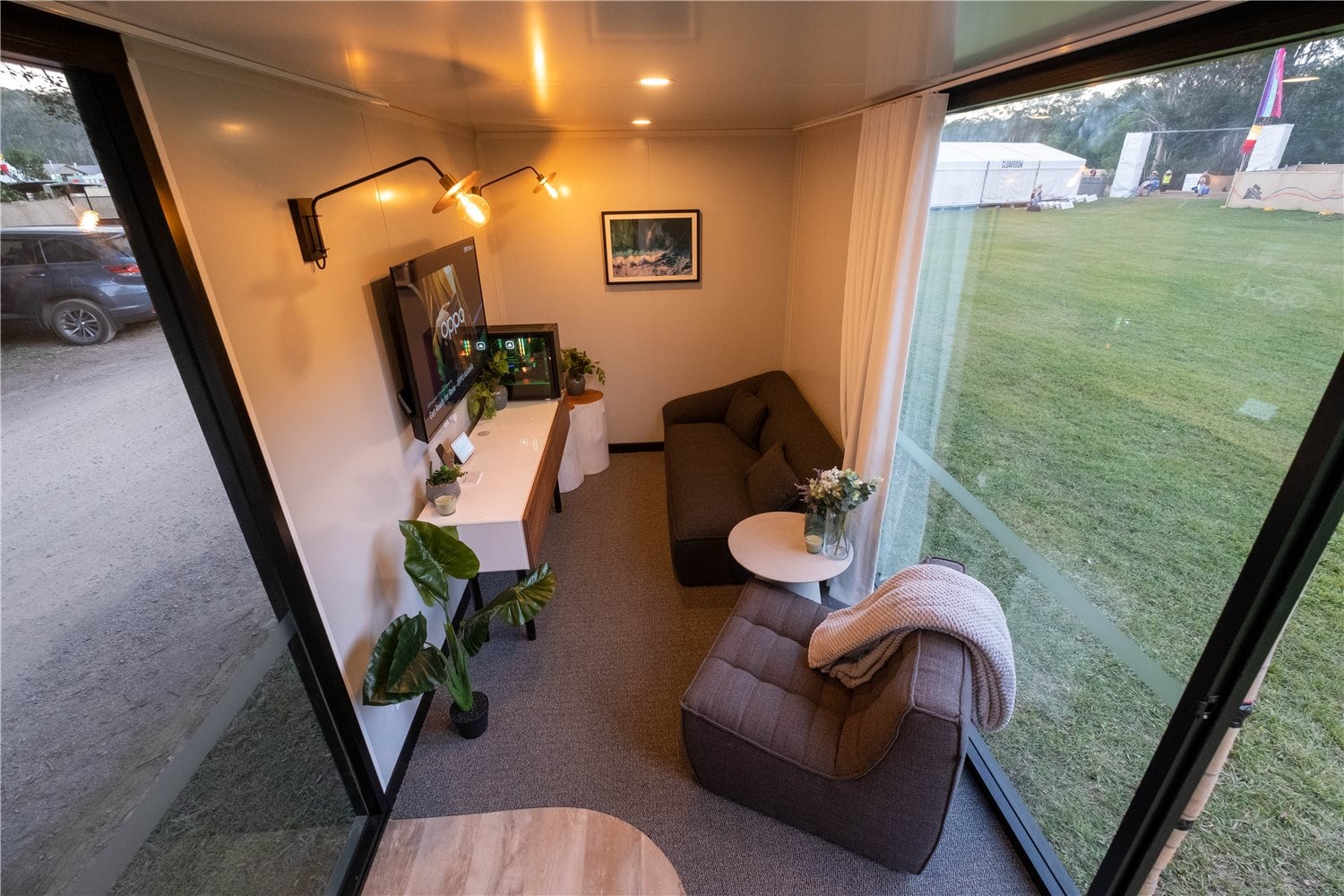 OPPO is transforming a 40ft container into a full blown, smart hotel powered by 5G network. The OPPO 5G Hotel will be travelling around Australia for the next six months where you can book and enjoy the night inside this high-tech space for $150 a night.
It's a world's first travelling 5G powered smart hotel for sure, and don't judge a book by its cover (or a container by its appearance). It looks comfy and futuristically cool though in a compact space. There is even a shower & toilet, along with a reverse split air conditioner.
According to Michael Tran, OPPO Australia Managing Director, "Aussies are excited for the arrival of 5G, so we've built the ultimate live-in experience for consumers to be able to fully immerse themselves in the advancements and innovations that come with the network. We look forward to customers experiencing our innovative 5G powered smart hotel and see the real-life benefits of the new network".
This luxurious one bedroom suite is not just to leisure for the night, but enough to satisfy techie people or those who have interests in smart home technology, and trying out cool stuffs with Telstra's 5G network.
And of course, OPPO is also trying to show off their latest flagship phone, OPPO Reno 5G (Check out our review), which is the brain behind the hotel concepts.
What you can do in OPPO 5G Smart Hotel:
Game Anywhere: Through the hotel's 5G Gaming Suite, guests can experience a high-end gaming computer in the palm of their hand. The Reno 5G is connected via Steam Link to the computer within the hotel. Users can game locally on the PC, or leverage the 5G smartphone to access a library of games and play from anywhere inside the hotel, using the device as a portable screen.
Access info through a Smart Mirror – The hotel Smart Mirror has everything guests could wish for in a mirror, allowing them to connect their smart devices, watch the latest news, get updates on stocks, read the morning newspaper, watch movies, or get the ideal light for the perfect mirror selfie.
Get things done hands-free – The Hotel's Reno 5G device is connected to a Google Home Hub, as well as an array of smart home features. Guests can use their voice to control the lighting, play their favourite songs from YouTube Music, ask questions and get visual, immersive answers from Google.
Gain access to OPPO AR Apps – Among these apps are an interactive AR demonstration of the key features of the Reno 5G; and an AR wardrobe, merging the very best in tech with the very best in fashion, allowing guests to preview different outfits in a virtual AR runway. There will also be a number of additional AR apps to showcase the power of the OPPO Reno 5G and the network.
Access entertainment buffer-free – Download, stream and watch to your heart's content with 5G. Enjoy Netflix buffer-free or download a whole season of your favourite show while you make a cup of coffee, and watch it on the hotel's widescreen TV.
The OPPO 5G Hotel is now travelling from Byron Bay the Gold Coast's HOTA from the 24th of July until the end of August. So if you are around the area, you can book in and try it out. It's going towards Sydney for sure but future locations will be announced at their official website.
I might check it out when it comes to Melbourne one day!