HyperX Cloud Stinger Wireless for PC and PS4 Review – Each time someone on a budget asked me which gaming headset he or she should get, I'd always recommend HyperX's. Their gaming headsets are usually very affordable but dont compromise on sound quality and comfort.
HyperX Cloud Stinger Wireless that I have here today to review has similar traits. It's affordable, yet comfortable to wear for hours (lightweight) and has great audio positioning for gaming, especially for FPS (First Person Shooter) games.
HyperX Cloud Stinger Wireless Review – Packaging
HyperX Cloud Stinger Wireless Review – Design & Features
The HyperX Cloud Stinger Wireless is not a gaming headset that you can brag about to friends in terms of looks. It's mostly made of hard plastic material (looks kind of cheap out of the box), a straight Black look with not much colour accent, and does not have any LEDs or fancy stuffs. A steel slider does add a spice to the look, which is great.
However, the headset itself feels durable, lightweight (thanks to the plastic material), and the signature HyperX memory foam pads do feel soft and comfy.
It comes with a 2.4GHz wireless USB adapter and all you need to do is plug it in to a spare USB slot. The headset will then just work and sync instantly. Surprisingly, the wireless signal is pretty strong and I could even go down the stairs to get some drink from the fridge and didn't get a drop out.
A volume control is within reach and the microphone is also adjustable.
No extra drivers and software to be installed which makes it a great headset to be carried around to a tournament, or even to a gaming cafe. However, this means no customisations are available on the headset. It's just a straight, good, stereo wireless gaming headset.
Charged via microUSB, HyperX Cloud Stinger Wireless has around 17 hours of battery life – which is quite standard to most wireless gaming headsets.
HyperX Cloud Stinger Wireless Review – Gaming Experience
While it does not have a striking design, it shines everything else. The moment I tried listening to music (for a start) with it, I smiled. I then moved to watching movies and gaming after, which again, did not disappoint me at all. It's great to see that HyperX doesn't make a compromise in the sound department.
I tested the headset playing Blizzard Overwatch literally every night for the past couple of weeks. It has tremendeously helped me in identifying flankers and threats to my team even before we could see them coming. Thanks to Overwatch's amazing audio design, I could identify the exact enemy hero coming our way, and calculated the threat level during any frantic battle.
The audio positioning is very good and with the help of in-game's Dolby Atmos support, I could hear an enemy Reaper teleporting on the window above us at one point. After a short, effective callout, we were all ready for him.
On the short clip below (at the last seconds), I heard the enemy's Tracer running and harrassing, so I quickly turned left just from the sound cue alone:
For gaming, casual music listening, and videos watching, the Cloud Stinger Wireless' 50mm drivers and closed cup design deliver more than you'd expect considering the price and the plastic look from the outside.
Comfort is another key element to highlight here as well. The headset feels light and the overall fit is really good on the head. The ear cups are also rotatable so if you are taking a short break, you can swivel them around your neck.
HyperX Cloud Stinger Wireless Review – Conclusion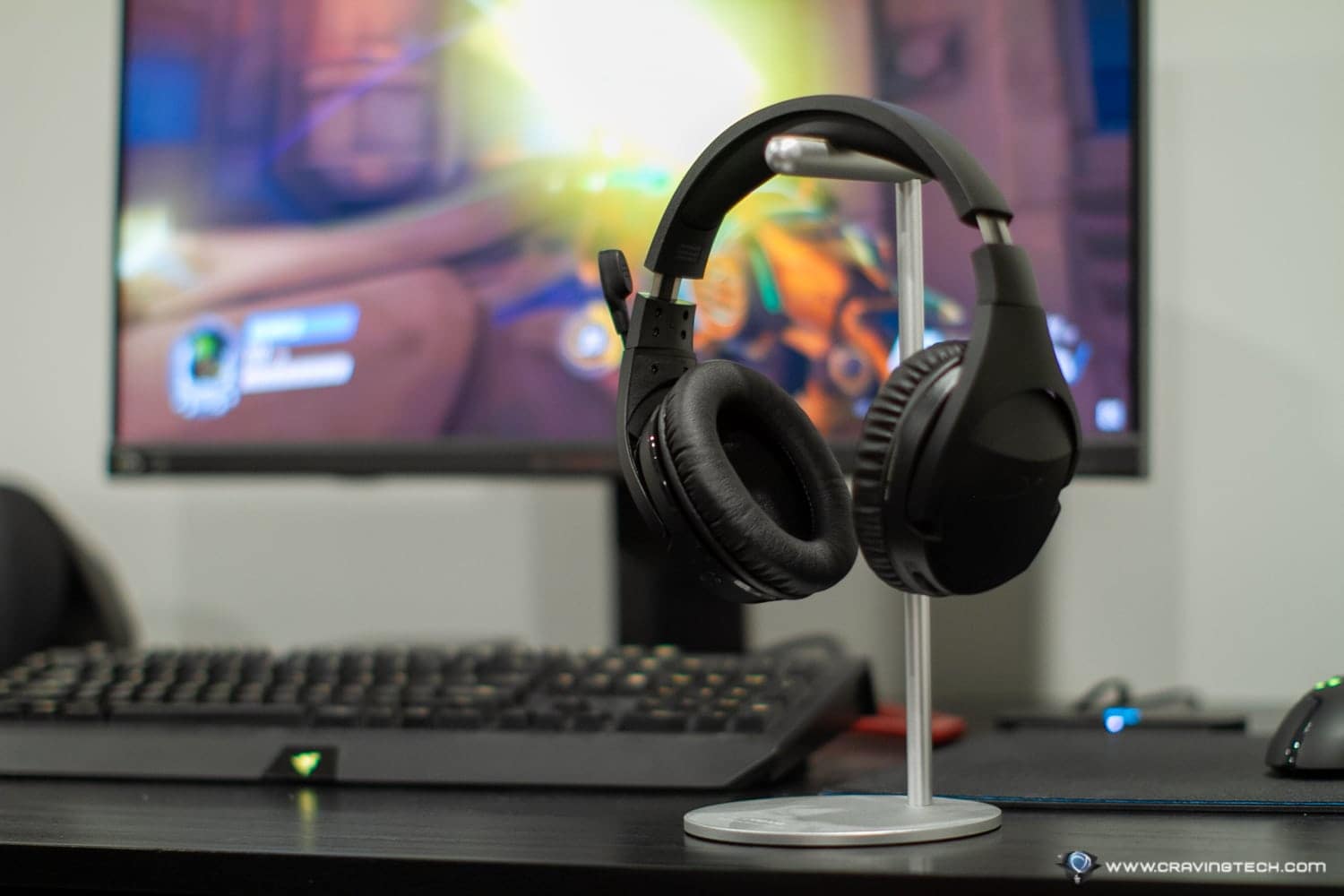 HyperX Cloud Stinger Wireless (for PC & PS4) shows that a wireless gaming headset doesn't need to be flashy in terms of appearance and functionalities. It goes to the basics and gets them right: comfort, sound, and experience. And oh, add strong wireless signal to the mix too.
It does not have any virtual surround sound, no RGB lighting, no equalisers to tweak, and no other options to enable/disable like noise cancellation or sidetone. If you are after a "gaming" headset with all the extras and flashy lights, you might have to look elsewhere.
Disclosure: HyperX Cloud Stinger Wireless review sample was supplied for reviewing but all opinions are mine and not paid
HyperX Cloud Stinger Wireless Review