Logitech G502 LIGHTSPEED Wireless Gaming Mouse Review – The original Logitech G502 gaming mouse was one of Logitech's most loved wired gaming mice.
This was back in 2014 however, and with the recent wireless LIGHTSPEED technology from Logitech G (check out our coverage on the G903 with POWERPLAY), the iconic mouse now gets a huge upgrade in 2019, one being wireless.
Will the new Logitech G502 LIGHTSPEED take the throne among other Logitech G mice? Let's find out.
Logitech G502 LIGHTSPEED Wireless Gaming Mouse Review – Packaging
Logitech G502 LIGHTSPEED Wireless Gaming Mouse Review – Design & Features
Unlike the Logitech G PRO, the mouse itself does not have a unibody design, but made of different component parts, similar to the G903. While I was wondering whether it's comfortable to grip, I was relieved to find that it was indeed comfortable. Note that I'm a fingertip/claw gamer and can find my fingers sitting nicely on top of the mouse surface.
This is a right-handed mouse for sure, thanks to the well-made thumb rest area. It's nicely contoured with a bit of art, and the whole body contour make gaming for hours possible with no muscle strain.
The mouse is equipped with 11 programmable buttons, enough to satisfy macro and side button lovers out there, including changing sensitivity on the fly with the DPI Switch button (which is a bit out of reach if you are a fingertip gamer). The weight of the mouse itself is also configurable, with optional extra weights of up to 16 grams (the mouse itself weighs 114 grams). While it's not under the "below 100 grams gaming mouse" category, I could eventually frag seamlessly with the G502.
It did take me a bit to adjust to the additional bit of weight, coming from the 96 grams Razer Mamba Hyperflux. But gamers with palm grip would definitely love more weights to make the mouse sturdier on the surface. I prefer to go as light as possible but I know people who prefer a mouse with more weights on it. I'd say the G502 LIGHTSPEED should satisfy everyone, unless if you swear to only use a lightweight mouse like the G PRO.
The G502 LIGHTSPEED has a medium size and it fits better for me compared to the smaller form G PRO.
The Logitech G502 LIGHTSPEED is powered by the Next-gen HERO 16K gaming sensor with 400+ IPS tracking speed & up to 16,000 DPI. It's also apparently more power efficient compared to the previous generations, which means that you'll charge the mouse less often when running wireless. According to Logitech, the mouse can go up to 60 hours with RGB off and around 48 hours with RGB on. That's a very impressive stat!
Or, just use the POWERPLAY solution. It's expensive, but it's worth it in the long run.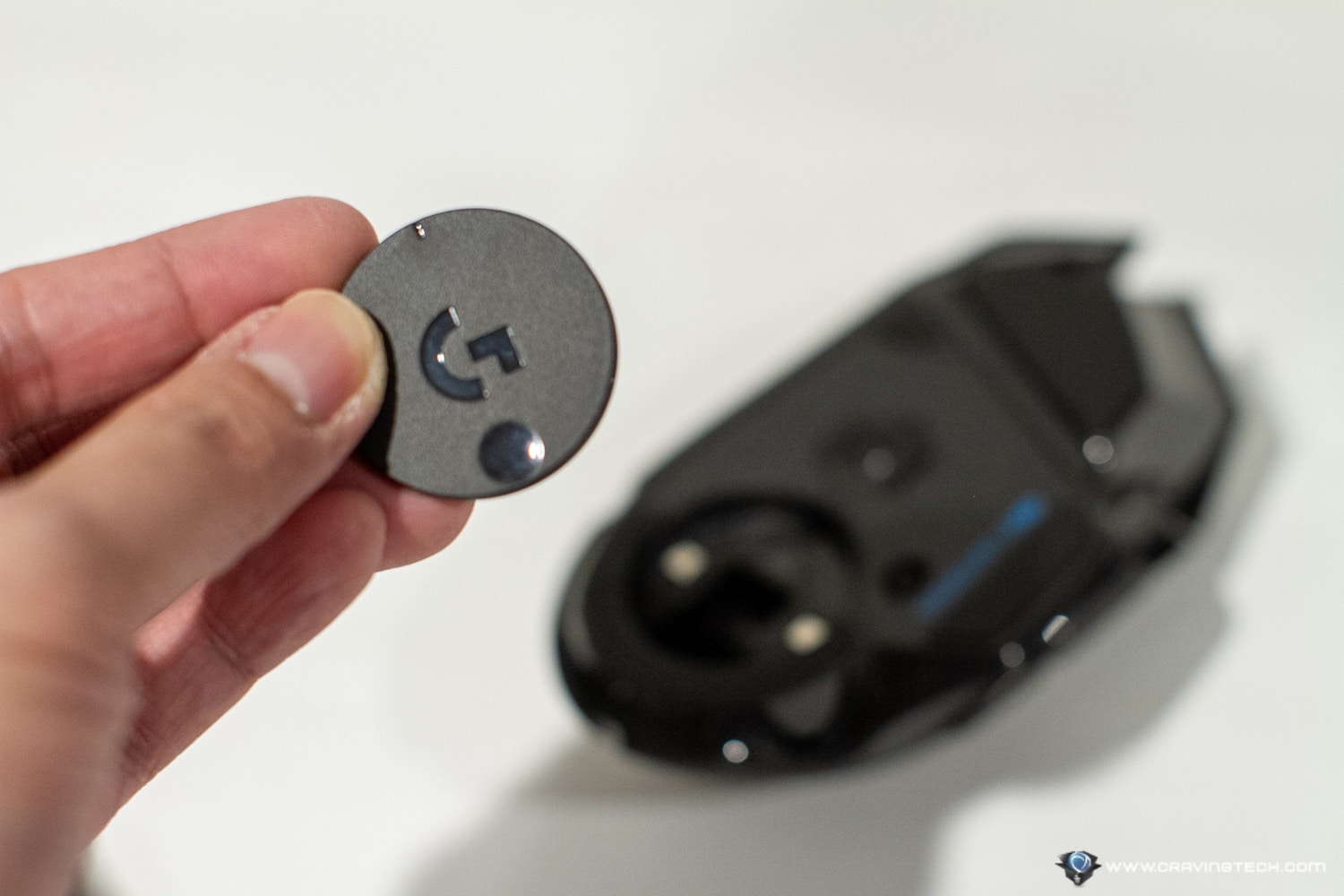 Thanks to the technology, the G502 LIGHTSPEED performs very well without any noticeable latency. I have the POWERPLAY wireless charging solution, which the G502 LIGHTSPEED is compatible with. As a result, I've never found a need to recharge the mouse as it's being handled smartly and safely by the POWERPLAY pad.
Oh, it also has RGB lighting and profiling that can all be changed through the Logitech G HUB software. It can even automatically detect games and change its profile automatically so you can set different DPI stages and button assignments on different profiles. Nice. I love alt-tabing while searching for a game in Overwatch, and the G HUB automatically switches to my desktop profile with 800 DPI (I use 2700 DPI on Overwatch with 1.1 in-game sensitivity).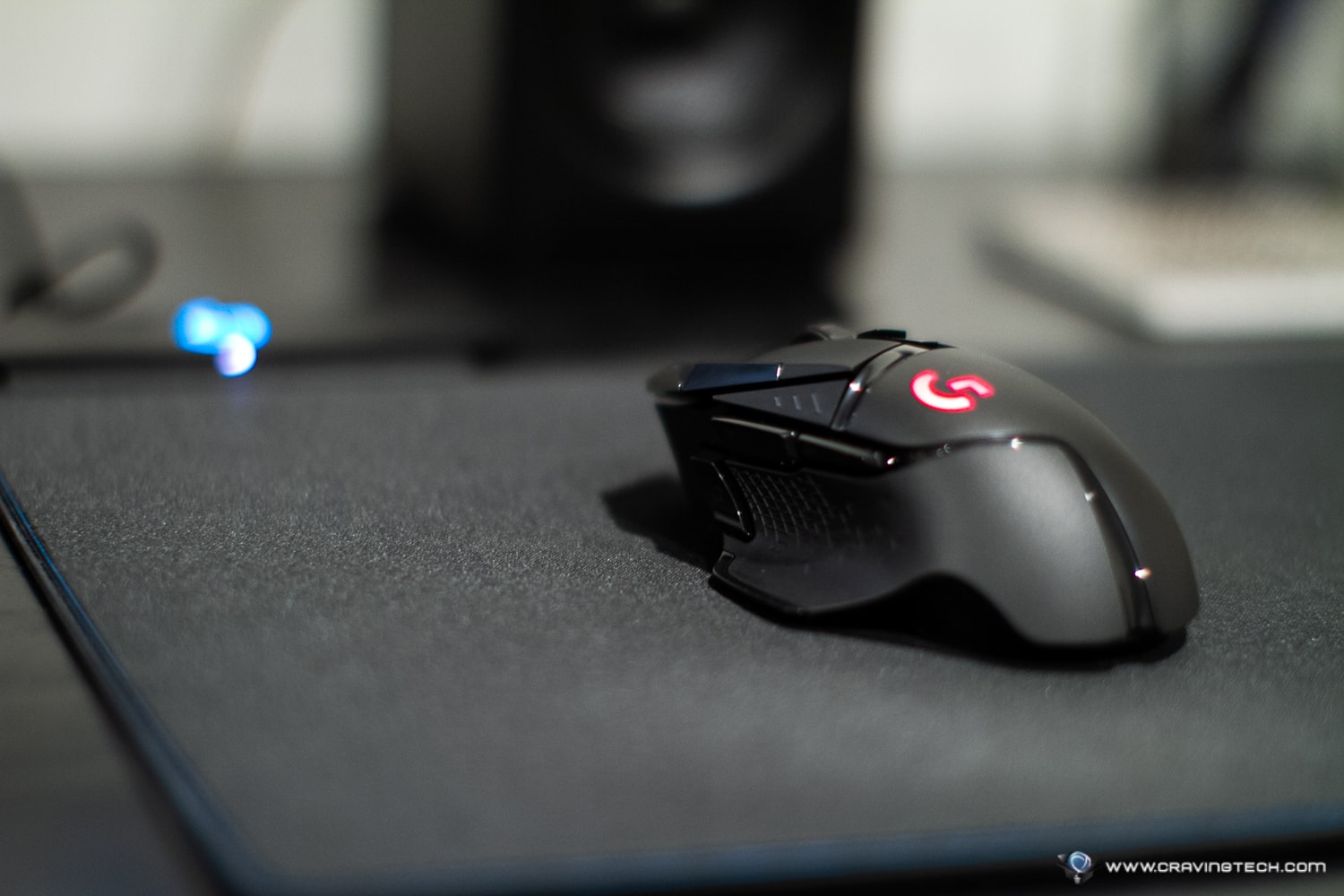 Logitech G502 LIGHTSPEED Wireless Gaming Mouse Review – Gameplay experience, Sensor Performance
I'm playing Blizzard's Overwatch daily with friends, while reviewing an indie game, Killsquad, with the G502 for a couple of weeks. The HERO 16K gaming sensor never disappointed me and I had a great time fragging with the mouse.
As days go by, my muscle memory takes control of the new mouse in hand and the cursor goes where I wanted it to. My aim never feels off and even during frantic moments, the sensor can keep up as I change target from one to another from left to right.
Playing as McCree that requires precise aims and reflexes, I could manage to get a few kills for the team (pardon me for being a "right-clicking McCree").
Here is some more gameplay video with the Logitech G502 LIGHTSPEED Wireless Gaming Mouse:
Logitech G HUB
Unfortunately, all the fun can come to an end if you have drivers conflict and other mishaps on your PC. Logitech G HUB yesterday decided to tell me that none of my Logitech devices were connected (the G502 LIGHTSPEED, my POWERPLAY mouse pad, and even the G560 Gaming Speakers). Tried uninstalling the software, unplugging devices, etc but looks like the software has to be uninstalled cleanly (either by removing registry entries or using software like ccleaner) – which I'll do later.
To make things fair, I do review many different peripheral brands like Razer, SteelSeries, HyperX, Corsair, and ROCCAT. There might be a driver conflict somewhere that I'd have to drill into. Someone at Reddit said he had to reset his Windows installation, though another can fix the problem by just using Logitech Connection Utility.
If you search on Reddit, lots of people dislike G-Hub because things don't work with their Logitech devices sometimes. I also had a few ocassions where my G502 LIGHTSPEED sensitivity was switched in-game, which was really annoying (someone at Reddit suggested to save the profile to the mouse's onboard memory to avoid this issue).
So in short, G HUB would still require a few updates and fixes to be perfect, but it seems that there is at least a solution to all your problems if you search for them.
Logitech G502 LIGHTSPEED Wireless Gaming Mouse Review Conclusion
Logitech G502 LIGHTSPEED Wireless Gaming Mouse brings higher performance with the new HERO 16K sensor and Logitech's low latency LIGHTSPEED wireless technology, plus support for POWERPLAY. They are the best of the best technological solutions that Logitech G is offering at the moment, all wrapped into a single gaming mouse.
The only hindrance is probably the somewhat buggy Logitech G HUB but thankfully, it's nothing that can be fixed through a workaround or future software updates.
If you are still using the older Logitech G502 mouse and looking at the 2019 wireless version, it's a no brainer to grab this for an upgrade. It's essentially the same shape and body design, but with an awesome wireless capability and a better sensor.
Logitech G502 LIGHTSPEED 2019 can be purchased at AU$249.95 RRP and available at major retailers around Australia, including Amazon (AU | US)
Disclosure: Logitech G502 LIGHTSPEED Wireless Gaming Mouse review sample was supplied for reviewing but all opinions are mine and not paid
Logitech G502 LIGHTSPEED Review