Logitech G560 Gaming Speakers Review –  Logitech MX SOUND has the compactness and design style that I like as a Desktop Speaker. However, with the lack of a dedicated subwoofer, it may not pack a punch as powerful as people would want it to be.
In answer to that, plus some more tricks up its sleeves, the Logitech G560 RGB Gaming Speakers will definitely satisfy Bass lovers and also gamers who want more immersion when they game.
With LIGHTSYNC technology, you don't just get the lights for the show (though I won't mind with that alone), but also visual information of what's happening in game. The G560 delivers that in an elegant and striking design.
Logitech G560 Gaming Speakers Review – Packaging
Logitech G560 Gaming Speakers Review – Design & Features
Logitech G560 offers more immersion on the desktop by having a built-in lighting system inside the two satellites speakers. Each satellite speaker has a front and back RGB lighting that can change dynamically using Logitech LIGHTSYNC technology.
LIGHTSYNC allows these speaker lights to change based on what is on the screen, based on audio channel inputs, and can even be programmed specifically per app or game.
For example, with supported games like Battlefield 1, CS:GO, or DOTA 2, these lights can glow Red when you are low on health which will grab your attention really quick and force you to take drastic actions. We are hoping more games will make their way to LIGHTSYNC (especially Overwatch because I'm always not that good at managing my ability cooldowns). LIGHTSYNC already supports over than 300 games so I'm pretty sure support will come to your game before you know it.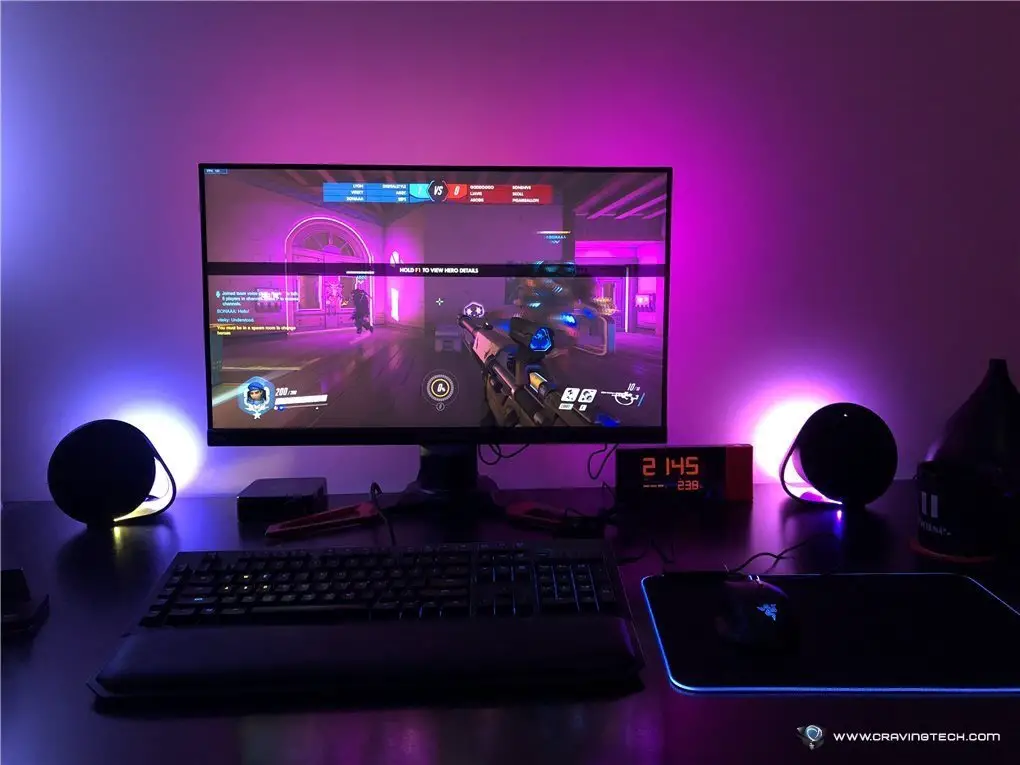 Thankfully, if you are playing games that are not directly supported, you can still use the G560's cool, dynamic lights to sync with your monitor screen. Using the "Screen Sampler", the lights will try to scan an area (you can customise this), pick a colour, and show it gloriously on the two satellites.
While watching movies or playing games, the G560 offers a cool lightshow that increases the aesthetic of your desk significantly. Combined with LED strips around your monitor (like Lightpack that I'm using now on my gaming monitor or AmbiScreen) and Philips HUE 2.0, you are in for a full treat.
Here is how watching Guardians of the Galaxy with the Logitech G560 Gaming Speakers feels like:
Opening scene of Guardians of the Galaxy 2 with #Logitech #G560 gaming speakers #LIGHTSYNC pic.twitter.com/jo3U49wIt2

— Michael Aulia ?? (@michaelaulia) April 28, 2018
While you can't compare the G560 with a Lightpack or AmbiScreen (in terms of lights' fullness and accuracy), you'll still get great lighting and immersion out of it. However, bear in mind that this will work well only when your desk is next to a wall (so the lights can be reflected).
Design wise, the Logitech G560 bears a similar resemblance to the MX SOUND. It has hard controlled buttons on the right satellite speaker and supports 3.5mm audio + Bluetooth (so you can use the speakers to play tunes from your smartphone). The USB connection is required for LIGHTSYNC and only works on PC at this stage.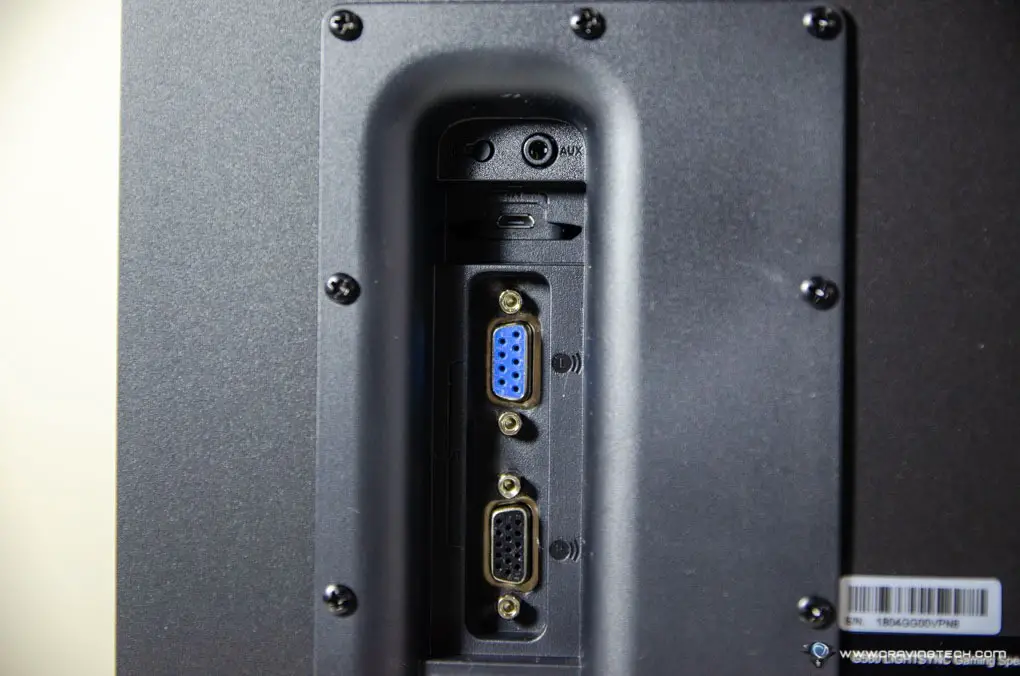 Lights don't seem to go off when you shut your computer down and they can be quite distracting when you want to go to bed. Thankfully, you can always turn the speakers off by pressing the power button located at the back of the right satellite unit. Would be cool if they go off automatically when you shut your PC down though.
If you are one of the not-so-lucky ones who are struggling with high DPC latencies on Windows, enabling the screen sampler will increase latency a bit as it needs to constantly monitor what's displayed on the screen. I increase the polling rate to ease the latency and that seems to work well.
Logitech G560 Review – Sound
Sound wise, the G560 sounds great and definitely delivers power to your room. With 240W (total peak) and 120W (RMS) speakers system, I can assure that you do not want to mess around.
The G560 is loud and powerful, in fact, I find it super loud that I only have it at 2/100 volume level on my Windows 10 PC. I read that a fix is in the works so you can make the volume softer, but I'm not sure when the update is going to be rolled out.
Update (13/07/2018): New firmware update is out and it includes changing the default playback volume to 20% + smoother volume curve! A full list of the changes and how to update can be read on my other post here.
Fixed distortion issues with Bluetooth audio streams
Increased output power of headphone out
Default playback volume changed to 20%
Volume curve is smoother
Fixed distortion issues with mixed streams
Fixed potential lock up if G-Key was pressed repeatedly
Fixed issue where device could still enter standby mode with low signal audio
Reduced threshold level for audio lighting
The Bass is super deep and powerful too, thanks to the downward-firing driver on the subwoofer. Explosions get a big oomph and listening to Bass-heavy songs gets a treat from the G560. The Bass can get overwhelming and that's probably why Logitech has an EQ preset called "Drop the Bass" to tone it down, or you can go custom if you know what you are doing.
Logitech G560 also supports DTS:X surround sound which gives you a simulated surround sound out of the two satellite speakers. Though it's quite an amazing trick and works for gaming, I still prefer to play online competitive FPS with a gaming headset for a more accurate audio positioning. Listening to music with the DTS:X on sounds funny and echo-y too, so I end up turning it off altogether.
These little things can thankfully be updated with the Logitech software update and more features might be coming too.
Logitech G560 Review Conclusion
Logitech G560 RGB Gaming Speakers are loud, powerful, and sound great, considering how small the satellite speakers are. They are not "audiophile" quality (a little bit lacking on the higher channels) but you'll love them for watching movies and playing games especially.

The subwoofer with downfiring drivers will rock your room (literally) at high volume, making explosions bigger and more impactful in terms of immersion.
With support for LIGHTSYNC, the Logitech G560 does not just add aesthetics into your room, but also giving out critical information to take action on if the game is supported.
As a gaming speaker, the Logitech G560 delivers a rock solid immersion experience, both visually and audibly. Prepare your eyes and ears for some feast!
Logitech G560 LIGHTSYNC PC GAMING SPEAKER is available to purchase for A$279.95.
Disclosure: Review sample was supplied for reviewing but all opinions are mine and not paid.