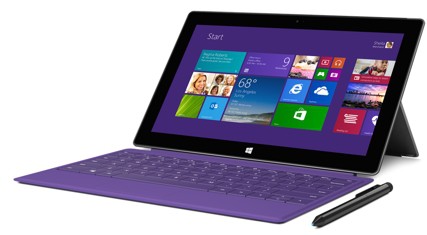 Earlier this morning, Microsoft officially announced 2 new Surface products – Surface 2 (gone is the "RT" tag from its name but it's still running on Windows 8.1 RT) and Surface Pro 2 (runs on Windows 8.1). Make sure to check out Craving Tech's Microsoft Surface review to see it in action.
I'm not really into Windows RT because you need Windows RT compatible apps to run in it. The Microsoft Surface Pro 2, however, can run any Windows apps you install in it, just like on your Windows 8 desktop. It's pretty much like an Ultrabook with a touch-screen running Windows 8.1 Pro, to put it simply.
Thanks to the latest Intel Haswell chip which delivers performance at a significantly low power, battery life in Surface Pro 2 has been extended up to 10 hours – which is awesome for such a powerful device. It's running the fourth generation Intel Core i5 processor and has an option to expand the storage to 512 GB (compared to the tiny storage space the original Surface Pro provides).
Those who complained about the Kickstand should know that Microsoft has improved the Surface Pro 2 Kickstand by adding another viewing angle. It also has a USB 3.0 port.
According to Tina Flamer on MSDN blog, the covers have also been improved:
Touch Cover 2 is even more responsive, and the Type Cover 2 is quieter and now available in multiple colours to personalise the experience. Both are even thinner and more rigid, and have backlighting with proximity sensing to light up when your hands approach the keys. The new Docking Station for Surface Pro also lets you quickly click-in and connect, turning your device into a full workstation
Microsoft Surface Pro 2 is available for pre-order starting at 10 p.m AEST tonight (24 September 2013) at MicrosoftStore.com, Harvey Norman, or JB Hi-Fi.
How much is the Surface Pro 2?
Surface Pro 2 64GB + Surface pen – AU$1019 RRP
Surface Pro 2 128GB + Surface pen – AU$1129 RRP
Surface Pro 2 256GB + Surface pen – AU$1469 RRP
Surface Pro 2 512GB + Surface pen – AU$2039 RRP
Will you be grabbing a Surface Pro 2?