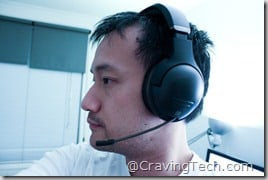 SteelSeries has been in gaming industry for years and Craving Tech has been reviewing their gaming mouse and keyboards for a while now (Ikari Laser, Xai, 6Gv2, and Shift). Their Siberia V2 headset is so popular that I've heard about it almost everywhere on the news and forums. Even though I've never reviewed any of the Siberia headset series before, I was very excited when I was given a chance to review their latest 7H USB headset.
SteelSeries 7H USB is designed for both gaming and non-gaming, although the 7.1 surround sound support is definitely geared for positional audio in gaming.
SteelSeries 7H USB Unboxing video
SteelSeries 7H USB Review – Look and Feel
The SteelSeries 7H USB packaging includes the headphones (full ear cups) with built-in microphone, detachable USB connector, detachable extension cords, and 2 different sets of ear cushions. Check the unboxing video above to see the contents of the package.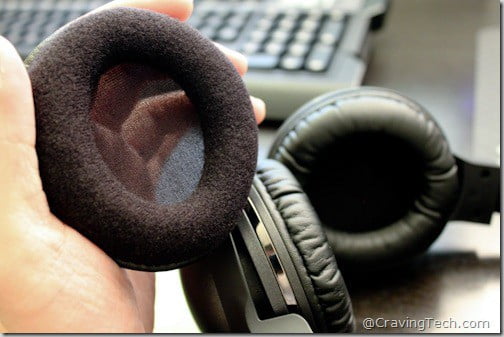 The leather version cushions are designed for noise dampening which work really well to dampen the surrounding noise. Depends on the preference and the atmosphere where you are gaming, you can pick either pads. I prefer the cloth pads because my ears won't get too warm and I can still hear what's going on outside my room.
Changing the cushion pads is fairly easy but a bit tricky at first because I didn't want to tear the pads accidentally by pulling the wrong sides. There are clear indicators on the surface to stick the pads back in, though.
The whole headset looks sleek and coated in black color (unlike the Siberia's). The headband area is soft and comfortable (cushioned) even if you press the headset hard for a complete fit.
The size of the whole headset is quite compact and easy to store in my drawer, even without dismantling it (more on this later).
Overall, the SteelSeries 7H USB is comfortable to wear, easy to store (and carry), and has an excellent build material quality. I had a problem with the microphone at first (beeping sound issue) but the official FAQ page gave me the solution. There were also times when sounds still coming out of my desktop speakers even when I have already plugged the headset in. Setting the headset as the default on my Windows sound control panel seemed to do the trick.
SteelSeries 7H USB Review – Features
Built-in soundcard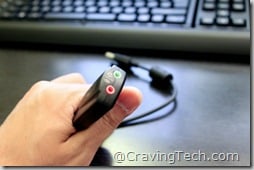 SteelSeries 7H USB has a built-in soundcard which provides a 7.1 virtual surround sound with 12 channel equalizer (if you plug it through the USB). Owners of legacy sound cards or onboard audio should be happy because buying the SteelSeries 7H USB is like grabbing a high quality headset with a sound card upgrade bonus. Plug the headset into a USB slot and you can enjoy the 7.1 surround even without having a supported sound card. Should you believe that you'd have a better sound output with your own sound card, you can always plug the SteelSeries 7H USB straight into your sound card jacks. The choice is yours.
Retractable microphone
Not every game you play requires a microphone and at times, it can get annoying to have that microphone boon dangling around when you don't need it. Thanks to the design team at SteelSeries, the SteelSeries 7H USB microphone is retractable and can be hidden away easily. It may sound like a minor thing, but it's definitely a plus to have. Love it.
Detachable extension cords
Rather than having a single lengthy cable and claiming it a feature, SteelSeries goes even further and make it optional. I appreciate when a company gives a 5-meter-in-length cable but how often do we need one? The SteelSeries 7H USB comes with a detachable extension cable so you don't have to use it if you don't need it. Since I game in my room most of the time and plug the headset into my keyboard's USB slot, I rarely need the range and the mess. Only if I want to listen to movies while lying down on my bed, perhaps.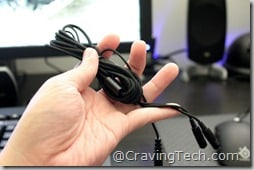 Disassemble-able (if there is such word)
One of the unique features of the SteelSeries 7H USB is that the headset can be dis-assembled into pieces. It's really easy to dis-assemble (check the 7H USB unboxing video on the top) but at the same time it's firm and sturdy once you properly assemble the pieces back.
Pack these pieces into your carry bag and bring the headset to a LAN party or to travel with you. Nifty.
The only thing missing is that SteelSeries doesn't include a travel pouch (or a hard case) for the 7H USB in the packaging :(  If they do, it'll be perfect (though they may have to bump the price a bit).
SteelSeries 7H USB Review – Gaming experience
So SteelSeries boasts on the 7H USB product page about its superior sound:
It's crucial in gaming that sounds are both clear and recognizable. The sounds of footsteps in an FPS game or a notice in a MMORPG game can be the difference between winning and losing
Is this just a marketing gimmick? I tested the headset playing mostly first person shooter games that highly dependent on positional audio.
SteelSeries 7H USB test – Left 4 Dead 2
As a survivor, it is very important to be able to hear when the special infected spawn. Since most of the time you will not be able to see them until they start attacking, it's important to be able to hear them as quickly as possible. Thanks to the 7.1 surround sound, I was able to hear the sound of the special infected clearly and accurately. Most of the time I played, I could quickly avoid the danger or quickly face to the direction they were spawning. Thanks to SteelSeries 7H USB, I could pinpoint the danger quicker than playing the guessing game.
SteelSeries 7H USB test – Call of Duty Black Ops
I've honestly never tried playing Black Ops with a gaming headset before. I just thought that the game is too fast paced that I wouldn't really care to hear where the enemies are. There are always the spy planes and those red dots on the radar anyway. I was quite surprised though when I tried playing with the 7H USB. I never expected it to help a lot in pinpointing my enemies. Players in Black Ops make sound when they reload or do certain things. With the 7H USB on, I could hear more than I normally heard with my desktop speakers and as such, could score a few more kills on "invisible" enemies. Now I understand why they have that Ninja perk in the game.
SteelSeries 7H USB test – Dead Space
Wasn't really a pleasant experience playing Dead Space with the headset, to be honest, simply because it made me jumped a few times when I had the 7H USB on. It's good (that's what the game was made for anyway, right?). I could also easily spot where the necromophs were when they dropped from the ceilings or when they ran among the pillars. Thanks to 7H USB, I could survive longer and used less health packs.
SteelSeries 7H USB test – World of Warcraft and Lord of the Rings online
In an MMORPG game, the headset does not shine as much (positional audio is not that important) but environment and background music sound really crisp, especially when playing Lord of the Rings Online with my friends. I'm not an MMORPG hardcore player so I'm still relying on my eyes to know whether an ability is still cooling down or not. Hardcore players would definitely benefit from the headset by listening to the audio cues.
SteelSeries 7H USB Review Conclusion
The SteelSeries 7H USB is a gaming headset that has it all (apart from being wireless and the not-included travel case): sleek looking, superb sound quality, comfortable to wear, 7.1 surround sound with built-in audio card, and so much more that you can read through my long review above. It's also highly portable and customizable (different ear pads, retractable microphone boon, detachable pieces); something that does not come often from headset manufacturers.
Wearing the SteelSeries 7H USB while gaming feels like cheating because you can react and kill your enemies faster than anyone else!
If gaming is not your life, not to worry because SteelSeries 7H USB delivers a great crisp sound and a deep bass level, perfect for listening to music or watching movies in your computer. Thanks to the detachable extension cords, you can switch easily between lying on your bed and sitting on the chair, depending on your activities.
"Should I buy the SteelSeries 7H USB", you asked? That's too easy. If you are looking for a gaming headset, grab it. It's that good. Unless of course, if you want to wait for the wireless SteelSeries Spectrum 7XB (even then, you still want to for media reviews before you decide to buy one).
SteelSeries 7H USB Pros:
+ All around headset: playing games, listening to music, watching movies, VOIP calls, etc.
+ Sleek looking in black, match perfectly with SteelSeries keyboards or mouse
+ Comfortable
+ Compact to store
+ Loud deep bass
+ Choice between using its USB onboard audio or your own
+ Choice of 2 different ear pads
+ Detachable headsets
+ Detachable extension cords
+ Microphone can be hidden if not used (retractable)
+ 7.1 positional audio, even if your onboard audio or sound card does not support it
SteelSeries 7H USB Cons:
– No carrying case included
– Not wireless but you don't have to worry about replacing batteries or recharging it
Note: Sample was provided for the review