CM (CoolerMaster) Storm just released a new gaming mouse, named the Spawn. Along with the release, they are having a competition where you need to submit an idea on the release page. There's a video of Monica who tries hard to get her boyfriend out of his computer (with the Spawn). Submit your idea to help her out and you might win a mouse + a video clip of your idea to be made.
I've submitted mine just for the fun of it :)
Official Press release:
Sydney, Australia: February 02, 2011 – CM Storm gives rise to the latest gaming mouse with the Spawn, a FPS mouse ergonomically designed for professional gamers. The Spawn's ultra lightweight, claw-grip design and anti-slip rubber side grips makes it well suited for prolonged gaming sessions. The crimson red high-gloss finish makes the Spawn aesthetically enhanced and visually breathtaking. Get your hands on the Spawn and set the gaming world on fire.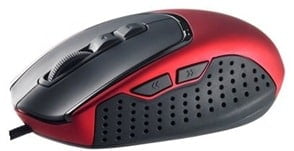 "Spawn"ed by Elite Engineering
The Spawn is a result of CM Storm Tactics mastermind engineers to give gamers the extra edge needed in top FPS games. The 7-programmable buttons are strategically placed along with an Ultra-Step Scroll Wheel Encoder for extreme control and precision. The high-performance 3500 DPI-on-the-Fly button located conveniently under the scroll wheel is necessary for those sniper kills during intense game play. Including Japanese-built Omron Micro Switches that guarantee at least 5,000,000 clicks for prolonged usage, the Spawn is synthesized for in-game tactical incisions and precise on screen accuracy.
High-Tech Design
Built into the Spawn is the Sentinel-XTM 32KB microprocessor, included for storing button assignments, advanced macros and other mouse customizations for easy setup and quick installation on any computer. The Anti-drift Control Sensor maintains faultless controls when lifts and drops occur, and with an angle snapping option, gamers can perform that ever-elusive flick shot. With these enhanced features and a smoking-hot design, the Spawn is forged to make you a champion of any contest.
"Spawn Your Ideas" Campaign
It's so hard to get the gamer away from the Spawn
Watch the Spawn videos and help Monica (the CM Storm girl) with ideas on how to get the CM Storm Spawn mouse out the hands of her boyfriend. Submit your idea and if selected, it will be made into a short clip. Winners will also received customized CM Storm and Cooler Master gaming gear.
Prizes for 1st place
•  Have your idea made into the final Spawn clip
•  Customized Spawn Gaming Mouse with your own name
•  Customized Sniper Gaming Chassis with your own name
•  Silent Pro Gold 800W PSU+ V6 GT Cooler
Prizes for 2nd place
•  Customized Spawn Gaming Mouse with your own name
•  Customized Sniper Gaming Chassis with your own name
•  V6 GT Cooler
Prizes for 3rd place
•  Customized Spawn Gaming Mouse with your own name
•  Customized Scout Gaming Chassis with your own name
For more information, please visit http://www.cmstorm.com/event/spawn

Pricing and Availability
Manufacturer: CM Storm
Product Name: Spawn Pro Gaming Mouse
RRP: AU$69, NZ$89
Website: www.cmstorm.com
Australian Distributors: Ingram Micro, Rectron, Australia IT, DMA
New Zealand Distributors: PB Technology
Warranty: 2yrs
Availability: Early Feb