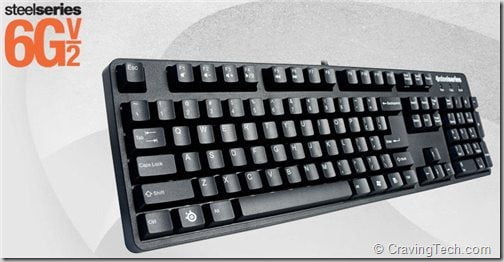 SteelSeries recently introduced a cut-down version of the popular SteelSeries 7G gaming keyboard, code named SteelSeries 6Gv2. Note that a cheaper alternative does not necessarily mean a degrade in quality. In fact, SteelSeries 6Gv2 may not be as pretty as the 7G or may not have a few bells and whistles, but it is definitely a "straight to the point" gaming keyboard.
As I said, the SteelSeries 6Gv2 is a bit lacking in the looks department. In fact, it looks like a standard keyboard (a Dell keyboard?) or those $5 keyboards that you can get from eBay or an online Chinese shop. However, once you have a look closer and actually use the keyboard, you'll realize that it is not a cheap knock-off. I actually had a friend who came over and thought that I was using a cheap standard keyboard. Knowing that I've been reviewing those high end gaming keyboards, he was quite surprised. After I asked him to shut his mouth and tried typing on the 6Gv2, he changed his attitude :)
The 6Gv2 is a mechanical gaming keyboard. I'm not going to discuss what a mechanical keyboard is (just do a search on Google) but suffice to say that it gives a very good tactile feedback and overall experience in both typing and gaming. Typing on the 6Gv2 is faster and less tiring, thanks to the mechanical switches. As for gaming, those clacky sounds definitely help in figuring whether you have pressed the right keys at the right time. In playing real time strategy games, these audio feedbacks are important as you chain the commands through the keyboard shortcuts. If you are sharing a room with someone else, not to worry because you can suppress the noise by pressing the keys half-way through when you type.
The SteelSeries 6Gv2 does not have any lighting, hand rest, USB slots, audio jacks, or any other bling-blings. Its design is minimalist, compact, yet sturdy.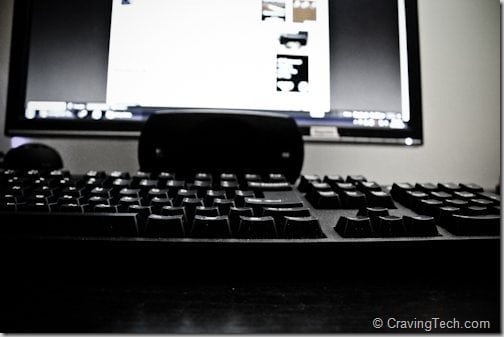 The keyboard is actually quite heavy and I presume can take some beatings (imagine all those kids banging their keyboard in frustration, blaming their losses on the keyboard). As a matter of fact, if you own a network gaming shop, get SteelSeries 6Gv2 as it can take some beatings alright when your customers start to find an excuse for their loss in game.
At first, I dislike the fact that they didn't put a hand rest on this keyboard, but after a while, I got used to it. It actually gives me more working space on the table so if you have a narrow space on your table, 6Gv2 shines.
To save even more space, the team has made a magic SteelSeries key on the spot where you normally have the Windows key. This design is also to prevent gamers pressing the Windows key accidentally. The key also works like a function key on a laptop and serves to activate the media controls on the keyboard.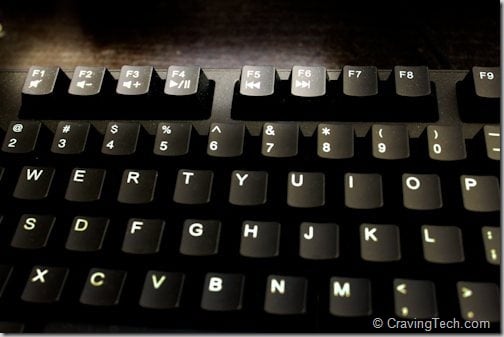 It works great but I often press it by mistake, thinking that I was pressing at a Windows key (Note: I often use the Windows Key + E to open my Windows Explorer). The team has actually moved the Windows key on the right side instead so it may take some time to get used to this new design. There is also another thing that I dislike – they put a Backslash key next to the Slash key, at an expense of a smaller RIGHT SHIFT key. Since I use the RIGHT SHIFT key almost all the time to capitalize my letter, I often press this Backslash key by mistake. If you are using the LEFT SHIFT key more often, this design shouldn't annoy you at all, though.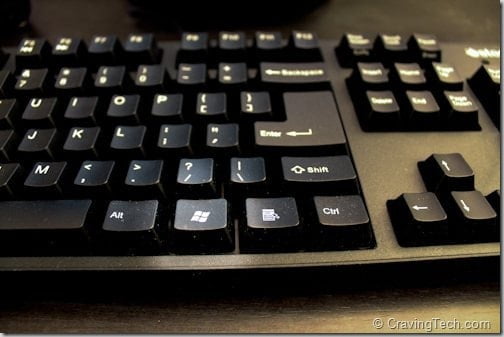 SteelSeries 6Gv2 Review – Overall Impressions and Conclusion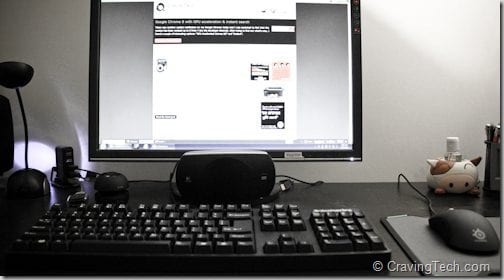 I actually like the SteelSeries 6Gv2 both for gaming and typing, although the tiny design changes took me some time to get used to. For gaming, 6Gv2 rocks because:
It gives me a better response time in a game, as I don't have to press the keys as far as before, thanks to the mechanical switches. It means that I can move 50% quicker in games and type 50% faster. Although the difference is probably in milliseconds, every bit matters in online gaming.
The 6Gv2 offers a lifecycle of 50 million presses per key (10 times more than ordinary keyboards). Real time strategy gamers (such as StarCraft players) should feel safe knowing that their favorite keyboard can stand the APM (Actions Per Minute) abuse. For regular Joe gamers however, this may not really matter much.
You can press up to 6 keys at the same time (if you hook the keyboard up through the USB) or limitless (if you hook it up through the PS/2 connector). This anti ghosting capability of the 6Gv2 proves useful when you have to press the WASD keys and a few more keys (or macro keys) in game at the same time. This reminds me of the 90's where my system would beep like crazy when I played a 3-player game called Rampage on the same keyboard :) Wish there was a 6Gv2 back then.
Playing an MMORPG game feels safer when you need to move and press many ability shortcuts at the same time in the heat of battle.
The design is compact that it's easy to carry this keyboard to tournaments or LAN parties, minus the weight of course. The keyboard can fit a backpack easily and off you go.
Overall, if you are looking for a straight to the point gaming keyboard without all the bling-blings and things that you'd probably can live without, give 6Gv2 a whirl. It's compact, mechanical, designed with high quality materials, affordable, and most importantly, will take your gaming experience to the next level. I personally love to have some bling-blings on my keyboard but everyone has a different taste.
Bringing a SteelSeries 6Gv2 to a tournament is like bringing a secret weapon in disguise –they look down on it by the looks and beg for mercy after :)
Note: Sample unit provided for the review