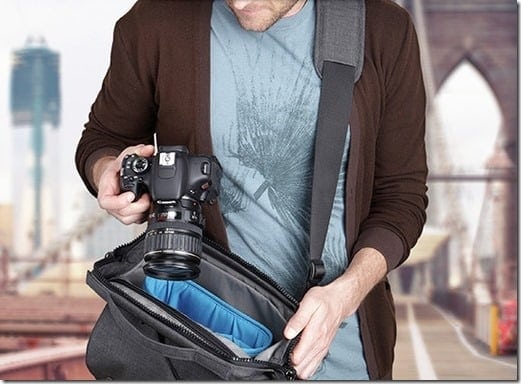 Case Logic Reflexion DSLR + iPad® Small Cross-body Bag Review – As casual or professional photographers, there are times when you need to take your DSLR camera out of a bag quickly to take some snaps. Sure, you can just strap your DSLR around your neck, but small, accidental bumps may break your precious easily. Nobody wants that happening.
This messenger-style bag from Case Logic provides a good amount of protection while you carry your DSLR camera within. At the same time, it also gives you quick access to your camera, thanks to its design. You can also fit tons of things in there.
The Reflexion Cross-body bag itself looks like a high quality bag and it's made from good quality materials. The one I have for review here is the small version, but you can get the medium or backpack version for a bigger storage space.
Due to the ruggedness of the bag, including an anti-slip bottom, I find that it gives ample of protection to whatever you store inside, such as your DSLR camera. The bag comes with a handy camera pod to store your DSLR camera and an extra lens (or a camera accessory). It fits my Nikon D5100 (with a stock kit lens just nice).
The camera pod can be closed tight, which is quite useful if you want to protect your camera completely during travel. Or when you need to stow it away some place safe in the hotel room.
You can choose not to have the camera pod in the bag to have more extra space. It's like buying a DSLR camera bag but easily transformable into a traditional messenger bag if you want to. This versatility is what I like most about the Reflexion. Assuming you don't take your DSLR camera out often, at least you can still use the bag daily for something else. Even with the DSLR camera inside, you can still squeeze a lot of things in there. The bag will definitely get heavier, but at least you know you have the capability to fit stuffs in.
There are lots of small pouches and pockets to store your smartphone, stationery, cables, and a few small gadgets like a portable battery charger, a Bluetooth speaker, or a wireless portable storage to transfer your photos to like the Kingston MobileLite Wireless (which is a great gadget for photographers). I can also fit my iPad Air in. If you are traveling overseas, you can also carry your passport, boarding pass, and other itinerary papers safely within the pockets. The front pocket is easily accessible and secured with another sturdy zipper.
There are also mesh side pockets to store water bottles or a small umbrella.
The shoulder pad is large and soft to the touch, which gives the much-needed comfort for a "heavy-duty" bag like this. With a DSLR camera along with your other goodies inside, the bag will get quite bulky, so this is a great addition to the messenger bag. No matter how much stuffs I put in, though, the bag always stands straight and balanced, thanks to the rugged bottom design.
All in all, Case Logic Reflexion DSLR is a great all around messenger bag that can be transformed into a DSLR camera bag. As a DSLR bag, it has the flexibility to carry a DSLR camera and extra lens or accessory, secured in a removable pod. The main area where your camera is stored is also easily accessible with one hand (though you need 2 hands to close it back), pretty handy to have a quick grab of the camera to take that short, important moment.
Love the looks, love the accessible pockets, love the versatility.
[AMAZONPRODUCTS asin="B00BVQXG1W"]
Disclosure: Case Logic Reflexion DSLR + iPad® Small Cross-body Bag review sample was sponsored for the review