Kingston MobileLite Wireless Review – If you are planning to stop reading this because you are not a professional photographer, don't. Kingston MobileLite Wireless is definitely for everyone but professional photographers can fully utilise this even further. For example, you can transfer photos you took into an external USB hard drive (or USB thumb drive) so you can re-use that same memory card to take more photos for the day. Or you can show the photos you just took on a tablet for the clients to see, which is pretty handy.
Just like the Kingston Wi-Drive that I reviewed before, the MobileLite Wireless is still a portable storage with a Wi-Fi access point in a way (though the Wi-Drive has its own internal drive and this one doesn't). Kingston manages to take the Wi-Drive concept into a whole new level of features; as a card reader, card-to-USB transfer, and a built-in 1800 mAh battery to charge your devices.
Kingston MobileLite Wireless Review – Packaging
Kingston MobileLite Wireless Review – Features at a glance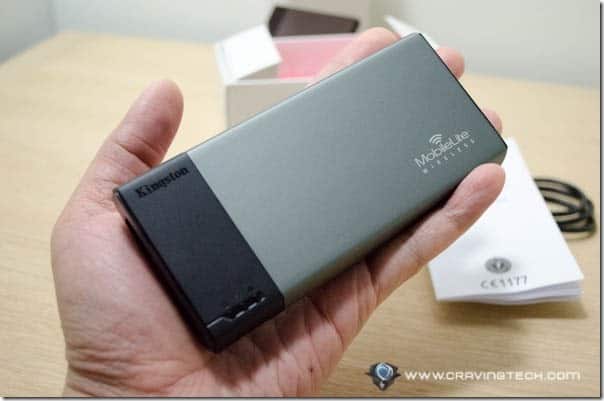 To make sure you understand what Kingston MobileLite Wireless does, here are some of its core features in a nutshell:
Has a built-in Wi-Fi access point so you can connect to the device directly from your phone or tablet (no cable needed)

You can transfer files from your phone to either a microSD (with the help of the included SD adapter), SD/SDHC/SDXC card, or USB drive plugged into the MobileLite Wireless

You can also copy or move files from the SD card to USB drive (or vice versa)

Recharge your device by plugging it to the MobileLite Wireless

Upload photos directly from the SD card to Twitter or Facebook

Share files in MobileLite Wireless device to 3 users simultaneously
Kingston MobileLite Wireless Review – Overall Impressions
The device itself is pretty lightweight (98 grams), despite of the 1800 mAh battery lies within. It can also fit in a shirt's pocket or a small bag, which makes it pretty handy to carry around. The power button serves to power up/down the device but also as a switch (hold for 3 seconds to turn it on or press once to switch it to a battery charger instead).
In short, with Kingston MobileLite Wireless, you can expand the storage of your iOS or Android smartphones/tablets by moving files around or storing your music/videos in it (and stream them afterwards). Or you can collaborate with a few people on the same file version in your USB thumb drive.
When we were still shooting The Unbroken (a movie project I was involved in), we often had modifications to the scripts on set. With Kingston MobileLite Wireless, we could have made the changes on our device, transferred it to MobileLite Wireless, and asked everyone to re-open it on their own phones or tablets. You can collaborate easily by sharing documents or files to your colleagues and clients on the spot. The only drawback is that they have to download and install the app. Although it's free, some may feel a bit reluctant to download and install an extra app.
When travelling abroad, you can easily bring your favorite movie series with you to watch. Assuming you don't have much space left on your phone, you can chuck the files into an external USB hard drive and stream them to your phone using MobileLite Wireless. Voila! Your 16GB phone storage has now become 500GB (or whatever space your external drive has).
For professional photographers, this thing is a godsend. For a whole day of photo shoots (like a pre-wedding shoot), you'd probably need to carry a few memory cards with you. High-speed write memory cards are normally more expensive compared to a USB flash drive and does not have much storage. With MobileLite Wireless, you can keep on using the same card over and over (or onto another while the files are transferred, as it can take a while for the files to be moved around). The transfer speed is not the best, measured at around 3MB per second during my tests (from SD card to USB drive).
Another thing that often happens during a photo shoot is that you probably want to show what the photos are like. Normally, everyone will squeeze in to you and view them through the tiny camera's LCD. Alternatively here, plug the card into MobileLite Wireless and stream the photos on your 10″ tablet. Now everyone can see them better while having a lunch break! Unfortunately, reading RAW files are not supported so you need to set the camera  to take RAW+JPG if you want to view the photos this way.
These are the files that MobileLite Wireless supports:
Audio: MP3, WAV

Video: M4V, MP4 (H.264 video codec)

Image: JPG, TIF

Document: PDF
Kingston MobileLite Wireless Review – Conclusion
With MobileLite Wireless, you can expand the storage of your phone or tablet significantly. Plug a 1TB external USB hard drive to it and start streaming photos or videos to your phone through Wi-Fi. You can also use it as a bridge to transfer files between your SD/SDHC/SDXC card to a USB drive. PDF document can be shared simultaneously so you can read and discuss easily.
If those are not enough, you can also make use of MobileLite Wireless as a portable battery charger to charge your phone away.
The MobileLite Wireless, in my opinion, is a dream comes true for photographers and those who like to store lots and lots of media on their devices.
[AMAZONPRODUCTS asin="B00CEB5QU2″]
Disclosure: Kingston MobileLite Wireless review sample was sponsored by Kingston for the review