JBL Flip Bluetooth Speaker Review – With so many Bluetooth portable speakers out there, including the many ones that I've reviewed at Craving Tech, one can wonder what else is there that makes JBL Flip different?
In a sense, it does not offer something dramatic or new, but it does everything so well to make it into a Bluetooth speaker of choice.
Let's find out why.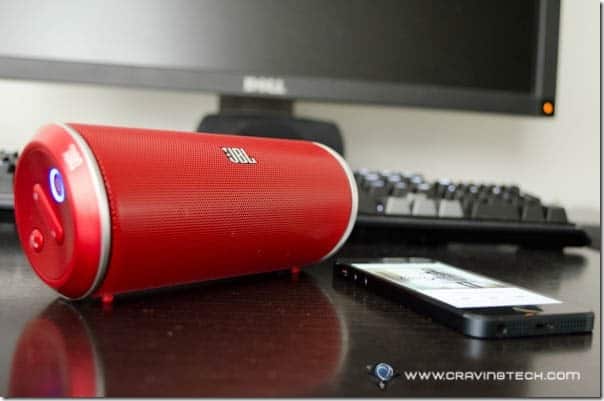 JBL is popular for making great audio speakers so I was quite excited when I was given a chance to review their JBL Flip. It is also a speaker that has been recommended by many and was chosen as the Reddot Design Award Winner in 2013.
JBL Flip Review – Packaging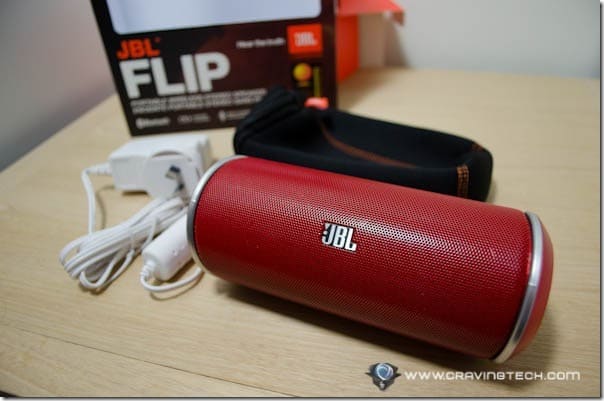 JBL Flip Review – Design & Features
Design wise, JBL Flip looks premium and made of good quality material. It comes in 5 different colors: Black, Green, Blue, White, and Red (which is the one I have here). Only the Red, White, and Black version are available here in Australia.
The speaker grill covers almost the entire area of the JBL Flip – which covers two 40mm speaker drivers inside. Yes, JBL Flip is a stereo Bluetooth speaker of itself, though I can barely notice the difference (maybe because the speakers are housed in the same unit).
What makes JBL Flip interesting is the design. It can be positioned vertically or horizontally – hence the "Flip".
Non-distracting rubber areas make sure that the unit stays solid and sturdy on the surface. It doesn't seem to matter much which position you should set the JBL Flip on but it's easier to access the buttons when you place it vertically.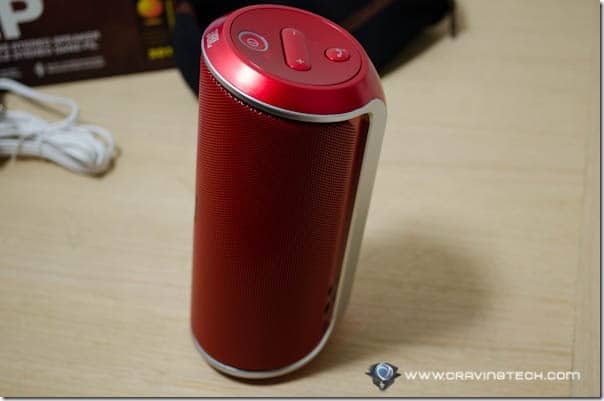 Speaking of buttons, you can use the 4 buttons on the Flip to power the device on/off, Bluetooth connectivity, adjust the playback volume, and also a call answer button. Yes, you can answer calls from the speaker as it also has a built-in microphone. This way, JBL Flip can be turned into a great speakerphone for audio-conferencing with a few people in the same room.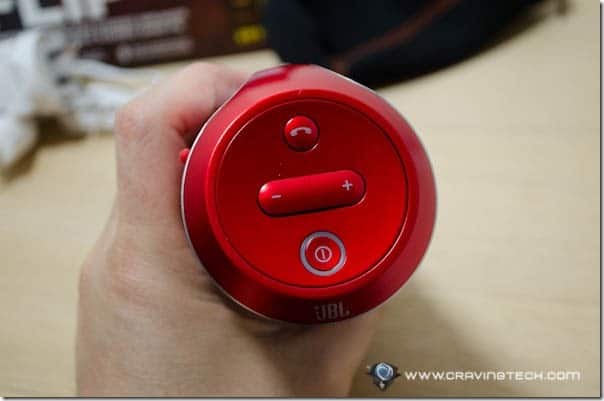 The speaker turns on instantly when the power button is pressed and connects to my previously-paired-iPhone-5 within seconds. You can use the JBL Flip to listen to your music via Bluetooth, watch YouTube videos, or play games through it. I've tried playing a few games while connected to the JBL Flip and it has transformed my gaming experience by far.
You can also hook your other devices up via the AUX IN port using a 3.5mm audio cable (if you have an older device or don't want to connect via Bluetooth).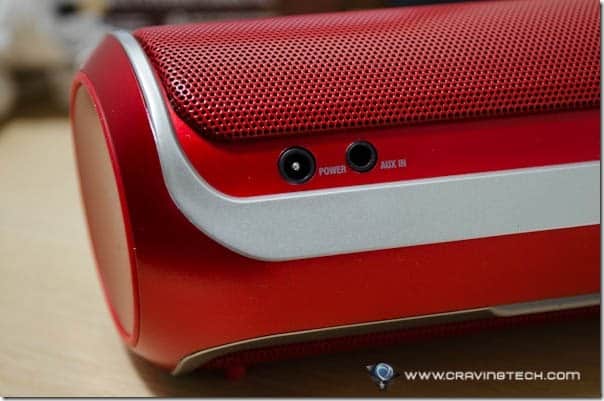 The JBL Flip will run for about 5 hours and recharged by the power adapter. You can also play music while charging the speaker at the same time.
The packaging comes with a really nice, soft carrying case, which again, doesn't feel cheap at all. It fits the speaker nicely within, though there is no room for placing the charger anywhere.
JBL Flip Review – Sound Quality
JBL Flip sounds awesome, enough said! The quality feels on par with my 5.1 Logitech desktop speakers, which is amazing, considering that it is just a tiny, portable speaker. The volume can be set really loud, which is great for parties or outdoor activities.
Vocals and instruments sound really clear, though the bass is kind of overwhelmed by the other channels. For listening to non-bass-heavy music, however, JBL Flip is awesome. Not many portable speakers that I've tried so far can produce this much clarity in sound. I guess that is why the JBL Flip can only last for 5 hours, due to the amount of output and power it needs. If you listen to music that focuses on the vocals and acoustic instruments, JBL Flip will blow your mind!
JBL Flip Review – Closing Words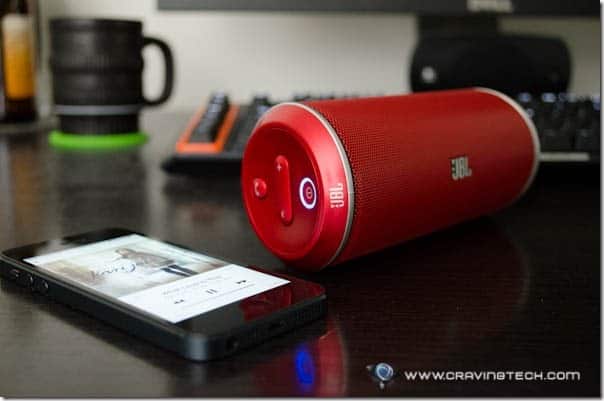 Overall, I love the portability of JBL Flip, the premium feel, and mainly the clarity of the sound it outputs. Once connected to your device, it literally only takes seconds to divert your sound to the JBL Flip via Bluetooth.
The sound "diverted" to JBL Flip from your phone/tablet makes a huge difference and since you can always hook the JBL Flip to the power, it feels like having a personal sound system that doesn't take up space at all on the desk.
[AMAZONPRODUCTS asin="B009AXVM6E"]
Disclosure: JBL Flip review unit was sponsored by JBL for the review. Opinions are 100% mine.