BlueAnt X5 Review – BlueAnt is redefining Bluetooth, portable speakers with their new speaker unit. There are times when you need a portable, Bluetooth speaker for partying but despite of the product's premise, you just want more power.
BlueAnt X5 is made to deliver that. It is a 60-Watt Bluetooth party speaker that can be carried around, self-powered, and most importantly, delivers the sound quality and loudness you want from a party speaker (plus LED lights to spice things up).
While the speaker itself weighs 4.1kg, it still is pretty easy to be carried around with just one hand to a different room or a party somewhere else. The design & size remind me of a speaker you'd use in a small hall or venue, plugged to a sound mixer and all.
Specs wise, the X5 has 15W*2(RMS) power output with 60W total max power output thanks to the 6.5in woofer, 2.25in tweeter, and a Bass vent inverter tube. It is powered by Bluetooth 5.0 but there is also an option for USB and an AUX playback through the 3.5mm port. It's definitely a versatile speaker that can play music from any kinds of device.
However, the X5 is a unique, Bluetooth party speaker. The packaging actually includes 2x bonus microphones that you can plug into the speaker (wired) which offers you a unique, portable, karaoke system. Each microphone also has its own settings that can be controlled on top of the speaker such as volume and even an echo effect.
There are playback controls and a Bass Boost button as well on the speaker unit. No app is required, which makes it very simple and straightforward to use.
With all these, you can play the music over the speaker, plus having two people singing along with the music. Simply fun!
However, having these portable microphones and speaker system also means that you can use the BlueAnt X5 for meetings and conferences. I actually brought and used the X5 review unit to my sister in law's engagement party which was held in a small restaurant – Bahari at Richmond. Due to COVID-19, my parents in law couldn't make it to the party and we were doing live streaming of the event so they could celebrate along with us.
The X5 was very helpful as we could stream songs through the speaker if we wanted to, and the microphones were used throughout the event by the MC and our Pastor. The volume was loud enough for the venue and thanks to the portability, we could carry and pack it up inside my car's trunk. It's really handy to have the X5 around. I can already see how we can use it in the future for small conferences, seminars, and leaders meetings.
Sound quality-wise, you will not be disappointed with the BlueAnt X5. Its sound is room-filling, clear, and satisfying. The bass is pretty punchy and you can also boost it even more with the Bass Boost button.
And there is no party without lights! BlueAnt X5 has a variety of lighting modes (5 different ones) that can boost the mood of the party but if you are using the X5 for a more professional setting, you can turn all the lights off too.
BlueAnt X5 Review Conclusion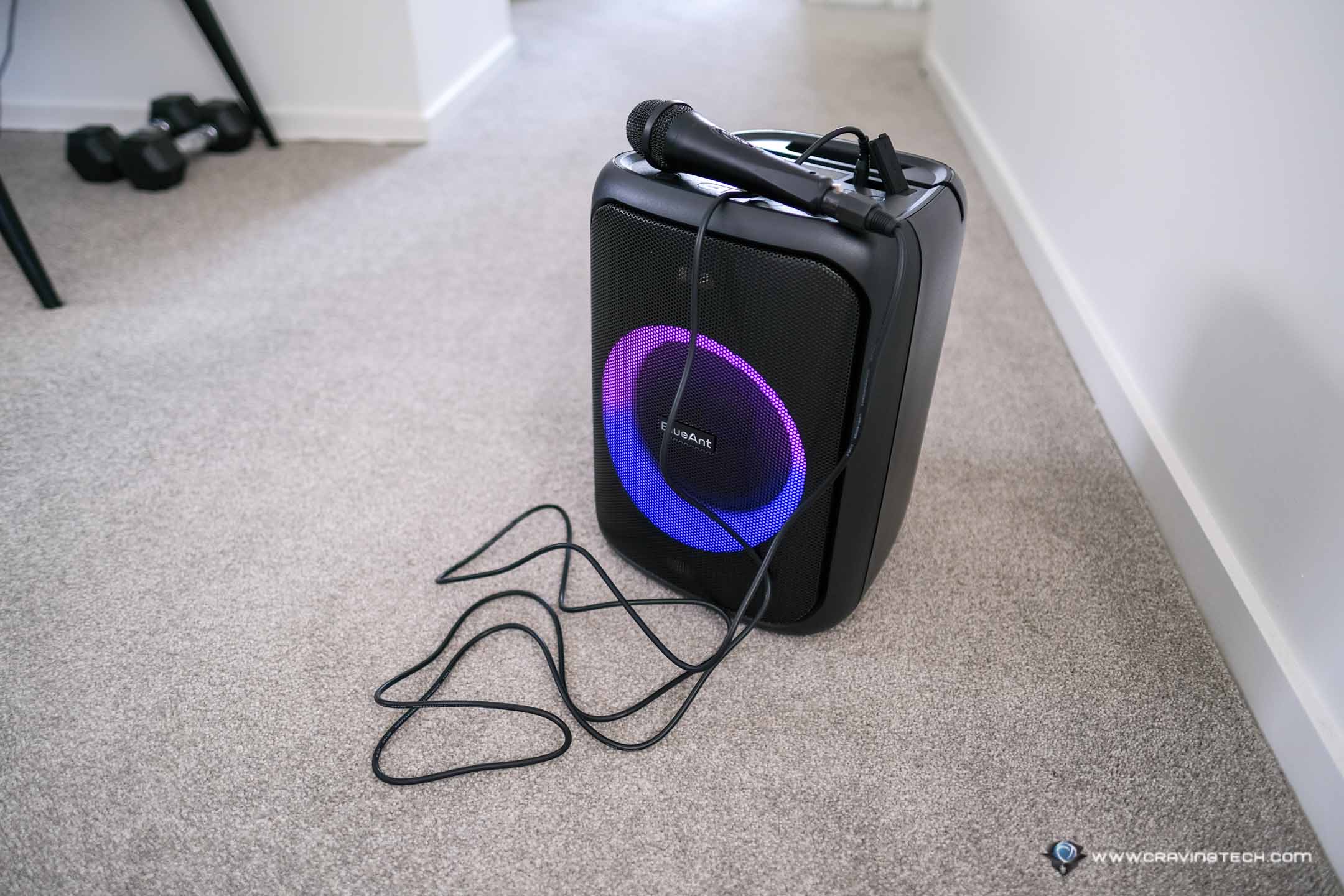 BlueAnt X5 is a surprising entry to portable, Bluetooth speaker market. You can't place it at the palm of your hands and you surely can't fit the speaker unit inside a backpack. However, the X5 can still be carried easily with one hand and it also has a built-in battery so you can use it for hours without plugging it to power (up to 20 hours with 50% volume). If you are looking for a smaller speaker, make sure to check our review on the BlueAnt X3.
The sound is great and room-filling, plus the included two microphones can be used to sing along. However, you can also use the X5 for a more professional setting as a personal, portable PA system for conferences, seminars, and events. Having two included microphones also mean a Q & A session will even be easier. I really love the versatility of the X5.
It supports a variety of audio input sources, including USB which you can also use to charge your phone. There is no IP rating however, so you probably want to make sure that it's situated away from the pool.
BlueAnt X5 retails for A$399.95 and can be purchased at BlueAnt.com.au or retailers around Australia like JB Hi-Fi.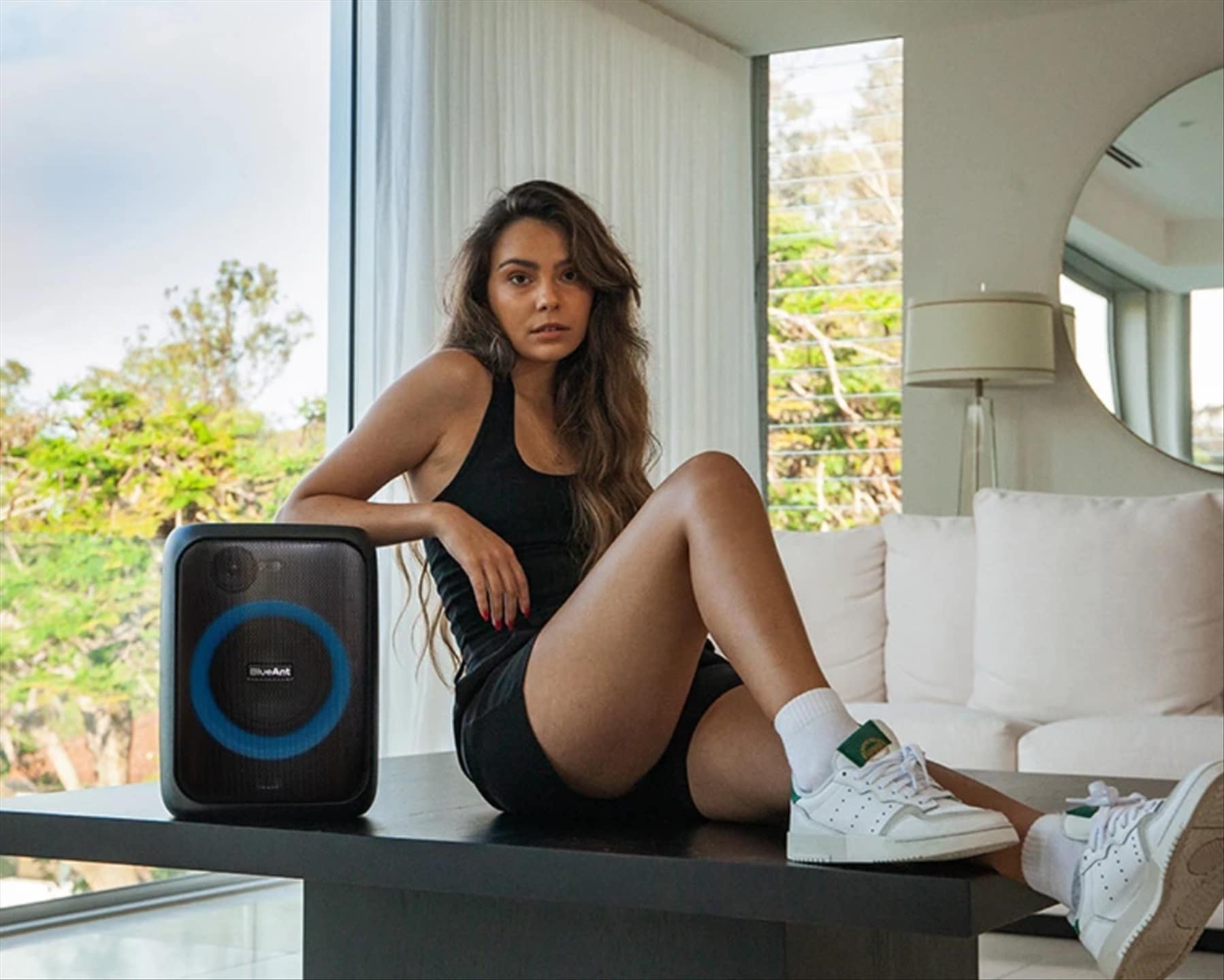 Disclosure: BlueAnt X5 review unit was supplied for reviewing