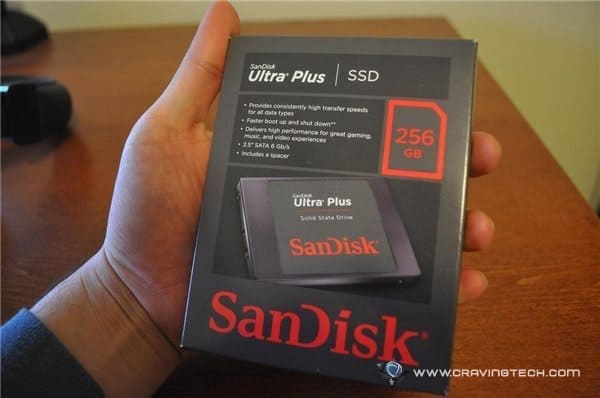 SanDisk Ultra Plus 256GB Review – SanDisk is one of largest flash memory storage manufacturers. The company has recently released the SanDisk Ultra Plus, featuring 2.5" 7mm SSD with SATA 3 (6Gb/s) interface designed for desktop, notebooks and ultrabooks. SanDisk Ultra Plus comes in three capacities: 64GB, 128GB, and 256GB.
The case build is simple and basic with a black plastic material. SanDisk Ultra Plus SSD is slimmer than the 9.5 mm design SanDisk Extreme and more affordable than the premium SanDisk Extreme; thanks to its Marvell controller which guarantees that you get the best SSD's value and performance.
Product Specification
Capacities: 64GB, 128Gb, and 256GB
Dimensions: 7 mm x  69.85 mm x 100.5 mm.
Weight: 39 grams.
Operating temperature: -32ºF to 158ºF (0ºC to 70 ºC).
Storage temperature: -67ºF to 203ºF (-55ºC to 85ºC).
Power Consumption: 0.12 W.
Shock Resistant up to 1500 G @ 0.5 m/sec
Vibration (Operating/Non operating) 5 gRMS, 10–2000 Hz/4.9 gRMS, 7–800Hz
Interface: SATA rev. 3.0 (6 Gbit/s).
Warrant: 3-year limited warranty.
Performance
You're guaranteed to have faster boot up and shut down for your PC compared to traditional 7200 RPM SATA hard drives. My test concludes SanDisk Ultra Plus performed 5.2 seconds to shut down and 10 seconds boot time tested in Windows 7 machine with latest updates installed. Compared to my WD VelociRaptor 1TB with 14 seconds to shut down and about 1 minute boot time, this is a great leap. Applications are loaded much quicker, too. You can definitely feel the improved performance during gaming session and it's really noticeable during auto-saves on some games such as Dragon Age.
SanDisk claims that the Ultra Plus can achieve sequential read up to 530 MB/s and sequential write performance up to 445 MB/s. However, during my tests, I couldn't get near to those figures from the specification. In my tests, SanDisk Ultra Plus achieved around 250 ~ 480 MB/s and sequential write performance of 100 MB/s ~ 400 MB/s. My final opinion is that the SanDisk Ultra Plus is a really decent SSD you can get in the market right now if you want to move from a traditional disk spinning hard drive to a non-moving part, excellent speed SSD.
Cost per GB
Price is a winning point for SanDisk Ultra Plus among SSD contenders. 64GB SanDisk Ultra Plus costs around 80 AUD, 128GB  for 113 AUD, and 256 GB for 213 AUD. If you compare it to some SSD in the market:
| | | | |
| --- | --- | --- | --- |
|   | 64GB | 128 GB | 256 GB |
| SanDisk Ultra Plus | 80 AUD | 113 AUD | 213 AUD |
| SanDisk Extreme | 112 AUD | 199 AUD | 382 AUD |
| OCZ Vector | – | 148 AUD | 255 AUD |
| Samsung 840 PRO | – | 135 AUD | 244 AUD |
I totally recommend this product to people who wants to upgrade their HDD performance to another level without spending too much money. Make sure you check your motherboard specification whether it supports SATA3 to achieve maximum SSD performance.