RHA MA450i Review – A few months ago I was given the privilege to review the RHA MA350 earphones.
I was so fascinated by the quality (both build-wise and sound-wise) of the earphones that I was quick to accept when RHA offered another pair of earphones to review.
In this post, I will be reviewing the RHA MA450i, discussing my findings!
If you've read my review of the MA350, you might want to skip the About RHA section.
About RHA
RHA is short for Reid Heath Acoustics and they are a division of Reid Heath Ltd. They are based in Glasgow, UK, and they create unique, high specification audio products. They claim that "everything [they] make is engineered to deliver professional grade, cutting edge sound. Each feature, detail and component is the result of extensive research and [their] uncompromising commitment to innovation and quality."
Expectations

I can't deny that after I found the MA350 to be so good, I had high expectations on these. These have the same design of buds, same braided cable, and same build-quality. In fact, just looking at the buds, I couldn't tell which buds belong to MA450i and MA350.
Furthermore, as per the usual product naming convention, we could expect people to assume that the MA450i would be a step higher above the MA350, and so did I.
Features
Here are the main features as advertised on the packaging:
Sound
Inspired by the aerophonic design of a trumpet's bell, the MA-450i's produce a richly detailed, well balanced sound.
Remote and Microphone
The in-line remote with omni-directional mic, controls volume and track selection on your Apple device and allows calls to be answered with one click.
Comfort
A choice of seven ear-tips combined with the unique shape ensures a comfortable, secure fit.
Noise Isolation
Securely fitting ear-tips help keep your music in and background noise out.
Cable
A 1.5m reinforced, fabric braided cable (with gold plated connections) reduces tangling extending the product's life.
Quality
Machined from solid aircraft grade aluminium for maximum strength and durability.
RHA MA450i Specifications
Driver: 10mm
Frequency range: 16-22,000Hz
Impedance: 16ohms
Rated/max power: 3/10mW
Sensitivity: 103dB
RHA MA450i  Review – Observations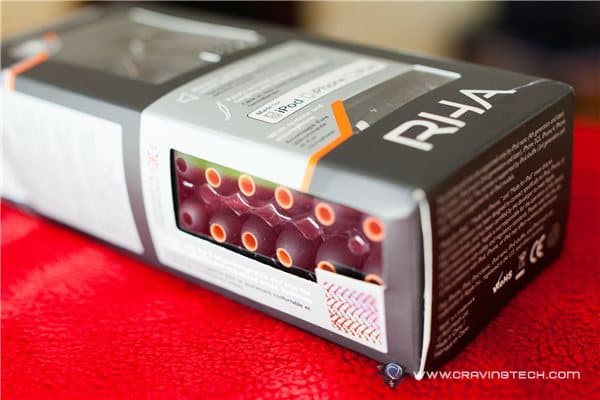 The first thing that caught my eyes when I received the package is the multitude of ear-tips options! I seriously have never seen any earphones that offer this many options! They look like toy-gun bullets to me.
As you can see they are serious in offering options to ensure a comfortable fit for your ears. I noticed that the two largest pairs are identical size (to my eyes at least). I'm not sure why this is the case but it's always safer to have spare ones in case you lose one (I'd say it's highly unlikely you'll lose one – they are very snug.
One extra plus point that I might add is that they've provided this little small box to store all these ear-tips away. Even though it's not a hard case and may just look as part of the packaging it comes in, it's still quite handy for storage. Once I found the perfect ear-tips I sure wouldn't constantly be changing ear-tips in the near future.
Okay, onto the earpieces themselves. I honestly could not find any difference except two things. First is the aluminium bell part is more like a chrome finish whereas the MA350 has a satin-finish. Second, is that the ear-tips of the MA450i have orange bit in the inner center part.
I am not entirely sure what difference these make, but I find the orange bit is a tiny bit stiffer than the MA350 black counterpart. I might be wrong or biased because of the different colour! Do these really matter? Not for me – as long as they fit well in my ears.
From my experience with the MA350, the default set of ear-tips were perfect for me so I did not give the other 6 pairs of extra ear-tips a try. Feels weird just typing that last sentence – again, I've never seen any earphones that come with SIX pairs of extra ear-tips!
The fit is familiar and feels snug in my ears. It is able to isolate the music in my ears, and block outside noise quite efficiently. My expectations about the fit were right on the money!
The braided cable also felt identical to the MA350 and feels great. It really does help reduce tangling and prolongs the life of the cables. Again, expectations met. Although, I did a mistake of using this pair of earphones on the treadmill once, and the fabric braid actually absorbed my sweat running down my neck and became wet to touch. I guess this pair of earphones is not really meant for working out.
RHA MA450i Review – Sound Quality
The MA450i has exactly the same specification drivers with the MA350 and I expected the same sound quality or better. Also we need to remember that these are A$59.95 pair of earphones.
To test the sound quality, just like I tested the MA350, I have played the music through iTunes on my Mac, as I believe that's what majority of users will be doing to enjoy music. I doubt many people will be using some higher bit-rate HD audio to enjoy their music. I have also turned off the "Enhance Audio" option in iTunes so that we have a level playground for these earphones.
Simply said, my expectations about the sound quality were met! This pair of earphones delivers the same sound clarity and quality as the MA350. It is able to provide decent punch in the lower frequencies while also delivering clarity in the higher frequencies. The overall sound quality is pleasing and makes you want to listen for longer. This coupled with the nice outside noise isolation makes a set of high-quality earphones that you could not get for just A$59.95.
RHA MA450i Review – Remote and Microphone
Obviously, you know that the big difference between this and the MA350 is that these have the remote and microphone.
The remote has three buttons and can be used to control the volume, to play and pause a track, and to navigate to the next and previous tracks. This pair of earphones has been designed with Apple devices in mind. I just tried the remote on my Macbook Pro and it worked, sweet! As far as I know if you want to use this pair of earphones with Android devices, only the middle button works to play and pause a track.
The buttons provide nice satisfying click feedback when pressed. The + and – buttons are used to increase and decrease volume. One click of the middle button plays and pauses the current track. Two clicks of the middle button advances to the next track, and three clicks navigates to the previous track. On iPhone 4S and iPhone 5, holding the middle button summons Siri.
The remote is of a nice size, not too small that people with fat fingers will have to do some finger-yoga to be able to operate it, and not too big and heavy that it tugs your earpiece out of your ears every time you move around. Having a snug fit of the ear-tips ultimately helps a lot. When I turn my head around I can't actually feel that there's something weighing the right earpiece down. So, kudos to the designer of the remote! Operating it is also easy because the middle button has a convex indentation, and makes it easy to find the position of the buttons without looking.
Personally I don't usually use earphones with microphones for calling a lot. I drive a car that has Bluetooth-phone connectivity so I can just use that. I imagine someone who travels on public transport could use it a lot as they can listen to music while commuting, and just receive or make a call using the microphone on the earphones. Nevertheless, I had to test the quality of the microphone. So I called Michael, spoke to him, and asked how clear can he hear me.
I turned on my TV in the living room while I stood near the door of my bedroom, which is probably about 7 meters away from the TV when I called Michael. My voice and words were delivered clearly and we found that the microphone does a great job of blocking out the TV noise when I'm not talking. It's only when I started to talk when Michael could notice that there was a TV in the background. I then switched to the standard iPhone earphones just to see the difference. With the standard iPhone earphones Michael could hear the TV noise in the background all the time, even when I'm not talking.
So overall, this pair of earphones has a great microphone that can block out low-level noise in the background to ensure clarity of our voice.
RHA MA450i Review – Conclusion
RHA MA450i
The RHA MA450i is really a great set of earphones! To my knowledge and experience you could not get another pair of earphones with the same or higher quality at the same price.

I can tell that they have put a lot of thought into the design of the whole product. One thing I have missed when I reviewed the MA350 was that there was actually a way to identify which one is the left or right earpiece (because at a quick glance the two earpieces are identical). There is a superimposed dot in the left earpiece that you can feel with your finger, and you'll know that it's the left one. The same is true for this pair of earphones, even though it's much easier to know which one is the right earpiece because it has the microphone. Furthermore, the ergonomics/design of the remote is pleasing and makes blind operation easy.

The braided cable is great for reducing tangle. And finally, they've provided ample options of ear-tips to ensure a snug and comfortable fit in most ears.

This, coupled with great build quality and great sound quality, proves itself to be a high quality set of earphones. I've noticed that when I reviewed the MA350 not long ago these weren't available through the Apple Store. But now, the MA450i has made its way into the Apple Store, displayed along the likes of Harman & Kardon, Bose, Beats, Sennheiser, Klipsch, Skullcandy and some other well known brands. This just further proves that the awesome guys at RHA are doing an awesome job at manufacturing high quality products!

Once you have tried these earphones you will not believe they only costed A$59.95!