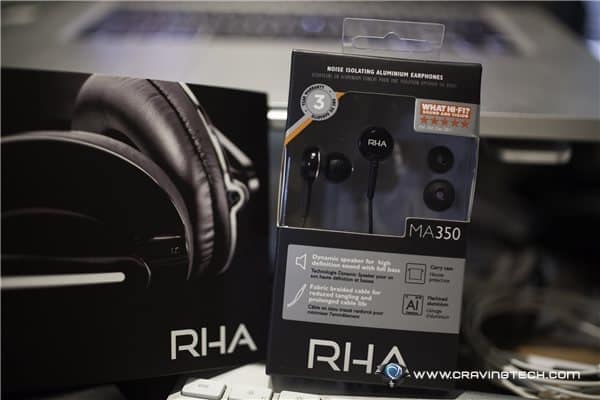 RHA MA-350 Noise Isolating Aluminium Earphones Review – Let me be honest with you. I have never heard of the brand RHA before I was offered to write this review. However, after testing this set of earphones, they have made sure that I am now well aware of them! Let me tell you why in a few short paragraphs.
I am not an audiophile myself, but I do have quite a picky set of ears. My parents used to own an electronics shop when I was a kid, and I quickly learnt to distinguish great sounding audio equipment from mediocre and bad ones. So let's look at RHA MA-350 Noise Isolating Aluminium Earphones more closely.
About RHA
RHA is short for Reid Heath Acoustics and they are a division of Reid Heath Ltd. They are based in Glasgow, UK, and they create unique, high specification audio products. They claim that "everything [they] make is engineered to deliver professional grade, cutting edge sound. Each feature, detail and component is the result of extensive research and [their] uncompromising commitment to innovation and quality."
RHA MA-350 Review – First Impressions & Packaging
The first thing that I notice is the simple, no-nonsense packaging that these come in. When you walk through an electronics store and you can see some earphones that come in very elaborate packaging. They usually would attract the youngsters, the hipsters, and the plainly vain and/or ignorant. Not these pair of earphones. Simple, direct to the point, professional packaging.
I remember the old days when the audio market was dominated by 3-4 main brands such as Sony, Pioneer, Yamaha, Technics and some others. Today you will find there are a lot of other emerging brands producing high-quality products that are of comparable or higher quality than those big-named brands.
It's now more often to find products from emerging brands such as RHA win favourable reviews for the quality offered at the usually-lower prices compared to products from big-named brands. Such is true for this pair of earphones as proudly displayed on the packaging, as it acquired the full five stars from "WHAT HI-FI?" magazine:
RHA MA-350 Review – Features
Just off the packaging, I will list the main features as advertised:
Inspired by the aerophonic design of a trumpet's bell, the MA-350's clean, simple lines and aluminium finish create an earphone which not only looks good but fits comfortably whilst providing a rich, natural sound.
Dynamic speaker for high definition sound with full bass
ø 10mm drivers
Aerophonic design naturally relays sound from the speaker to the ear
Noise isolating design
1.2m fabric braided Y-cable for reduced tangling and prolonged cable life
Soft silicone tips for a comfortable fit
Machined from solid aluminium
3.5mm gold plated connection
Carry case and S/M/L size tips
RHA MA-350 Review – Specifications
Frequency range: 16-22,000Hz
Impedance: 16ohms
Rated/max power: 3/10mW
Sensitivity: 103dB
RHA MA-350 Review – Observations
Upon opening the packaging and taking the earphones out, I immediately am drawn to its simple design and aluminium trumpet-bell-shaped design. It is a very simple design and this is perfect for me as a person who loves minimalism.
The earpieces are symmetrical and upon picking it up you can't really tell whether it is the left earpiece or the right one. You would have to look for the small "L" and "R" characters impressed on the outer side where the cable meets the main bell. The advantage of having symmetrical earpieces is that when you're in a hurry it really doesn't hurt if you insert an earpiece to the wrong side, you'll only get a reversed L-R sound but that's about it.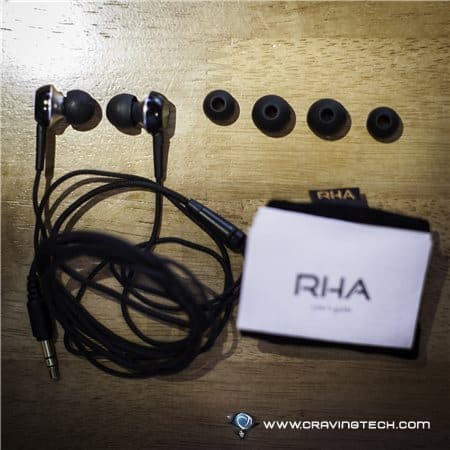 I also noticed the braided cable that it came with. To be truthful, at first I wasn't sure that the use of braided cable would actually make it less prone to tangling. My experience with earphones cables used to be quite horrible as they would be tangled up 90% of the time.
Recently, I have worked with lots of cables – different sized ones however. I usually help with setting up the sound systems at church, so I am now used to working with XLR cables and jack cables. From this, I have learnt how to wind up a set of cables properly to reduce tangling. The same technique could be applied to any cables, really. So now I would have less trouble with tangling cables. I would probably have to write up another post to demonstrate what I've learnt about winding cables properly.
Back to MA-350! After using it for several days, I have found that the braided cables really do help reduce tangling somewhat. The cables don't stick together like the usual thin earphone cables do. Also I believe the symmetrical Y cable design helps too.  In comparison, I have a pair of Sony MDR-EX300, which has asymmetrical Y cable design. It goes straight up from the jack to the left earpiece and there is a joint near that earpiece that goes to the right earpiece in the same direction as the jack. This makes winding up the cable a hassle, as I would have to wind the right earpiece in the opposite direction, making it more prone to tangling. The symmetrical Y-design cable of the MA-350 makes it a no-brainer to wind up.
The MA-350 comes with 3 different bud sizes to fit most ears. Naturally I tried the medium ones first because that's the default one attached. They are so snug that when I push the earbuds into my ears, I feel that it compresses the trapped air a lot to the point where I felt like I was taking off on an airplane – you know that deafening feeling.
I then took one off to try the small size. As I took it off, I found that it requires quite a tug to pull out the rubber bud. This also makes it a bit harder to push the bud into place too. I believe this is a good sign because it means that they have engineered the ridge to be almost perfectly sized, and this also means that there will be less space for outside noise to enter, and the music to get out. The small buds however were too loose for my ears, so I put the medium size back on.
After several days of using them, I don't find myself complaining of pain like I would when I used the classic white iPod earphones. So I have to say that these MA-350 earpieces are comfortable to be worn for a long time.
The noise isolation is also great as I expected, because of how snug it was in my ears. When I have music playing, it was able to reduce outside noise quite significantly. I could not hear my iPhone ringing right in front of me when I have a song playing. It was until when I'm between songs that I realised that my iPhone has been ringing. At that point I noticed a few annoyed colleagues looking my way with their looks as if to say, "Dude, come on… we're trying to work here"
Make sure you use the carry case they gave you to store away these pair of earphones. I'm suggesting that you do because I found that the rubber buds are quite soft and sticky. So if you just threw it in your bag, or leave it on a dusty desk, you will find the buds get dust and lint stuck on it.
RHA MA-350 Review – Sound quality
It is normal for any of us to assume the saying, "You get what you pay for." And to be honest, when I discovered that these pair of earphones cost $50 or less, I did not have high expectations about its sound quality.
I have played the music through iTunes on my Mac, as I believe that's what majority of users will be doing to enjoy music. I doubt many people will be using some higher bit-rate HD audio to enjoy their music. I have also turned off the "Enhance Audio" option in iTunes so that we have a level playground for these earphones.
When I started listening to music with the RHA MA-350, the first thing I noticed was its bass. It was well rounded, solid and punchy. Then I noticed its higher frequency trebles are strong and clear. Last but not least, I noticed the midtones to be quite good too. Upon first listen I did feel that it was stronger in its bass and treble, but I could not deny that sound clarity it delivers. I am not saying that these earphones could function as a set of reference studio headphones that are intended to deliver the highest clarity and truthful and honest reproduction of sound and usually are quite flat (no amplification on any part of the sound spectrum). The MA-350 does give an enhanced feel for music, emphasising bass and treble frequencies for most common preference, but it does so without compromising clarity. It produces sound so clear that it made me notice very subtle sounds in the music I listen to, much like when I use a set of reference studio headphones, just with an enhanced bass and treble.
As I listen to more and more music using the MA-350's, I kept forgetting that I'm using a sub-$50 set of earphones! I could not believe my ears and it kept me listening to more and more tracks. I even tried listening to songs that I would not listen to normally, just to try and prove that it's a sound quality that matches the price of the earphones. I was most amazed by this set of earphones when I could hear clearly the string dynamics and little plucks of acoustic guitar.
Some of the tracks that I listened to for testing the earphones include:
"Clarity" – John Mayer
"Just can't get enough" – Black Eyed Peas
"Everywhere that I go" – Israel Houghton
"Super duper love" – Joss Stone
"People get ready" – Eva Cassidy
"Oh" – Dave Matthews & Tim Reynolds [Live at Radio City]
In the end, this set of earphones blew the statement "You get what you pay for" right out of the water for me. This pair could not have only costed less than $50!
RHA MA-350 Review – Conclusion
RH MA-350
I say you would be blown away by the sound quality of these earphones for the price that you paid it for! If you are looking for a sub-$50 set of earphones, go for these! It's one of the highest quality (build-wise and sound-wise) earphones that I've ever owned. This pair of earphones is now my favourite one! I find myself choosing the MA-350's instead of picking up my more-expensive Sony MDR-EX300 to listen to music!
RHA MA-350 Review – Positives
+ Great sound quality and clarity
+ Cable is less prone to get tangled up
+ Decent noise isolation – very snug fit in the ears to block outside noise, and my neighbouring colleague can't hear what I'm listening to even at higher volumes!
RHA MA-350 Review – Negatives
– The buds are quite sticky – attracts dust and lint
– It's really hard to find any more negatives, but I reckon in colder temperatures the aluminium parts of the earpieces could be freezing cold when you first put the earphones in your ears, needless to say the adverse is true for hotter temperatures
Disclosure: RHA MA-350 review sample was provided for the review