Dyson DC50 Review – I've always recommended Dyson vacuum cleaners to every single being looking for a new vacuum cleaner. Though Dyson vacuum cleaners don't come cheap, so far everyone is pleased with the investment. Compared to the other vacuum cleaners I've tried, Dyson vacuum cleaners suck dust and dirt like there is no tomorrow. And it's a good thing.
Their latest invention is the Dyson DC50, which looks like just a smaller version of the DC41 (check out my Dyson DC41 review), but with surprises.
Dyson DC50 Review – Design, Features, and Experience
The Dyson DC50 is an upright vacuum cleaner model, unlike the Dyson DC39 (which is a barrel model). Being an upright model, the DC50 is easier to store because the body stands upright/vertically rather than horizontally. This means that you only need to have a tiny empty space in the corner of your room (or in a cupboard).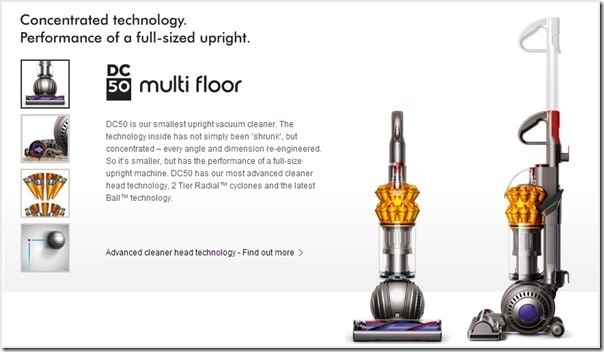 Another advantage of having an upright vacuum cleaner is how fast you can start vacuuming. After plugging the power cable to the wall and pressing the power/start button, you can start vacuuming almost instantly. Pull the handle down to release the lock and start steering the DC50 around to vacuum. When you are done, push the handle up until you hear a click-y sound to lock it back upright. The mechanism works flawlessly and makes it easy to store the DC50 away.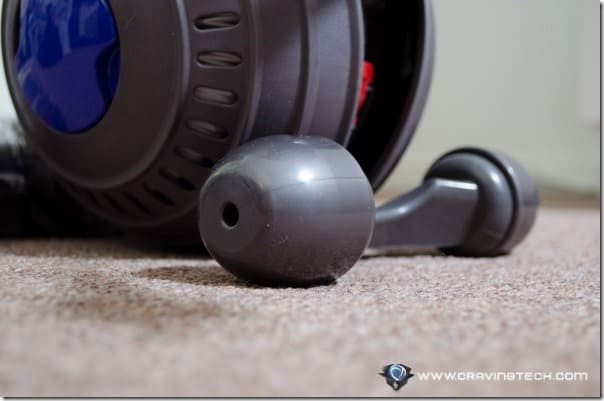 As always, I love to share this Dyson's stress test video done by the engineering team at Dyson to prove that they have tested this numerous times to ensure consumers' satisfaction.
Dyson DC50 vs DC41
In terms of size, the DC50 looks like the mini me version the DC41: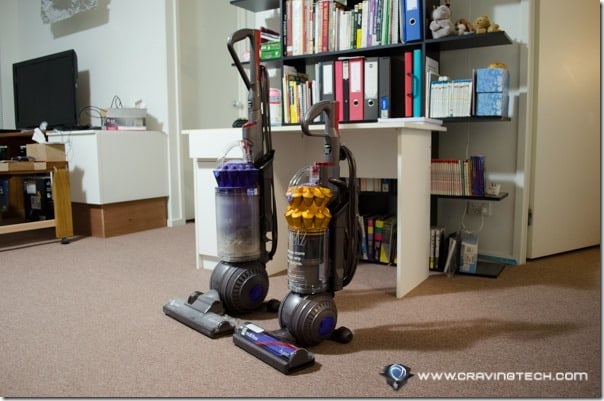 After using the DC50 for a while, I actually feel that the DC50 is the perfect size and that the DC41 feels like an overkill. My suggestion is to grab the DC41 if you have a large house and the DC50 for a smaller one. However, the DC50 has a better suction power technology, so it's a tough choice at the moment.
The DC41 can definitely hold more dust and dirt inside the huge canister but don't assume that the DC41 has a better power. Smaller in size does not mean that the team scrapped lots of functions and parts. They actually re-engineered the whole design to make it more compact and efficient. In short, the DC50 is smaller in size but has the power of a full-size upright vacuum cleaner model, if not more.
The cleaner head self-adjusts automatically to different floor types (such as carpets and tiles) so there is no button to press to switch from tiles to carpets and vice versa. The new redesign also ensures continuous contact with the surface so cleaning and sucking are maximised at all times.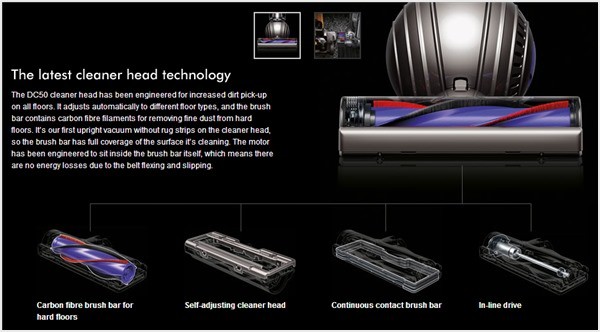 The Ball™ technology makes it easy to steer the DC50 around while vacuuming, making it effortless and somewhat fun. At the same time, however, it is much harder to clean underneath your bed and sofa because of the big fat Ball.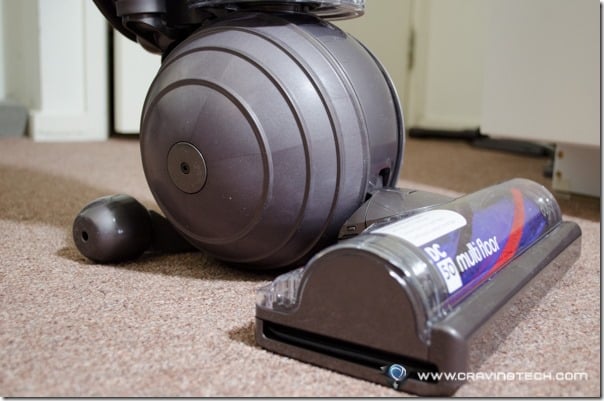 Thankfully, you can use the included wand (and attachments) to clean hard-to-reach areas such as the ceilings or underneath your furniture.
With the included accessories, you'll have plenty of specific tools at your disposals to clean different areas. With the newest Dyson Tangle-Free Turbine attachment (not included in the DC50 packaging) it is also easier and less messy to clean pet hairs and your upholstery.
Like the other Dyson vacuum cleaner models, the canister that holds your vacuuming trophy (i.e. collected dust and dirt) is transparent and can be emptied with a press of a button. According to Dyson, the material used is the same as the police's Riot Shield.
Unfortunately, the same problem still remains. If you don't have a large and tall rubbish bin, emptying the canister can be a bit messy. A small cloud of dust and dirt particles goes to the air and if you are not careful, you can add a mess around your bin. Sometimes a handful of dust gets stuck inside and you have to jiggle the canister around to shake it loose (or use your fingers). I hope Dyson can take care of this problem by redesigning the canister somehow in the future.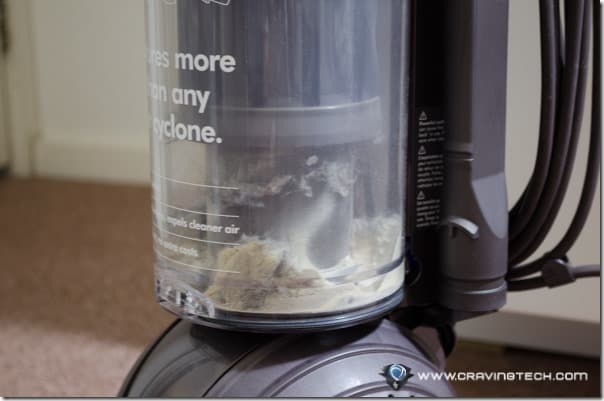 Dyson DC50 New Features – 2 Tier Radial™ Cyclones
Dyson's Radial Cyclone™ technology improves air flow efficiency by reducing turbulence and preserving air pressure. That means more microscopic particles can be sucked by the machine. If that sounds good enough, how about having 2 tiers of cyclones?
According to Dyson, this is their most advanced technology at this stage, which I'm pretty sure will be included in their next Dyson's vacuum cleaner range.
Dyson DC50 Review – Conclusion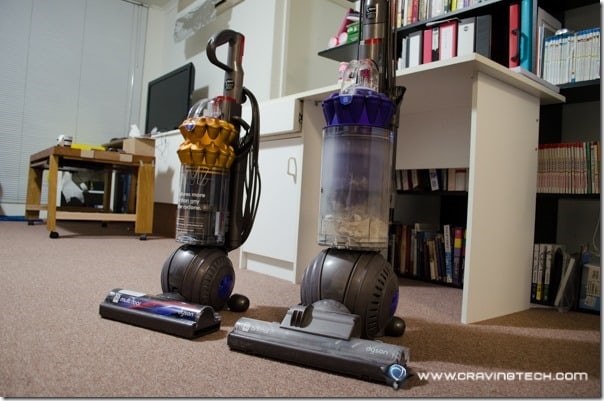 Dyson DC50 Review Conclusion
As always, I'm happy with the performance of every Dyson vacuum cleaner, including the DC50. The Dyson DC50 is compact (easier to store), light-weight (easier to steer around), and powerful (with Dyson's new 2 Tier Radial™ Cyclones technology and the fact that they do not sacrifice any parts to make the body smaller). The DC50 also includes a self-adjusting cleaner head which works for any floor types and ensures every microscopic dust and dirt gets sucked into the machine.
Also, vacuuming can never be this fun, thanks to the Ball™ technology and the fact that it's flawless to start and stop vacuuming with the locking mechanism.
Dyson DC50 Price: $750 RRP AUD.
Dyson DC50 Review – Pros
+ Compact in size
+ Easy to store
+ As powerful as a full-sized upright model
+ Suck dust and dirt like there is no tomorrow
+ "Magic" wand for all around cleaning
+ Newer Radial Cyclone technology
+ Easy to steer
Dyson DC50 Review – Cons
– Still has the same canister design that can make a mess
– Smaller canister compared to a full-sized upright model
Disclosure: Dyson DC50 Review sample was sponsored by Dyson for the review. Opinions are 100% mine.