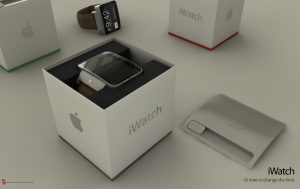 A Smartwatch – it's all the rage in the tech world now, especially after news of Samsung and Apple being at it again.  Both are rumored to be working on their respective smartwatches; with Apple supposedly working on an IOS-running wristwatch-like device with a curved glass display, and Samsung supposedly working on a smartwatch running on a beta version of the AltiosOS.  But even before the news about these two rivaling brands leaked, men and women alike have been going gaga over smartwatches.
Now what, exactly, is a smartwatch?  It's basically an electronic wristwatch, connected to a smartphone via Bluetooth, the main purpose of which is to alert you for any incoming notifications—including text messages, incoming and missed calls, alarms, and social media notifications.  Of course, some of these smartphones have more features like the capability to control your music player.  So, given all the bells and whistles, do you really need a smartwatch?  For some, yes.  Although, I'm not talking about an actual food and air need.
A smartwatch is something that will satisfy people's "need" to make life easier.  As for me – meh.  Here are a few reasons why you don't need it.
Smart watch?  I think not.
The thing about smartwatches is that they're dependent on other devices.  It has to be connected to your phone via Bluetooth to for the alert system to operate.  Or, in the case of brands like Sony, the smartwatch doesn't even have the capability to tell time if not connected to your smartphone.  This leads me to believe that a smartphone is a more practical purchase.  Apart from telling time and managing your communications systems, it has loads more of impressive features, too. Remember, the main purpose of a smartwatch is an alert system for the notifications from your business phone.  Unfortunately, in most cases, if the watch is not connected to your phone, then it's reduced to nothing more than an expensive electronic watch.
It costs as much as a phone
Speaking of expenses – it costs as much as a phone!  If you're not into high powered phones, it actually costs more.  Some of the more inexpensive brands like the LG phones can go as low as $30.  In the case of smartwatches, though, the more popular and less expensive brands like Sony start at a price of (more or less) $80 while the big brands like I'm Watch start at a whopping $349!
Battery drain
Since your Bluetooth is on all the time, your battery drains far more quickly.  If you're used to charging your phone every 12 hours, then you have to get used to charging every 8 ½ to 9 hours instead.
Better/cheaper alternatives
Think about it, the remote control function of the watch is one of its main highlights.  A lot of people love the fact that you can control things like your phone's music player and (sometimes) phone camera from the smartwatch.  But let's be real here–there are many other devices, phone features, and accessories that already do this. For instance, some earphones have remote control capabilities for music player options like volume or even replay.
Can only see the latest email/sms
For a lot of these brands, you can only view the latest notifications.  For instance, if you receive more than one text message instantaneously, you will only be able to view the latest one. The same goes for emails.  So if you're expecting important messages or emails, you're going to have to check your phone anyway.
Can't send cancelled calls to voicemail
These smartwatches alert and allow you to accept or reject phone calls.  What most of them do not allow, however, is for you to send rejected calls to voicemail.  This isn't much of a problem for you; however, most people would rather just leave a message than keep calling you every hour or so.  Of course, they could very well send a text message instead.  But remember, some people would share information and would prefer to do so without a trace.
You're going to check your phone anyway!
Now, I'm all for making life easier.  But–and this is in my personal opinion; I do not mean to disrespect smartwatch lovers–I think the whole thing is silly.  I mean, eventually you're going to have to check your phone to reply to the messages and emails.  The preset messages in the watch can only get you so far.  If your messages require you to actually send vital information, your smartwatch may not have the capability to reply to them properly.
So, to me anyway, it'll be better for you to just spend that $80 to $400 on a new phone.  It's going to look prettier, with a whole lot more bells and whistles.