TorGuard VPN & Proxy Review – There are many reasons why you should be protecting yourselves while you are online. When browsing the web or worse, entering your credentials on a web service, there is always a risk someone is snooping in.
This is especially true if you are not on a secure network, such as when you are on a public, free Wi-Fi. While a free Wi-Fi spot is convenient, it's a high risk environment because anyone can get in – including those with evil intents.
A VPN (Virtual Private Network) creates a secure & private connection between your device and another network, adding protection while you are online.
As a bonus, it also hides your real IP address which increases your privacy and makes it as if you are coming from a specific part of the world (which gives you access to geo-blocked contents).
I have been using TorGuard VPN whenever I'm on a public Wi-Fi network for the past couple of years and I thought they deserve a mention.
For general consumers, TorGuard offers a few range of products such as Anonymous VPN (with benefits that I have mentioned earlier) and Anonymous Proxy (which works for torrenting in the BitTorrent network).
Now, the major issue that normally comes up when you are connected to a VPN service is speed. There are cheaper VPN services out there and some are even free with limitations. However, most of them are slow and reduce your browsing experience. I find that TorGuard VPN is fast and I have not stumbled into any issues so far.
Sure, speed will always take a hit on any VPN connection and when I tested with speedtest.net, even TorGuard took a speed hit. However, I could still manage to get very decent download and upload speed over TorGuard servers.
Now, apart from PrivateInternetAccess, I've never used any others so I can't really compare the speeds between different VPN service providers. However, PC Magazine has one and they confirm that TorGuard is the fastest VPN service the reviewer had ever tested.
I enable TorGuard whenever I'm overseas and if I connect to a public, free Wi-Fi (because you can never get too careful, right?). The connections were always stable and the encrypted communication definitely gave me a piece of mind, knowing that I was in safe hands.
TorGuard also has a browser extension which only limits using the VPN service on your current web browser. This is really handy if you want to have the fastest speed possible when gaming or doing other online activities in your machine, but want protection & privacy when browsing the web.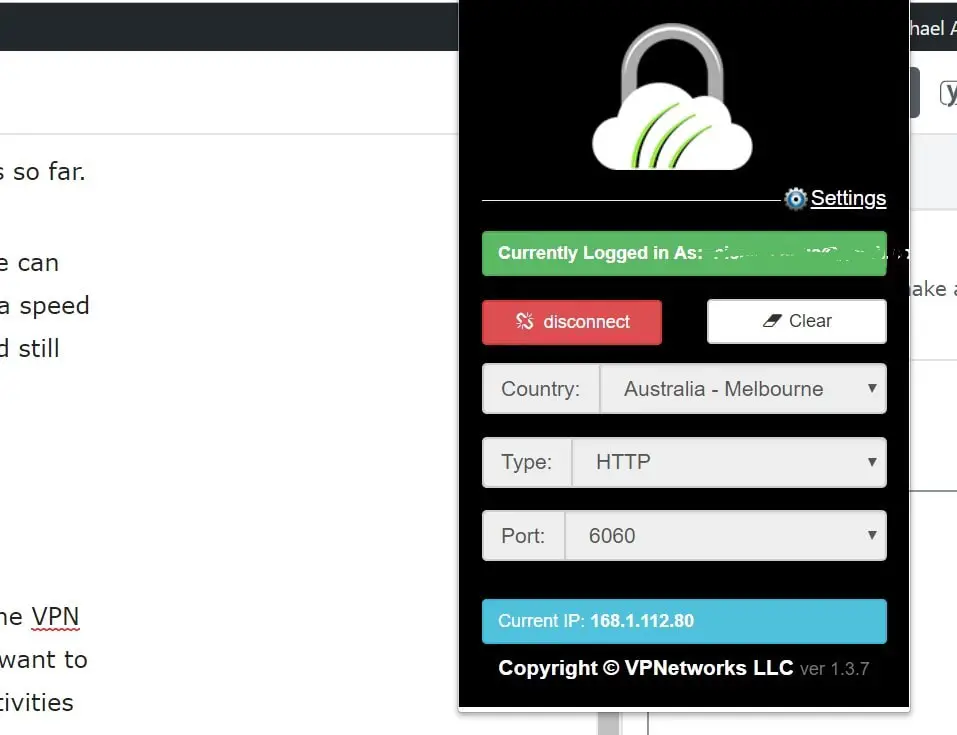 TorGuard app on Windows, iOS, and web browser (as an extension) is very simple and straightforward to use. While I'd be happier if the interface can be prettier or look more modern, they work well.
You'd only need to press Connect each time you want to enable TorGuard VPN (after logging in once and selecting the Country server, of course).
When I spent my time overseas in Indonesia visiting my parents, I switched to the Singapore servers and my connection was reasonably fast & stable.
TorGuard Anonymous Proxy service on BitTorrent is also commendable. After enabling SOCKS5 proxy and entering credentials, things work as it should be and I was amazed that the speed was not much affected. Plus, I never experienced any disconnections when downloading. If you are active on the BitTorrent network (hopefully for good reasons), I highly recommend TorGuard Anonymous Proxy to mask your presence and for privacy purposes.
TorGuard VPN Review Conclusions
With TorGuard, your online presence is in safe hands. With over 3000 servers available in more than 50 countries around the world, you should be able to find the closest, fastest server possible.
TorGuard can protect your presence from your ISP and others in the BitTorrent network and support many protocols (OpenVPN/PPTP/L2TP/IPsec/SSTP), StealthVPN, etc.
There is also a 7-day trial available if you want to test TorGuard before committing to buy. Their Anonymous VPN service is at US$9.99 monthly (or US$59.99 annually) and if you are only after the Anonymous Proxy, it's priced at US$5.95 monthly (or US$46.95 annually).
However, there is a 50% discount-for-life offer if you use our TorGuard VPN promo code. Simply add the TorGuard VPN or Proxy service that you want, to the shopping cart and apply CRAVINGTECH50 as the promo code.
For example, you can enjoy TorGuard VPN service from just US$29.99 per year (rather than paying US$59.99):
Disclosure: TorGuard review license was supplied for reviewing but all opinions are mine and not paid