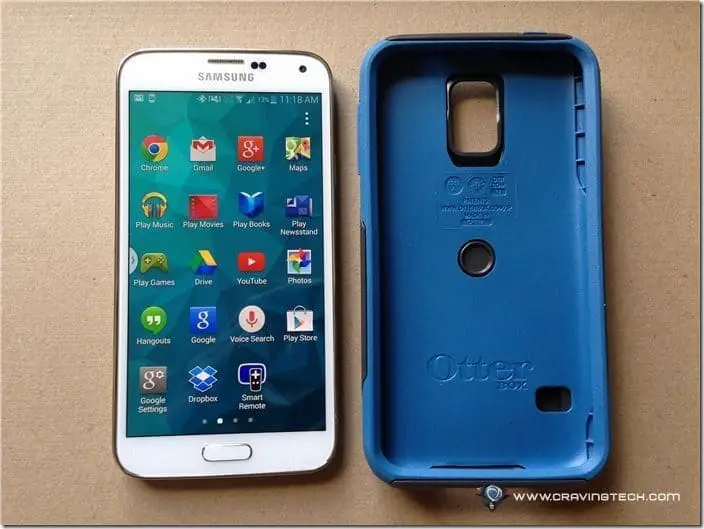 Otterbox Commuter Series Wallet Review – The new Samsung GALAXY S5 might be IP67 certified (which means it is, up to a certain degree, dust and water resistant) but there is one Achilles hell that this smartphone is yet to address: it is quite vulnerable to drops.
Luckily. Otterbox has introduced Commuter Series case for Samsung GALAXY 5 which gives you tough protection against drops and scrapes, making your phone look like brand new for as long as possible.
In all honesty, the so-called "slim form" does add a bulk to the handset.
Whilst the addition to the height and the width are bearable, the thickness is an entirely different story, all due to the fact that the Commuter Wallet case has a back compartment to store a few cards.
The sliding "wallet" compartment is quite secure but it takes real intention and strength to slide it open and fully close it (until it clicks). One hand operation is already quite difficult, let alone one finger (e.g. thumb) operation.
The cover still allows direct access to the charger area, and the infrared. For headphone, it is covered by the inner rubber layer as (an extra layer of protection) and can be flipped open for access.
The power and volume buttons are accessible through the inner rubber layer.
Otterbox Commuter Series Wallet for Samsung GALAXY S5 comes in various inner layer colour options (black, grey, red, and blue) and three outer shell colour options (grey – as pictured, black, and white) so you can do some mix-and-match.
For more information, check out the official Otterbox Commuter Series Wallet page.
Disclosure: Review case was sponsored for the review. All opinions are 100% mine