Getting the new iPhone X? Make sure to check our iPhone X review first. We also have some iPhone X accessories from Cygnett to look at today.  Cygnett offers plenty of different variety of cases to protect your new, shiny iPhone, along with edge-to-edge screen protectors.
Without further ado, let's talk about the samples we've got for you today!
Cygnett RealCurve Review – Tempered Glass Screen Protector for iPhone X
Dubbed as "3D screen protector", RealCurve is a full-sized tempered glass screen protector featuring contour edges which extends the curve of the iPhone X. It has a black edge design that blends with the frame of the handset without adding visual clutter but at the same time giving it a little bit of depth.
Applying RealCurve to iPhone X is relatively easy. However, due to the contours, the screen protector left a few air pockets around the corners. Over time (around a few days) most of the air pockets disappeared, although I was still left with one smaller air pocket that looks like it's there to stay.
There seems to be few openings around the screen protector where small particles and dust can slip in easily. It is mostly around the corners and top speaker area. These particles are quite visible when they end up sitting underneath the transparent areas.
Performance wise, the RealCurve feels very smooth on the fingers, with the screen still feels as responsive and as bright as without having a screen protector. Most of the screen protectors I have used in the past tend to display significant scratch marks after just a few days, but RealCurve seems to be doing very well and only minor hairline marks are spotted.
Cygnett RealCurve is available to purchase for $49.95 AUD.
Cygnett Orbit Review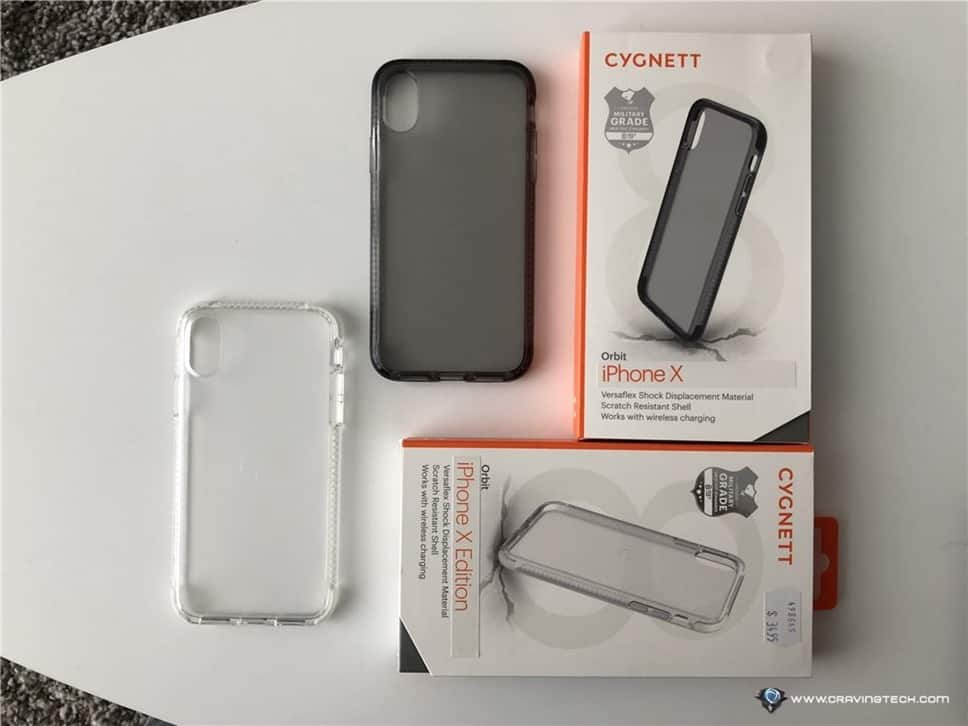 Orbit is one of Cygnett's iPhone X high performance cases that comes with entry level prices. It is made of military grade material and has corner protection, all to provide capability to withstand drops to around 2.4 metres. The back of the case has frosted visuals that gives an extra dimension which is also wireless charging compatible.
Form-factor wise, there are other cases out there that have similar visual presentation as Orbit (one of my friends is using one of these cases and it had me fooled). Size wise, the case feels quite large on the hand, and it also adds weight to the phone. But for the same reason, it makes you feel confident with the case should you ever drop your iPhone X.
Cygnett Orbit is available to purchase for $34.95 AUD and comes in two options of colours: Crystal and Black.
Cygnett UrbanShield Review
Made from high tech premium materials, UrbanShield is great in many fronts. It is very lightweight, thanks to the carbon fibre inlay which does not add too much thickness to your iPhone X.
Presentation wise, UrbanShield looks very polished and professional, suitable for work and for play. The shiny, hologram-like pattern on the back gives a luxurious feel to the case, and the centre logo adds a visual dimension to the case.
On hand, the case gives a variety of tactile pleasures. The rubber-like material on the side has a soft yet sandy feeling which gives enough grip on the phone. At the back, the mirror-like material (which makes it wireless charging compatible) feels very nice to touch, and the repeated rubber-like material that holds the case logo is a nice addition for when you feel like being playful.
UrbanShield is by far my favourite case for iPhone X. UrbanShield is available to purchase for $49.95 AUD and comes in black, silver, and rose gold.
Disclosure: Cygnett iPhone X Accessories samples were supplied by Cygnett but all opinions are mine and not paid