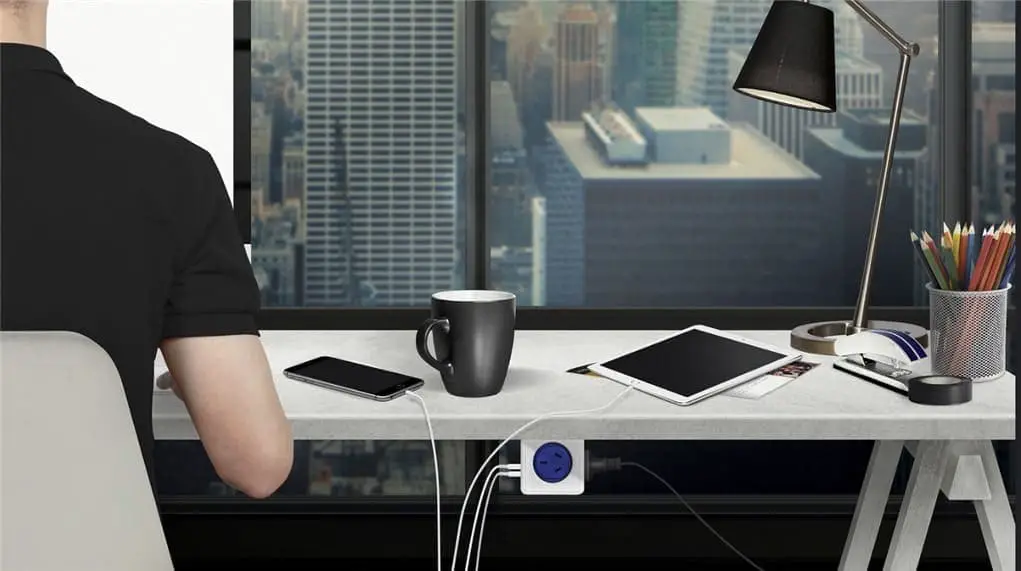 With the sheer amount of gadgets and electronics in our households, having powerboards is a must-have at home. There is literally no way you can plug all your devices into a single, limited twin power outlets here in Australia.
To power all your devices on top of the desk, however, things can get messy with the cables. That's when PowerCube (Original) , designed by Allocacoc, comes in.
You can treat PowerCube Original as a powerboard in cube-shaped, serves as an extension to an existing power outlet. My review sample is the PowerCube Original with USB that provides 4 additional outlets with 2 extra USB ports.
Whether you see PowerCube Original as having a more compact size compared to a regular powerboard, depends on the situation. If you have more room vertically, than PowerCube Original fits better as it is squared-shaped. However, its thickness may not fit well on a narrower space.
Having the size square-shaped also gives another benefit. Sometimes, you'd have power adapters that take up more than a single socket on a powerboard which leaves an extra socket to waste. With PowerCube Original, you'll have the space you ever need per socket.
The 2 extra USB ports are useful to charge your devices, especially when there are no sockets left for you to plug a charger in. These ports provide more power (2.1A) compared to a regular computer USB ports so they'll charge your smartphones and tablets faster.
I believe that you'll get the most out of PowerCube Original as a "powerboard with cable management". Stick it under your desk, and you can plug things like your monitor, speakers, or desktop/laptop with a tidier desk set up (i.e no dangling cables).  If you own a pet or have a baby, this set up is also safer as the cables will be out of easy reach.
It's made possible thanks to the desk mounting plate that can be glued to a surface. The plate will unfortunately take a single socket space, leaving you with 3 power sockets instead of 4.
If you want more, the PowerCube modular design allows you to stack one PowerCube over another creating a cool tower (or train) of power sockets.
Along with the rather unique design, PowerCube Original comes in different colours: Blue, Red, Green, and Grey.
The first time I saw PowerCube was at Officeworks and they are priced at around $33. However, you can get one in major retailers around Australia such as Harvey Norman, Officeworks, or Howards Storage World.
Allocacoc PowerCube certainly brings uniqueness to the category and it's not surprising that it was picked as a reddot award 2014 winner.
Disclosure: Review sample was supplied for reviewing but all opinions are mine and not paid.
[AMAZONPRODUCTS asin="B01F8SUT90″]