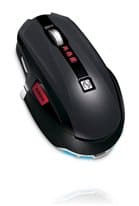 Microsoft SideWinder X8 is the latest Sidewinder in Microsoft SideWinder gaming mouse series. The SideWinder X8 has both wireless and wired support, Microsoft BlueTrack Technology (works in any non-glossy surface), and 7 macro enabled buttons.
Without further ado, Let's take a closer look at the mouse!
Microsoft SideWinder X8 Packaging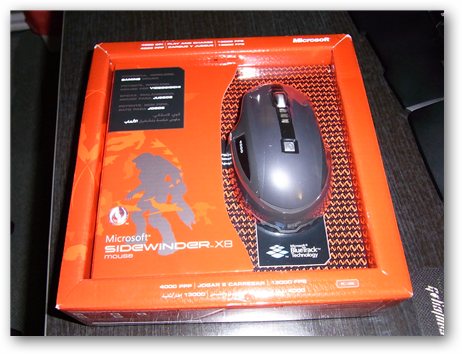 The package contains:
The mouse
The charging station (includes replaceable gliders)
A rechargeable battery for you to start with.
A small box containing the IntelliMouse driver and some manuals.
Microsoft SideWinder X8 Looks
Microsoft SideWinder X8 looks uber cool with its dark and futuristic look-and-feel. A combination of black, white, grey, and reddish LED lights gives the mouse both professional and pleasing look. There are no variations of colors available, so if you are looking for a cute pinky mouse, you're out of luck here.
Sidewinder X8 LCD Display
The LCD displays macro recording indicators, battery indicators, and also the current DPI settings. The LCD is located right in front of your eyes, giving you a speedier glance to check whether you are choosing the right DPI setting for the gaming session you are in. When the battery is running low (or when it's currently charging), the LCD displays a nice indicator as you can see below: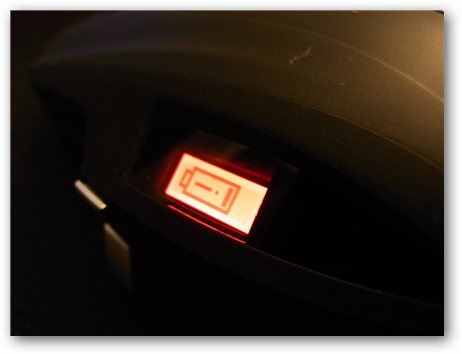 SideWinder X8 Mouse Buttons
In general, the SideWinder X8 gives 12 buttons for you to press on (including the standard left-middle-right buttons, of course). Seven of these buttons are programmable (macros) using Microsoft Intellimouse software which is included in the package (and also downloadable on the net).
You can actually tilt the scroll wheel to the left and right to hit/press 2 of these buttons. A pretty neat place to add buttons without adding extra complexity on the mouse surface. Those can be useful too when you assign the buttons for "peeking" in a First Person Shooter game.
Three DPI on the Fly settings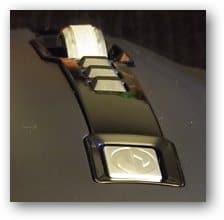 You can assign 3 different DPI settings on the mouse and you can easily switch over them by pressing one of the DPI on the Fly buttons. To assign these DPIs, you need to use the IntelliMouse software though. Unfortunately the DPI settings are not really flexible since you can only use the preset DPI using the slider.
Switching between DPIs is quite easy with these buttons while in-game. Changing from the Highest to the Lowest DPI when sniping is very simple. On some mouse, you normally have to press the "DPI Down" button on the mouse a few times to get to the lowest DPI settings.
SideWinder X8 Charging Station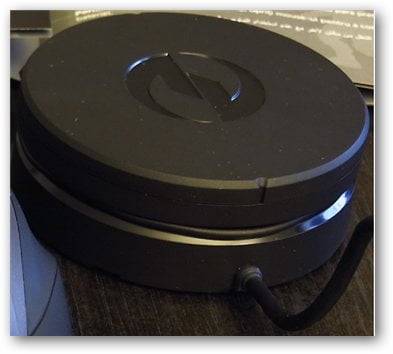 This is probably the best feature that this mouse has. The charging station allows you to easily snap the wire into the mouse for a wired gaming mode. It's not that it suffers a poor performance in wireless mode, but you don't want to have an out-of-battery situation in the middle of an important gaming session. So when you notice the low battery indicator is lit on the LCD display, simply hook in the wire to the mouse and your gaming session won't be interrupted at all. Charge and Play!
The charging station also has the smartest cable management solution that I've ever experienced so far. The cables are hooked in nicely around the "Flying Saucer" looking thing which keeps it tidy and clean from messy cables. I also love how it is magnetized at the end too so that you can "snap" it quickly and easily to the mouse. Simply slide it through underneath the mouse and the cable will snap sturdily. Neat!
The "Flying Saucer" also stores replaceable mouse gliders (3 types of gliders for you to choose from in total). Depends on the surface you are using it on, you might want to test different types of gliders here. Unfortunately there is no clear instruction as to which glider works best in which situation, but give it a go on each and you can actually feel the difference.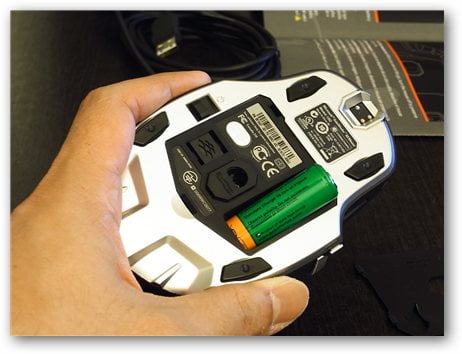 Microsoft SideWinder X8 Features
BlueTrack Technology
Microsoft BlueTrack Technology allows you to use the mouse in practically any areas (except on a glassy surface area) and it has an image processing of 13,000 frames per second. It means that you don't even need a mouse pad to play with it. But of course, even though it will work on any rough surface, it won't give you that smooth experience you'll get with a proper gaming mouse pad.
Wireless mode that is suitable for gaming

I've always been skeptical about playing games using a wireless mouse. I always thought that no matter how good a wireless mouse is, there must be some latency introduced. So I tried SideWinder X8 wirelessly on my nightly Left 4 Dead gaming session for a couple of weeks and I was stoked. If there was even any latency, I didn't feel it at all! The speed and the accuracy did not feel any different with a wired laser gaming mouse that I used before.
According to the Microsoft technical specifications, the SideWinder X8 can go up to 30 hours of active gaming on a single charge but I honestly haven't tried playing games non-stop for 30 hours (hey, I do have a life!). So yeah, feel free to prove it and let us know when you decide to buy the mouse :D
Macros
Not sure how many of you like to store macros in your mouse, but SideWinder X8 provides you with 7 programmable buttons where you can store your macros on the fly easily. The best way to record a macro is to actually using and recording it at the same time. You simply press the Macro record button on the mouse, press the button to record it to, do the keyboard (or mouse) presses to record, and save the macro. Or you can always do it manually with the Microsoft IntelliMouse software. The former is recommended.
500 Hz USB
Full-speed, 500 Hz USB reporting is built for lag-free play. I honestly have no experience in this area so I can't comment on the USB polling rate but more means better, right?
Microsoft SideWinder X8 overall experience
Good Experience
The mouse is sturdy and looks great on my computer desk. It looks big yet firm and nicely sits under the palm of my hand.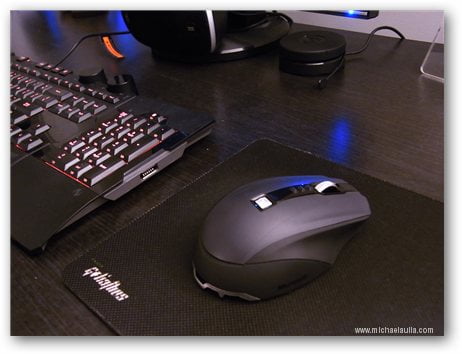 The wireless feature gave me a great fun gaming experience just like using a wired gaming mouse. It also means that I can carry & use the mouse anywhere I want thanks to the wireless and also the BlueTrack technology. Something that you might want to reconsider when you are most likely going to carry your own mouse to a gaming competition.
I only had a couple of macros recorded and both were done painlessly thanks to the on-the-fly macro recording and the useful LCD display. For more hardcore gamers, you can still record much more than that, if you are considering the gaming profiles that you can store using the software. Unfortunately, the profiles are stored on the computer, so you have to make sure that you've installed the software to be able to use them with the mouse.
I also love how the battery is easily rechargeable with the great charging station. It's in fact, one of the loveliest features in SideWinder X8. A perfect cable management yet giving an elegant solution!
Bad Experience
The mouse feels a bit heavier than an ordinary mouse. Whether it's good or bad, I guess it's entirely up to you. It's good in a way that it will definitely hold still on your computer desk better than any other mouse. If you are the type of gamer who likes to lift up your mouse when playing, then it'll require more calories to lift this baby up.
I also dislike the middle click button because I need to press it hard. It is fine as long as you don't use it often. Sniping with Left 4 Dead (where middle-clicking is used as the default to zoom in/out) was a real pain and required an extra effort from my finger. Technically I could assign it to one of the other X8 buttons, but I'm so used to using the middle button for zooming in/out that this option is not preferable.
This is also probably my system's fault but I couldn't seem to make the mouse wheel scrolled less. I've even set the scrolling to the lowest setting on the software but I found that it still scrolled a few lines giving an un-smoothed scrolling experience.
Microsoft SideWinder X8 Review Conclusion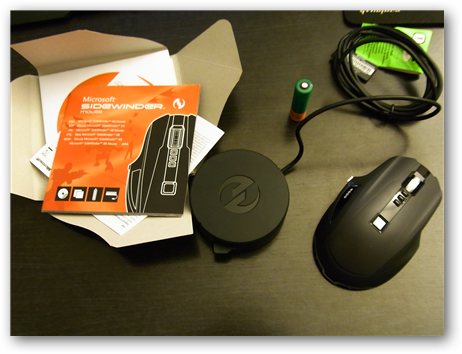 There are lots of things to cover, but overall the mouse gives superb performance when gaming both wirelessly or wired. If you are still skeptical about gaming wirelessly like I did, stop right now. The SideWinder X8 has proven that wireless gaming feels great. Microsoft SideWinder X8 has lots of programmable buttons, the BlueTrack Technology, and easily rechargeable using a great charging station that also provides an elegant cable management.
There are a few small quirks that prevent this mouse to have the perfect score such as the hard-to-press middle mouse button, the not so flexible DPI-On-The-Fly settings and it also feels a bit heavy for me.
Note: The review unit was sponsored by Microsoft.
Microsoft SideWinder X8 Pros
+ High quality wireless gaming mouse
+ Sleek design
+ Can be used Wired while charging the battery at the same time
+ Great charging station with cable management
+ Changeable gliders depending on the surface you use the mouse on
+ Actually useful LCD display
+ Rechargeable
+ Microsoft BlueTrack Technology
+ More than enough macros and reprogrammable buttons
+ 30 hours of non-stop gameplay in a full charge (haven't been proven yet though)
Microsoft SideWinder X8 Cons
– The Mouse feels quite heavy
– Large
– Hard to press Middle mouse button
– Not so flexible DPI settings