Have you ever wished having different earphones to listen to different types of music? Rather than buying separate earphones to add the extra bass (for example), the MEElectronics SP51P (the "P" model adds a microphone) lets you customize the music listening experience by using different tuning ports.
These tuning ports can easily be detached and attached to suit your taste or to suit the music you are listening to. Interested? Read on.
MEElectronics SP51P Review – Custom tuning ports
There are 3 tuning ports provided in the SP51P packaging:
Silver colored for a balanced sound
Metallic colored if you want a little more bass delivered to your ears
Black colored for bass thumping lovers like me!
Some photos of the SP51P different tuning ports:
Overall, it's all up to your taste. I'm a bass player so I love listening to the bass in every music piece. As such, I often pick the Black-colored tuning port as my top preference. I can hear the bass really clearly which is important when I need to practice. The bass boost is great but of course at the expense of vocal and treble clarity.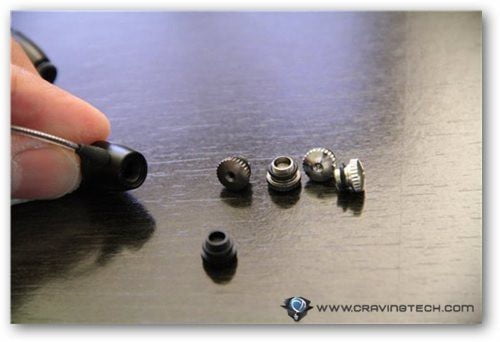 The SP51P also has really nice in-ear noise isolation so I can hear every piece of instrumental thrown at me through it. The packaging includes different ear buds so you can pick the ones you are most comfortable with:
I pick the smallest and I find it really comfortable in my ears.
Back to the tuning ports, the Silver-colored one seems to provide the most balanced and natural sound when I tested it. I'm not too sure how practical these tuning ports are if you like to listen to a variety of music and need to change the ports frequently though. You'd most likely end up picking the best one for your taste and sticking on that particular tuning port. Nevertheless, it's always good to have options and the SP51P does have a great quality sound so think of the dynamic tuning ports as an extra. I myself use the Metallic tuning port (Enhanced bass) but I'd switch to the Black one (Extra bass) whenever I needed to practice (since I need to hear the bass clearer than everything else in the music).
MEElectronics SP51P Review – Calling experience
The SP51P includes a microphone so you can use it for calls. Coincidentally, I needed to make lots of 2-hour long calls in average last week for a few days, so I tested the microphone and SP51P for making calls quite extensively.
I found that the microphone tends to be sensitive when I used it outdoor (especially when the wind is quite strong). This is a general problem that exists on every earphones equipped with a microphone such as this. When there is not much wind or used indoor, the microphone gave an excellent voice clarity (as much as the earphones). Most importantly, the SP51P is really comfortable that I could speak for about 3-4 hours non-stop without my ears ever felt sore.
On top of these, MEElectronics provides a nice hard pouch (like their A151 that I reviewed earlier) of good quality. You can carry the earphones, ear buds, and also the tuning ports in case you ever need to customize your music listening experience when you travel.
I also like the SP51P unique cable design (that doesn't get tangled) and also the additional clipper to clip the SP51P onto your shirt or jacket.
MEElectronics SP51P Review Conclusion
I've truly fallen in love with the MEElectronics SP51P for its audio clarity and the extra bass boost tuning port when I need it. The cables don't get tangled and it also looks stylish to wear. The microphone also adds a nice touch so you can use the earphones to make/receive calls without feeling discomfort to your ears.
I've gone wireless thanks to Plantronics BackBeat 903+ but ever since I tried the SP51P for this review (a couple of weeks), I got converted. I'm really happy with the SP51P now and would definitely recommend it to you all.
Note: Sample was provided for the review
MEElectronics SP51P Pros
+ Great audio quality
+ Stylish
+ Cables don't get tangled
+ Nice pouch included for travelling
+ Dynamic tuning ports for different styles
+ Comfortable in-ear
+ Great passive noise isolation
+ Includes a microphone
+ Reasonable price for such quality
MEElectronics SP51P Cons
– Not wirelesss
– Easy to change the tuning ports but how often will you do it?