Logitech Z407 Review – There aren't that many computer speakers around anymore as most gaming brands are focusing more on improving their gaming headsets. The Logitech G560 gaming speakers I reviewed were released back in 2018 but thankfully, Logitech is still making one.
And these new speakers come with Bluetooth connectivity so you can also use them with your phone while you are relaxing on the bed, listening to music.
Logitech Z407 Bluetooth Computer Speakers is a 2.1 speaker system which means that it comes with a dedicated subwoofer to deliver that extra bass for your entertainment needs.
With 80 watts of power output, you get that powerful, clear sound coming from these speakers. The design is also quite stunning in a simplistic way. They are not your traditional bookshelf-speakers look, but oval shaped. You also have a choice to lay them upright or horizontally, depending on your preference and the space on your desk.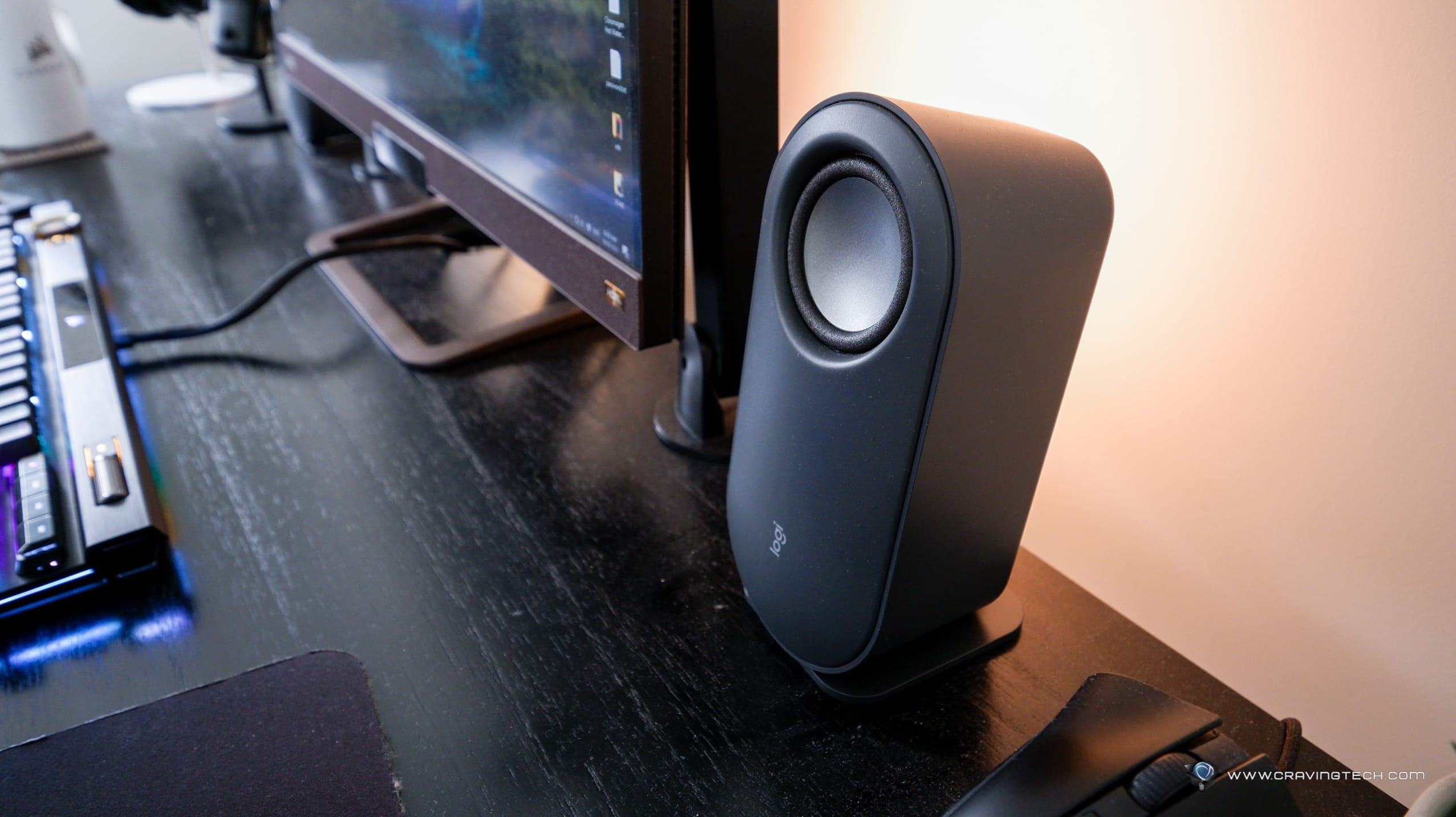 Upright (or vertically), you can place them next to your monitor like my BenQ EX2780Q Gaming Monitor here but if you are using a monitor stand (or have a tall monitor stand), you should be able to squeeze them underneath the monitor – laying them horizontally on the desk.
The dedicated subwoofer is of this cute, compact size that fits well under my desk. Compared to the G560, the size difference is like night and day but you do get that extra power from the G560's bigger subwoofer. For the size, however, it delivers quite a subtle, yet thumpy bass.
You can adjust the bass level, along with volume and connectivity options with the included wireless control dial. The control dial has a hockey-puck design that can be pressed and rotated. You can use it to play, pause, mute, and adjust both volume and bass. It also has a couple of hard buttons underneath that allow you to switch between three different inputs: 3.5mm, USB, and Bluetooth.
According to Logitech, the wireless control will work within 20 metres, which is quite a crazy, long distance. This actually means that you can also use the Z407 as a TV speakers system in your living room. When watching movies, you can control the volume comfortably from your couch.
But it is advertised as a PC gaming speakers system so I've been testing it on my AMD Ryzen gaming PC.
Unfortunately, the packaging doesn't include a USB cable but you can connect your PC to the Z407 via the 3.5mm audio cable. What I don't really like about the Logitech Z407 is that it auto turns off by itself when it hasn't received an audio feed for quite some time. This means that it may take a few seconds (sometimes 20-30 seconds) before the speakers wake up from its slumber (or force them on beforehand by using the wireless control). The buttons are also located beneath the control unit which is not exactly within a good reach.
Sound wise, these speakers pack a punch as you'd have expected and music listening is very pleasing to the ears. The audio is also clear. If you are a bass lover, you'll love the separate rumble coming from the subwoofer, but don't expect a room rattling one with a subwoofer of that size – especially if you put it below your desk. For a study room or apartment though, it's perfect, but not room-filling if you are living in a large house.
While playing games, the Z407 offers great experience as well and has a good audio separation. I can somewhat still be aware where my enemies are coming from (left & right), but don't expect it to be as accurate as wearing a proper gaming headset like the Logitech G Pro Wireless (or the wired version).
Logitech Z407 Review Conclusion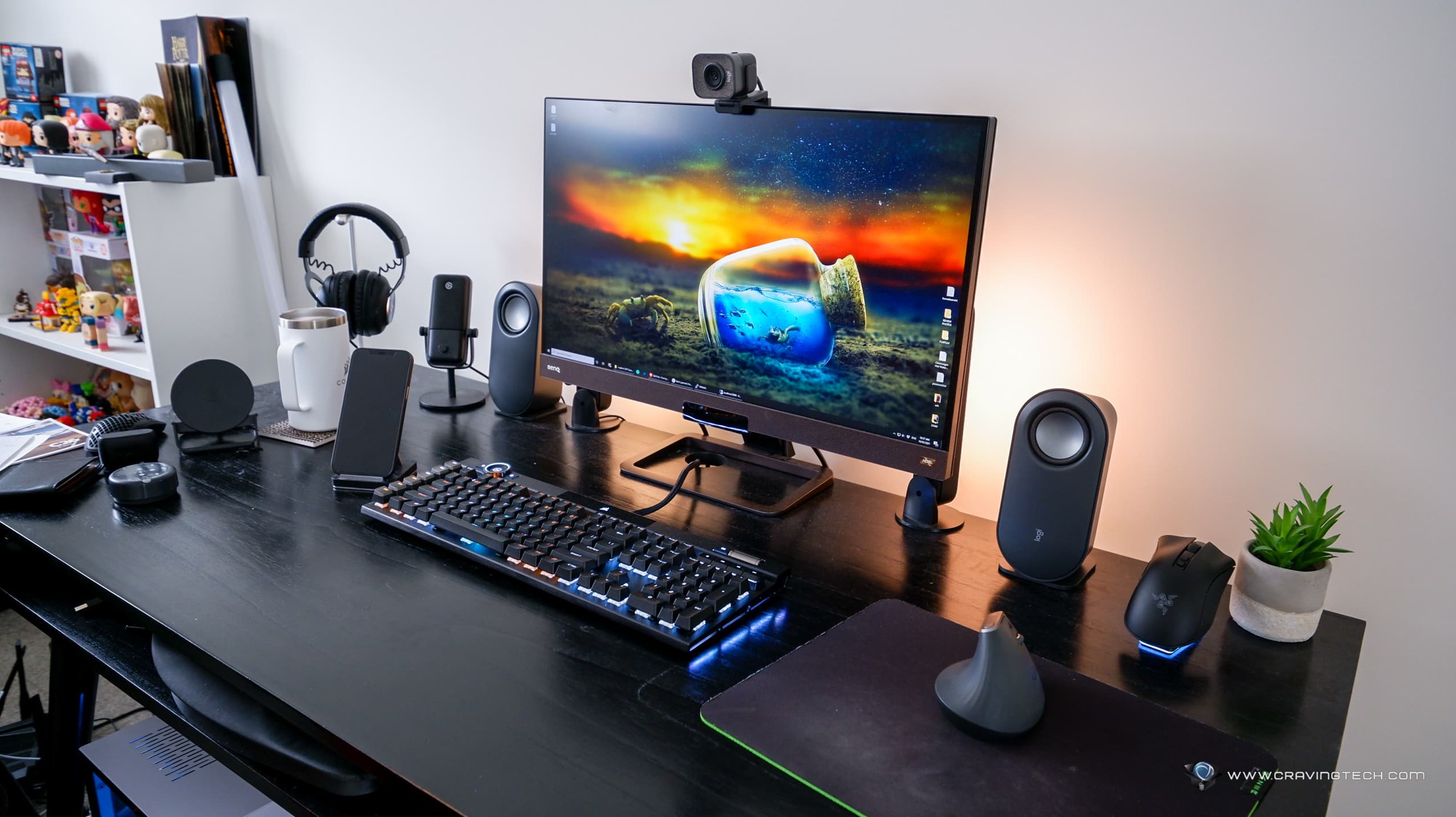 Logitech Z407 Bluetooth Computer Speakers only retails for AU$149, making it one of the most affordable PC speakers available in the market with a dedicated subwoofer ad three different connectivity options, including Bluetooth.
They output good sound quality and quite a satisfying bass for the size. The oval-shaped design also makes them look great and modern on the desk.
There are a few design decisions that I would love to be changed, but at that price, I don't think we can complain much.
Disclosure: Logitech Z407 review sample was supplied for reviewing
Logitech Z407 Bluetooth Computer Speakers Review
Summary
A decent PC speakers system with multiple connectivity options and a wireless control dial
Pros
Modern, sleek design with dedicated, compact subwoofer
Good sound quality
Offers 3 different inputs: AUX (3.5mm), USB, and Bluetooth
Wireless control with very long signal range
Cons
Speakers go to sleep after some time and you can't turn this setting off
USB cable is not included in the packaging
Must switch between channels (Bluetooth and AUX/USB) manually and these controls are located underneath the control dial