Logitech G PRO X Gaming Headset Review – When Logitech was teasing in social media about their collaboration with Blue Microphones, we already knew something good was coming.
Blue Microphones make great microphones used by many streamers and celebrities (a good example is their Yeti Nano), and Logitech G make great gaming headsets like the G935. In short, we all knew this is coming.
Logitech G PRO X is most likely the only gaming headset with the best microphone. When communication is the key to win and being able to hear all audio cues in the game is crucial, this new gaming headset from Logitech is a winner for sure.
Logitech G PRO X Review – Packaging
Logitech G PRO X Review – Design & Features
Being advertised as a professional gaming headset means one thing – it needs to have a professional design as well. And we're glad to see how cool the headset looks. With a mixture of materials like aluminium, steel, and premium-looking leather earcups in a cool looking design, the headset gives out an elegant, professional look.
While its colour theme is mostly Black, the different contours and materials give it a nice, non-boring touch. Overall, the design is pretty top-notch and has unique touches here and there.
Despite of these different materials, the headset feels light and not as bulky or wide as the G935. It stretches rather easily to fit different head sizes and I like how comfortable the headset feels around my head.
The highlight of the headset is of course, the Blue microphone. Powered by BLUE VO!CE microphone technology, a numerous amount of options is opened for you to peruse and tweak.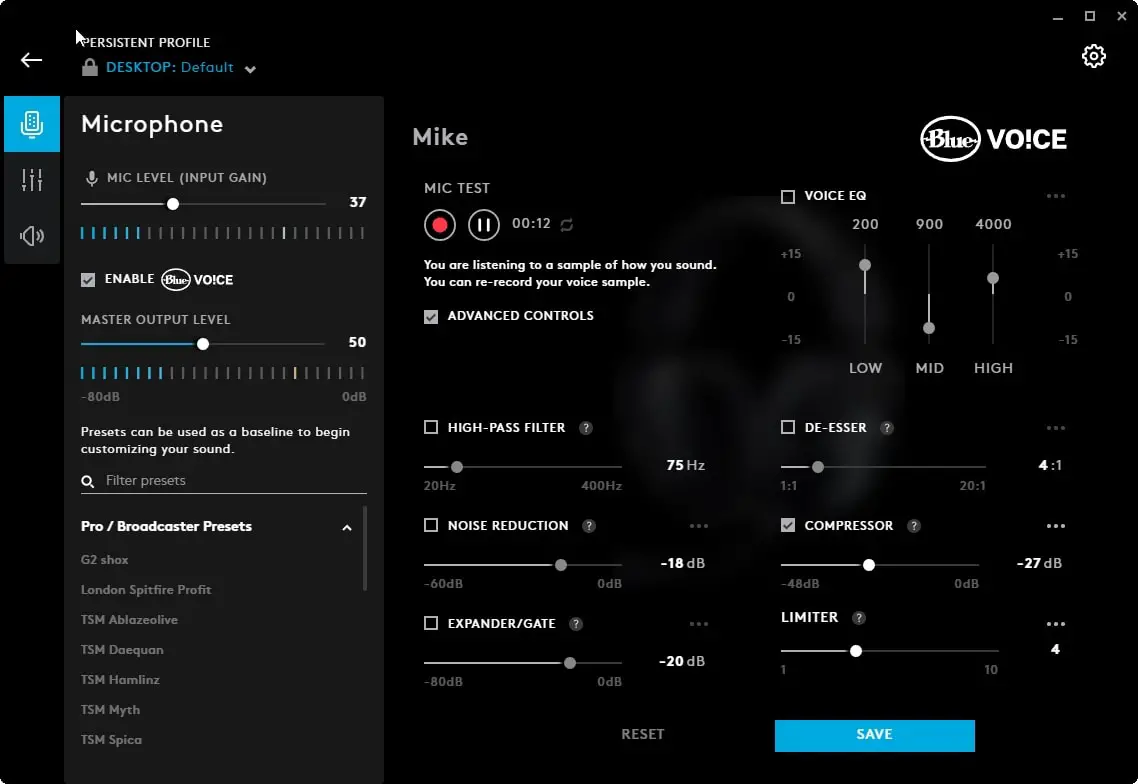 You can first start by recording yourself for a number of seconds or minutes on the Logitech G HUB itself and then hear your recordings AS you tweak the different options. It's cool that you can hear yourself while changing things to see how it affects your voice.
If you like to laugh hard or shout while in game, there are options here to make sure you don't damage people's ears. The best thing about this is that you can try recording a mix of speaking, laughing, and shouting – and then tweak the options to see the affect during the playback, live. Really high tech and useful.
You can also detach the microphone and use the included mobile cable with inline mic, if you want to use the headset while you commute. Definitely a great flexibility and a cost saver to some.
So, the microphone is good but what about the sound, especially for gaming?
After reviewing a few Logitech gaming headsets in the past with glowing stars, I'm happy to say that the Logitech G PRO X will not disappoint you either. The sound is pretty balanced but I personally love how wide its soundstage is.
In Blizzard Overwatch, I find that I can pinpoint more things during a frantic team battle with the Logitech G PRO X. I could identify which enemy hero lurking around the corner (based on their steps & weapon sound), and more importantly, where.
At one point during a match last night, my teammate warned us "I heard something, be careful" – which I then quickly added "Yeah, it's enemy's Doomfist, right above us". As simple as this scenario might sound, it shows how good the headset is and knowng information ahead of time wins the game.
I guess my only "complaint" is that the headset is wired and not wireless. However, I'm pretty sure a lot of power is needed for the speaker drivers and microphone to get up to this quality, so I think it's the right choice here. Would you rather get the best sound possible, or a comfortable, wireless experience with less quality and having to charge really often? With a 3.5mm jack option, you can also plug it to a console like Nintendo Switch.
Logitech G PRO X Review – Conclusion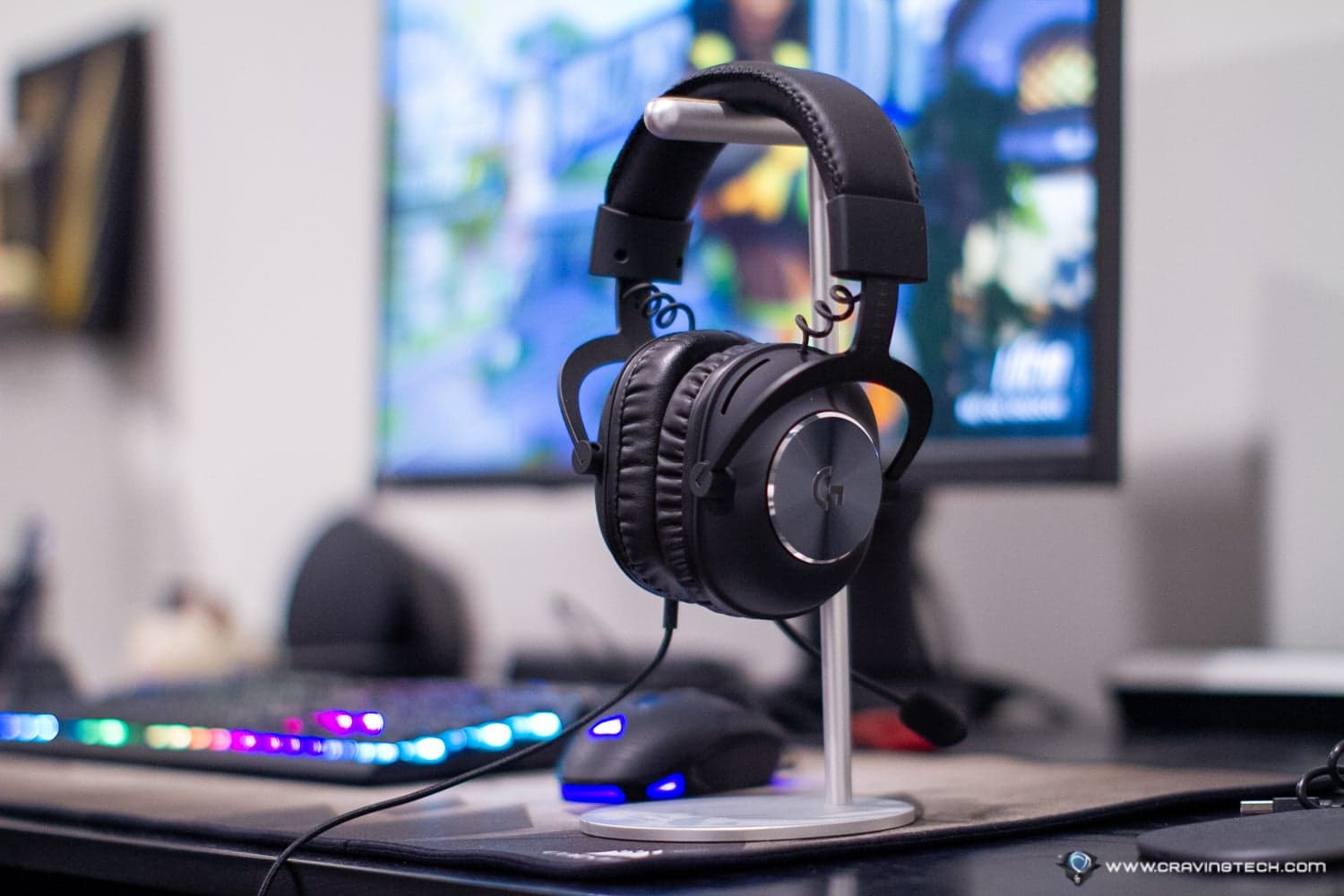 Logitech G PRO X gaming headset comes with Blue microphone and its technology, bringing you voice clarity but also options to tweak your voice to sound like a professional streamer and presenter. Communication is certainly key, and if you also stream or record your games, you want to sound amazing and clear. This headset gives you that.
Logitech G PRO X is a comfortable, luxurious looking gaming headset that comes with great sound and unmatched voice clarity that can be tweaked to perfection. With a wide soundstage and precise sound positioning, you'll have the advantage you are longing for in online, competitive gaming.
You can purchase the Logitech G PRO X at many retailers around Australia and online for AU$249.95 RRP.
Disclosure: Logitech G PRO X review sample was supplied for reviewing but all opinions are mine and not paid