Logitech G935 Review – Logitech G935 Wireless 7.1 Surround LIGHTSYNC Gaming Headset (wew – that was long, or just Logitech G935 for short) is Logitech's most advanced wireless gaming headset to date.
With 50mm Pro-G audio drivers and DTS Headphone:X 2.0 features set, the G935 truly is Logitech's best flagship wireless headset at the moment and it doesn't disappoint.
Logitech G935 Review – Packaging
The USB dongle can be stored inside one of the ear cups, making it easy to be carried with you to a LAN party, tournaments, or on the road.
Packaging also includes a 2 metre microUSB cable to charge the headset, and an extra 1.5 metre of 3.5mm cable to be plugged to your phone or other consoles like a Nintendo Switch, for example. You can, technically, just use this one headset for all your gaming needs – but I guess you'll have to carry it around with you around the house at all times.
Logitech G935 is supported for PC, Nintendo Switch, PS4, Xbox One, and mobile (assuming the phone has a headphone jack). I'm testing the headset on the PC.
Logitech G935 Review – Design & Features
Logitech G935 has no shortage of padding, both on the headband and the ear cups area. The leatherette ear cups are soft and puffy, giving full coverage on the ears. The headset offers a really good passive noise isolation and I had a few jump scares not knowing my wife was actually nearby while I was focusing too much on my game!
Some parts of the headset feels bit plastic-y so I'm unsure, durability wise. I never break any headphones before and I'm sure I won't on this one either.
The headset can't be considered compact, but the large size is due to the Pro-G 50mm drivers within. Despite of the size however, the headset doesn't feel heavy at all. And having the 50mm drivers are totally worth it because the G935 sounds really, really good.
Its sound is powerful and clear, the bass is boomy (perfect for gaming and movie watching), and the G935 just makes every ambient sound more life-like. While there are options to give the bass more oomph, I find that the flat or balanced profile offers plenty of bass already.
I also tried the DTS® Headphone:X 2.0 and was blown away by how good the audio positioning is. On first person shooter games, being able to distinguish different sounds and where they come from without looking is crucial. Missing audio information can mean instant death or worse, a team wipe.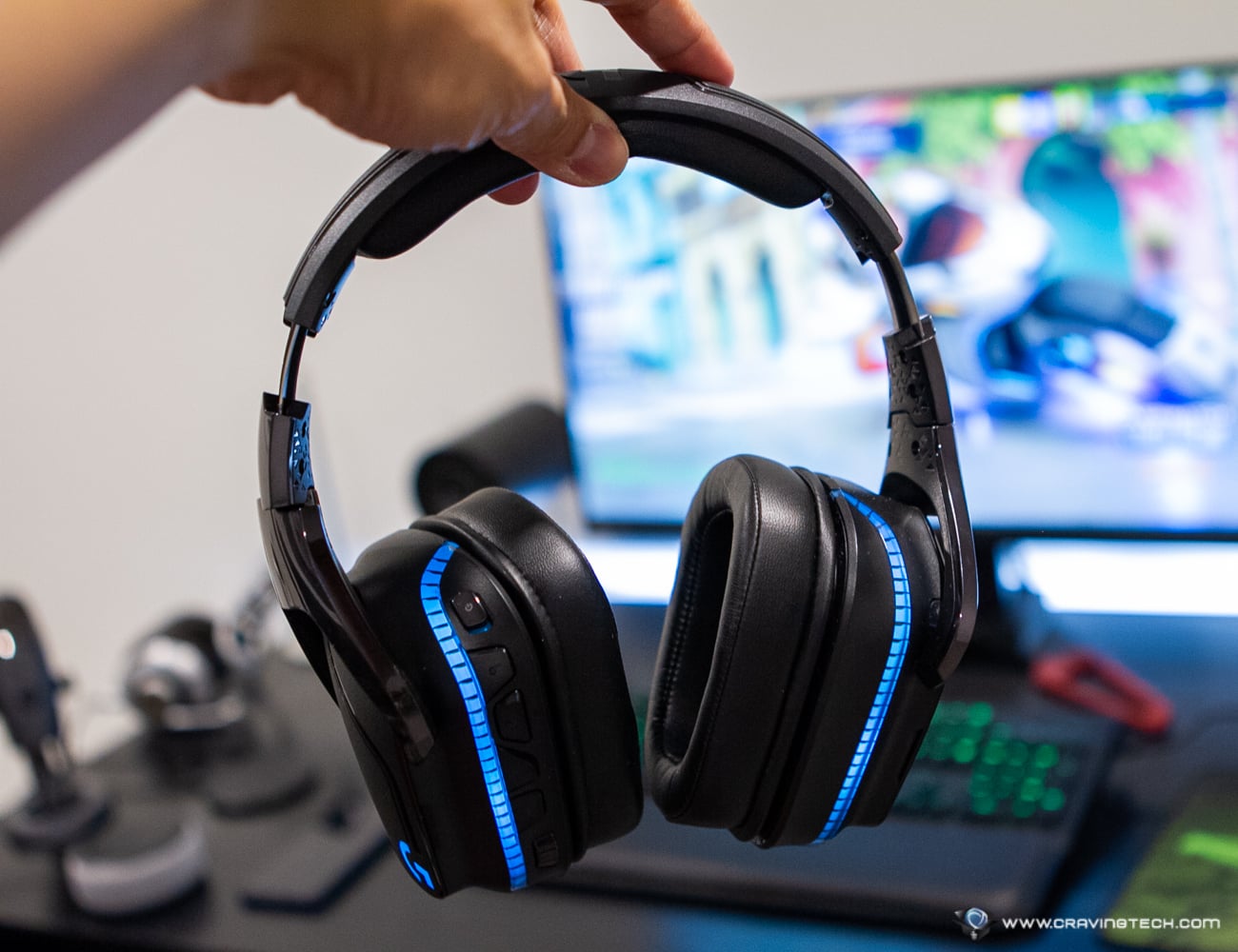 The Logitech G935 only has around 8-12 hours of battery life as a result, though (most likely the power is being used to drive the good sound). And while the Plantronics RIG 800LX for example, has a 24 hours of battery life, it's clear who the winner is in sound department. The high frequencies are much clearer and crisp on the Logitech G935 and I'd take that any day over longer battery life any day.
I played Overwatch on the PC a lot and playing with the Logitech G935 is very satisfying. Overwatch is a game where audio cues are very important and each hero has distinct footsteps, voice lines, and weapon sounds. With the G935, I could distinguish what's happening in a scene even before it happens. For example, while our team was battling it out with the enemy's team, I could hear Reaper's footsteps faintly coming towards our flanks. I disengaged, hid, and patiently anticipated for his coming – knowing exactly that a flanking move was about to happen.
With the Logitech G HUB gaming software, you can further customise the headsets' lighting, set up macros, change audio preferences, and more. While the lightings are cool, you can turn them off to get a few hours extra of battery life (and since you can't see them anyway when you game). Occasional beeps will warn you when your headset is running low on battery, but you can thankfully keep playing while the headset is being charged.
The microphone boom can be folded back when you don't use it anymore, making it nearly invisible. It blends so well with the headset that it often takes me a few seconds just trying to figure out where the boom is. Yes, the design is that good.
I'm also surprised at the wireless range because I could walk down the stairs, went to the kitchen to get something to drink, and still maintained audio connectivity. Logitech states that it has a wireless range of 15 meters indoor and it looks like the signal is also pretty strong. Another plus here.
I personally like how smooth the volume dial is and that it's easily accessible at all times. The power button uses a toggle than the traditional press-and-hold button, and I like the G935 approach better for some reason.
Logitech G935 Review – Conclusion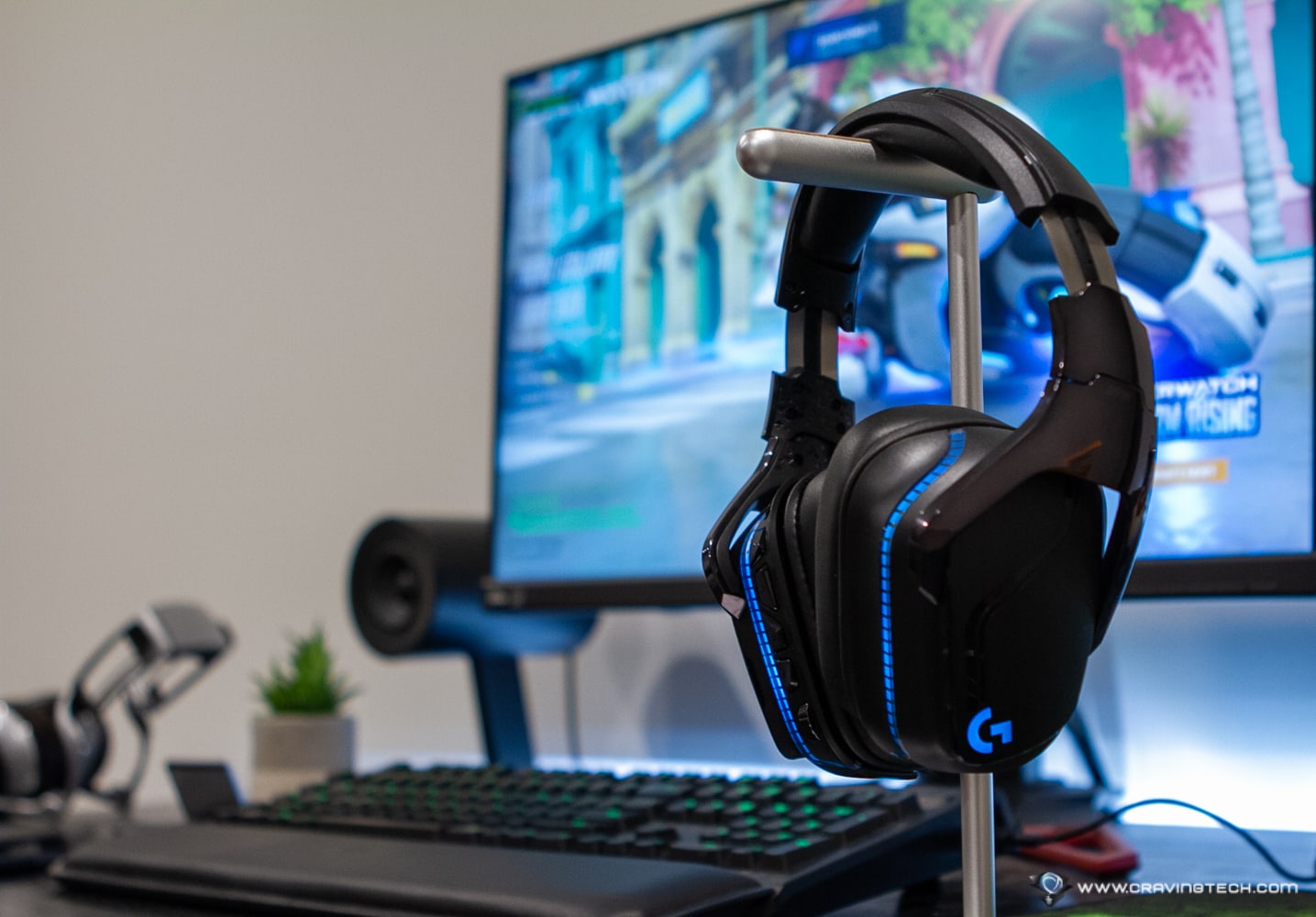 The Logitech G935 wireless gaming headset has a surprisingly amazing audio for a wireless headset. The bass is punchy, the high frequency channels are loud and clear, and you can really hear everything that's going on during a frantic battle with the enemy team.
Additionally, it has a really good passive noise isolation with soft & fluffy ear cups, looks good on the desk, and has a strong wireless signal. The headset can also be used on multiple platforms and mobile devices.
Sure, it only has around 8-12 hours of battery life, but with a sound this good & powerful on a wireless gaming headset, it's the price we all should pay.
Logitech G935 is available at retailers around Australia for AU$329.95 RRP and also at Amazon U.S.
Disclosure: Logitech G935 wireless gaming headset review sample was supplied for reviewing but all opinions are mine and not paid