EFM Wireless Power Bank with Desktop Stand Review – The product name says it all – it's a wireless power bank that allows you to charge your devices wirelessly, and comes with a desktop stand so you can charge your phone on the stand.
It's a clever design, actually. Rather than having to buy a separate power bank and a desktop charger, you can just grab this one product and be happy with it.
The packaging contents are very simple: the wireless power bank unit, the desktop stand with USB charging cable, amd a USB to microUSB cable to charge the power bank on the go. There is no power adapter included, but EFM states it supports a 10W fast charging output with Qualcomm Quick Charge 3.0.
That means the charger charges more than the standard 5W chargers and phones that can take advantage of this will charge much faster. Apple iPhone 8 (and above) for example, supports 7.5W though most modern Android phones can be charged even faster than that.
The Power Bank has a 5,000 mAh battery that allows most phone to be charged from 0 to full comfortably. It is also a wireless power bank which supports Qi wireless charging so you can just place your phone on it to start charging.
It is rather flat and can easily be placed into a slot inside your backpack like the STM Haven. To avoid accidental charging, you do have to press and hold the button to turn the charger on. There are LEDs on the back to show the current battery level of the power bank, and the state depending on different LED colours.
And you'll learn quickly through these different LED colours to check what's happening. Does your phone being charged properly while on the stand? Does the power bank have enough juice left? And so on. It's a clever design that offers quick-and-easy visual cues to the owners of this product.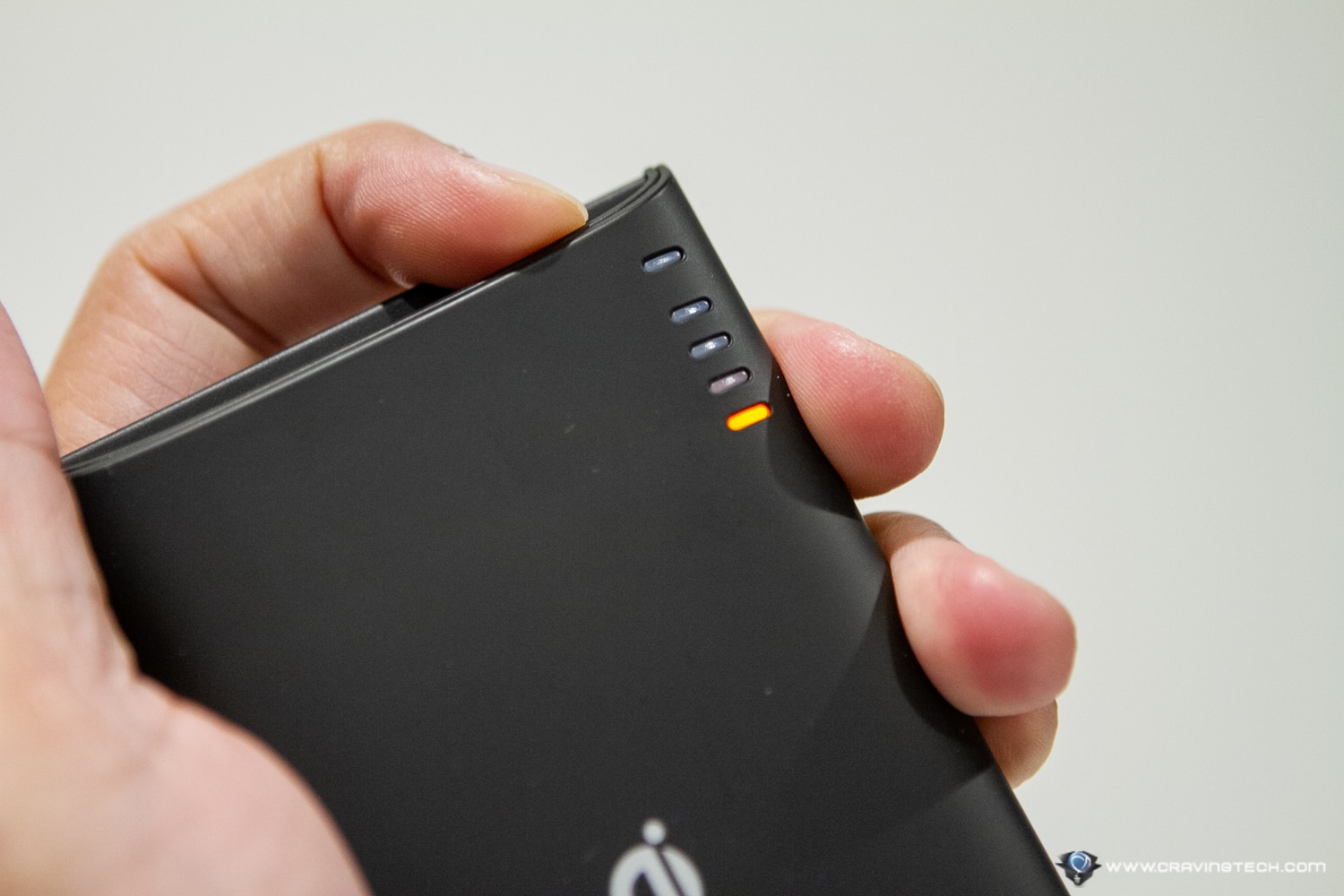 And the other exciting part is that it also includes a desktop stand that works together with the wireless power bank. By placing the power bank on the desktop stand, its battery will be charged automatically. While on the stand, they look as if they are just a single unit, so kudos to the design team for not designing a half-baked solution.
A green LED shows that the portable battery is currently being charged, with the orange LEDs showing the current battery level.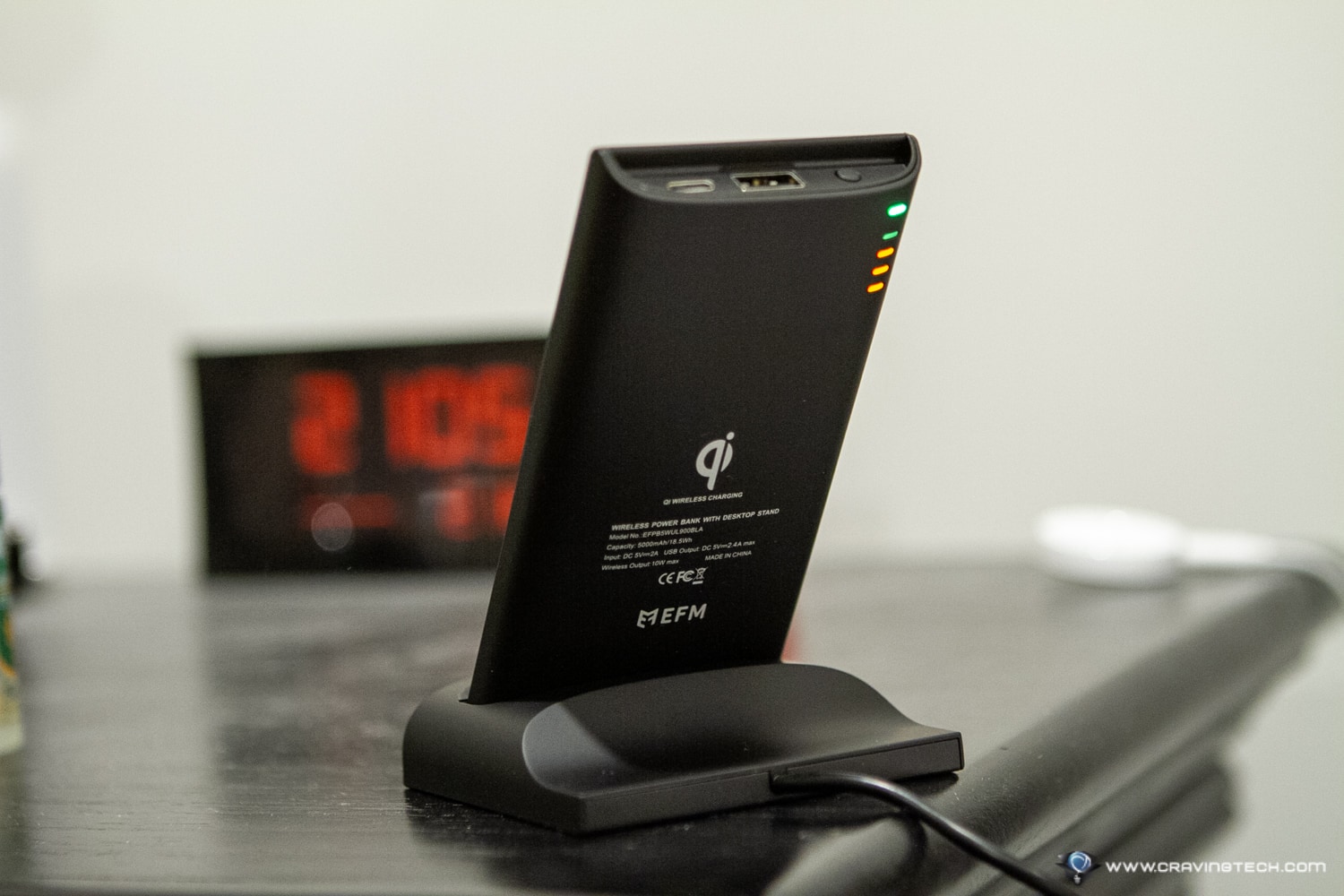 However, you can also place your phone on the stand (well, technically, on the power bank which is on the stand) to charge it. Both your phone and the power bank will be charged simultaneously. This is great to do while you go off to bed because the next morning, you'll have both ready at 100% battery capacity to accompany your day. The LED will turn blue to indicate that your phone is being charged (or you can also peek your phone's screen to double check).
My first thought of seeing this is "How safe is it to charge the phone this way?". I mean, you are technically charging your phone on a wireless power bank through the night. Will it ever overheat? Will it be ok? I've tested this for about 2 weeks while charging my phone this way every night. Well, so far so good and I also didn't have a "hot phone" when I touch it in the morning. EFM does state that it has built-in safety mechanism to prevent overcharging. Plus, it comes with a 5-year free replacement warranty for the safe of mind.
EFM Wireless Power Bank with Desktop Stand Review Conclusion
I personally think this is a smart and amazing product with simple, yet clever design. While the portable, wireless power bank itself is already good enough as a standalone, EFM combines it with a clever desktop stand.
This way, you can place both your phone and the power bank at night to be charged together. The next morning, your phone is ready to go, along with the portable power bank unit. You can carry the power bank with you to be used throughout the day. Repeat this process every day and you'll always have power at the palm of your hands!
At this stage, this is definitely my most favourite power bank and desktop charger among the many others I've reviewed recently. It's so versatile and looks awesome on the desk too.
You can purchase the EFM Wireless Power Bank with Desktop Stand for AU$129.95 RRP online and also through many retailers.
Disclosure: EFM Wireless Power Bank with Desktop Stand Review sample was supplied for reviewing but all opinions are mine and not paid
EFM Wireless Power Bank with Desktop Stand Review